UN Report To Confirm Chemical Weapons Use In Syria: Evidence Is 'Overwhelming,' UN Chief Ban Ki-moon Says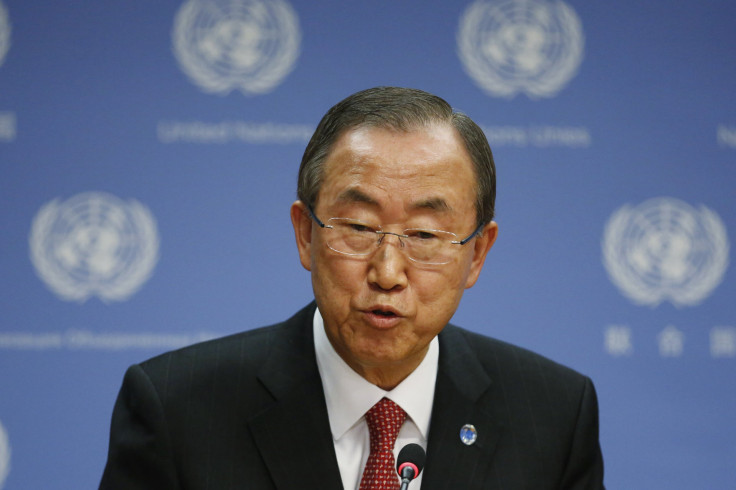 U.N. Secretary-General Ban Ki-moon said on Friday that the findings of a United Nations team of experts will most likely confirm that chemical weapons were used in the Aug. 21 attack that killed more than 1,400 people in Syria. "I believe that the report will be an overwhelming, overwhelming report that chemical weapons [were] used, even though I cannot publicly say at this time before I receive this report," Ban said at a U.N. meeting, according to Reuters.
Ban did not say who was responsible for killing the more than 1,400 people, including hundreds of children, in the Ghouta area of Damascus. However, he did say Syrian President Bashar Assad's regime "has committed many crimes against humanity."
Ban has yet to get the chemical-weapons report from Ake Sellstrom of Sweden, who is the head of the U.N. team of experts probing the alleged chemical-weapons attacks in Syria. But Ban earlier had said that he was in contact with Sellstrom and had urged the inspection team to "expedite" the filing of its report.
Sellstrom told the Associated Press the much-awaited report is complete and that he anticipated delivering it to the secretary-general in New York this weekend. U.N. diplomats said Ban is expected to brief the Security Council about it Monday, AP reported.
The team of experts was charged with the responsibility of determining if any chemical agents were employed in the Aug. 21 attack and which one or ones were used. It was not requested to find out who was behind the attack. However, diplomats say the facts gathered on the ground could indicate which side in the Syrian civil war was responsible for it, Reuters reported.
Assad and his staunch ally, Russian President Vladimir Putin, have claimed that the Syrian opposition forces employed the chemical weapons, while the rebel forces, the U.S. and other Western powers blame Assad's regime for the deadly attack.
U.S. State Department representative Marie Harf said the U.S. is confident the U.N. report will "reaffirm that chemical weapons were used in Syria," but is unlikely to assign blame for that use, Reuters reported.
© Copyright IBTimes 2023. All rights reserved.