Unemployment Rate Falls To 5.4% As US Job Market Rebounds, Employers Create 223,000 Jobs In April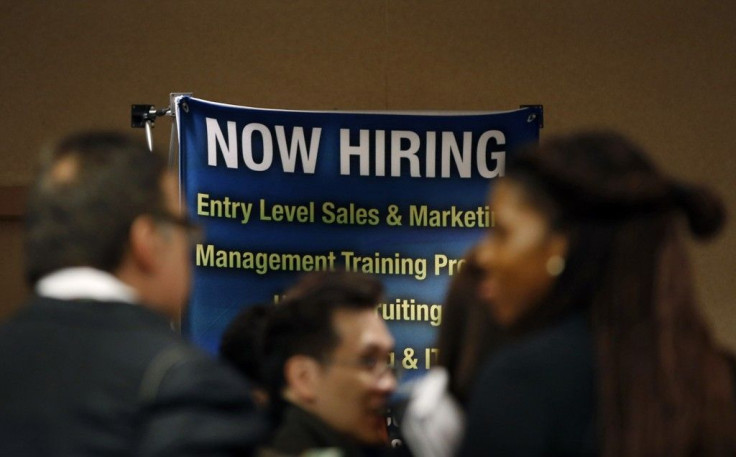 U.S. employment rose by 223,000 jobs last month, and the unemployment rate fell to 5.4 percent, the Labor Department said Friday, as the economy rebounded after a sharp hiring downturn in March. The report was expected to show that employers added 224,000 jobs in April, according to analysts polled by Thomson Reuters.
The U.S. economy had added far fewer jobs in March, when it recorded the weakest pace of job growth since 2013. The economy had previously added at least 200,000 jobs per month for 12 consecutive months, a feat not seen in 20 years.
Despite a comparatively stronger April jobs report, market analysts put the kibosh on any expectation the U.S. Federal Reserve would raise interest rates in June as a result of March's disappointing data. The change in total nonfarm payroll employment for March was revised downward to 85,000 from 126,000 jobs.
Coupled with the disappointing report on the U.S. gross domestic product in the first quarter, the weak March jobs report indicates the Fed will likely wait to raise rates until after its June meeting. The central bank's policymaking committee met last week and kept interest rates at historic lows.
"It's highly unlikely that the Federal Reserve will announce raising rates at their June meeting," said Mark Hamrick, Washington bureau chief at Bankrate.com. "But with that said, the policy members would really like to get at least one rate increase, or two, under their collective belts this year, just so they can have that silver bullet in the gun in case things really fell out of bed and have the ammunition for a rate cut," he said.
"Right now, their only other option is to go back to quantitative easing, and they would have strong distaste for having to go back down that route again," Hamrick said.
What's hidden below the employment data is a prime indicator the government isn't talking about -- the extent to which good jobs are being lost, said Gary Chaison, professor of industrial relations at Clark University. He suggested the U.S. economy is continuing to see good manufacturing jobs being replaced by less secure, less lucrative service jobs.
America's manufacturing sector lost 1,000 jobs in March, the Labor Department said in April, continuing a decades-long slide. Manufacturing accounts for about 8 percent of U.S. jobs now, down from roughly one-third of them in the early 1970s.
"Essentially, all we're doing is creating a generation of 50-year-old hamburger flippers, and that's very bad news," Chaison said. The good manufacturing jobs that helped Americans enter the middle class are increasingly becoming a thing of the past. "If anything, it's becoming a historical artifact," he said.
The number of Americans who have been out of work for 27 weeks or longer was essentially unchanged last month, at 2.5 million, constituting 29 percent of the unemployed. The average hourly earnings for private-sector workers rose by 3 cents to $24.87. For most workers, however, real wages have fallen or remained flat for more than three decades.
Meanwhile, many Americans who work part-time jobs want to work full time, and nearly two-thirds who are able to work have dropped out of the labor force, the highest proportion opting out of the workforce since the 1970s. The labor-force participation rate was little changed at 62.8 percent, according to the report released Friday.
The United States - Unemployment | StartClass
© Copyright IBTimes 2023. All rights reserved.
FOLLOW MORE IBT NEWS ON THE BELOW CHANNELS