UPS Wants To Reduce Emissions When Delivering Packages With First-Ever Hydrogen-Fuel Cell Delivery Truck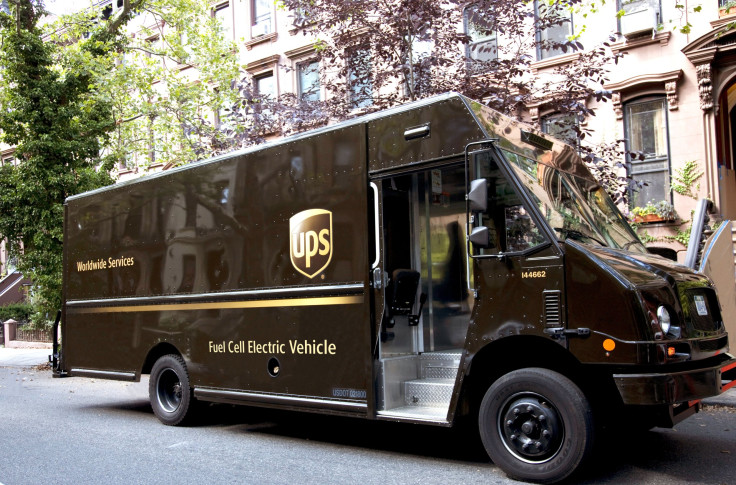 UPS is looking to cut emissions when it delivers packages. The company introduced a prototype of a hydrogen-fuel cell delivery truck, which it will start testing later this year.
UPS, the world's largest package delivery company, announced Tuesday it will deploy "a prototype extended range fuel cell electric vehicle in its Rolling Laboratory fleet of alternative fuel and advanced technology vehicles."
Read: Drone Delivery Service: UPS Successfully Tests First Residential Drone Delivery In Florida
The company, headquartered in Atlanta, said it has teamed up with the U.S. Department of Energy and other partners to design a "first-of-its-kind, zero tailpipe emissions, Class 6 medium-duty delivery truck," which has the same route and range requirements of its current fuel vehicles.
The vehicle, which looks a regular UPS delivery truck, will use the onboard hydrogen fuel cell to propel the truck. The company will start testing the prototype in Sacramento, California, starting in the third quarter of this year. UPS will also add more fuel-cell trucks to get at least 5,000 hours of performance testing.
The hydrogen fuel cell vehicle generates electricity that continuously charges the batteries, which then provide additional power and an extended range of 125 miles, the company said. The vehicles come with a 32-kilowatt fuel cell coupled to 45 kilowatt-hours of battery storage and 10 kilograms of hydrogen fuel.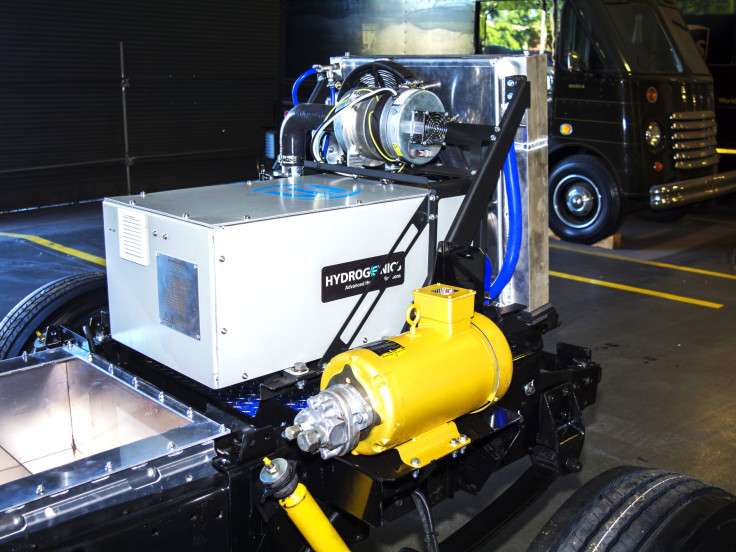 Read: Domino's Delivery Will Begin Using Self-Driving Robots To Bring You Pizza
Mark Wallace, UPS senior vice president for global engineering and sustainability, said in a statement:
"The challenge we face with fuel cell technology is to ensure the design can meet the unique operational demands of our delivery vehicles on a commercial scale. This project is an essential step to test the zero tailpipe emissions technology and vehicle on the road for UPS and the transportation industry. We have a long history of developing and promoting the use of more sustainable alternative fuels with our Rolling Laboratory, and hope that by bringing our unique expertise to the development of hydrogen fuels, we can help advance the technology."
This isn't the first move UPS has made toward changing its delivery methods. Earlier this year, the company announced it had successfully tested a drone for residential delivery to help reduce emissions. The drone was launched from the top of a UPS vehicle and autonomously delivered a package to a home in Tampa, Florida, and returned while the delivery driver was en route to make another delivery. The drone, built by Workhorse, has a 30-minute flight time and can carry packages weighing up to 10 pounds.
"Sending a drone from a package car to make just one of those deliveries can reduce costly miles driven," Wallace said at the time. "This is a big step toward bolstering efficiency in our network and reducing our emissions at the same time."
The drone test came a couple of months after Amazon released a trailer of its own drone delivery service, Prime Air.
© Copyright IBTimes 2023. All rights reserved.
FOLLOW MORE IBT NEWS ON THE BELOW CHANNELS