Urban Outfitters' Blood-Splattered Kent State Sweatshirt: 'Outrage Marketing' Or Innocent Mistake?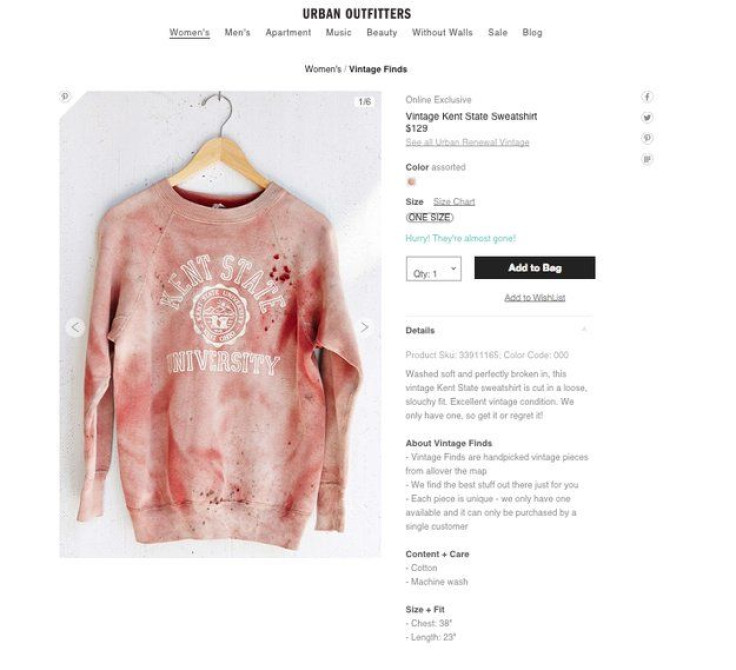 The Kent State University killings happened more than 40 years ago, but Urban Outfitters evoked the tragedy this past weekend with the bizarre sale of a sweatshirt featuring a design that looks suspiciously like blood stains. Equally suspicious is Urban Outfitters' "apology" for the upsetting merchandise, in which the retailer pleaded ignorance.
First spotted by Buzzfeed, Urban Outfitters (NASDAQ:URBN) posted the faux-vintage sweatshirt, described as a "Vintage Kent State Sweatshirt," on its website this weekend – with a $130 price tag. "We only have one, so get it or regret it!" read the copy next to the item.
On May 4, 1970, Kent State University students protesting the U.S. invasion of Cambodia during the Vietnam War were fired upon by the Ohio Army National Guard. Four students were killed and nine were wounded in the shooting, which was memorialized in an iconic photograph of a young woman crying over a body. The timing of the sale does not appear to have any connection to the Kent State tragedy.
While the sweatshirt seemed to have disappeared from Urban Outfitters' website by late Monday morning, it showed up on eBay soon afterward, for more than four times the original price. It's unclear if Urban Outfitters placed it on eBay or if a customer saw an opportunity to turn a quick profit.
Predictably, the sale of the sweatshirt prompted outraged responses on Twitter.
"Urban Outfitters explores the outer reaches of bad taste," read one tweet, https://twitter.com/nycsouthpaw/status/511380680803352576. While another critic wrote, Hey @UrbanOutfitters, when will the Sandy Hook shirts be available? And will there be child sizes? #UrbanOutfitters pic.twitter.com/M7F6EQ5jSi
"If this is an elaborate PR play from a desperate brand, as it would seem," writes Roo Ciambriello of AdFreak, "it's a pathetic one." It falls in line with what People magazine has called Urban Outfitters' "insensitive or purposefully outrageous clothing," including items such as Navajo-designed clothes, garnering charges of ethnic insensitivity, and a T-shirt that came in two colors: "White charcoal, Obama/black." If it is indeed part of a deliberate marketing strategy, one might argue it started with the outrageously racist T-shirts that Abercrombie & Fitch (NYSE:ANF) marketed more than a decade ago.
It's hard to pinpoint the moment that "outrage marketing" became an actual strategy. A 2007 Ad Age article addressed the phenomenon of intentionally offending audiences to gain publicity. Urban Outfitters certainly seems to have made something of a marketing blueprint in promoting controversial items and subsequently pulling the item that elicited the offense, which extends the news cycle of media coverage.
Other Urban Outfitters items that inspired outrage: a shirt featuring what looked like a Star of David, reminiscent of shirts Jews were forced to wear under Nazi Germany, and a shirt sold in 2008 featuring a Palestinian youth carrying an AK-47 assault rifle over the word "Victimized" -- which was criticized for glorifying terrorism. What's next?
© Copyright IBTimes 2023. All rights reserved.
FOLLOW MORE IBT NEWS ON THE BELOW CHANNELS