US 1Q GDP Grew 2.2%, Less Than Expected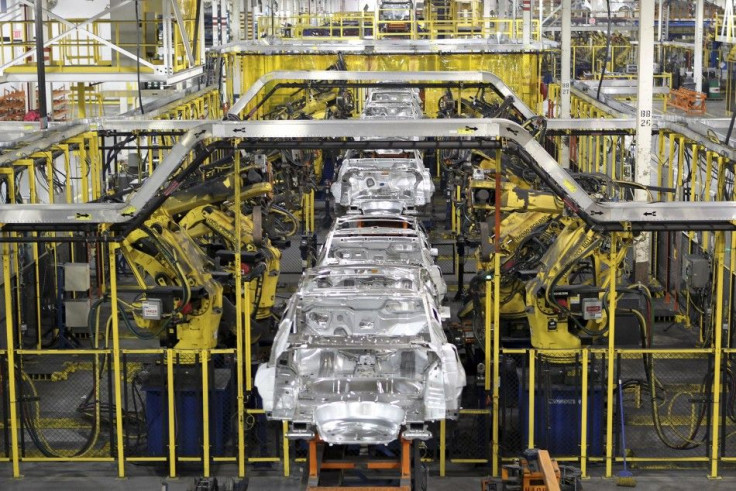 The U.S. economy expanded at a slower-than-expected pace in the first quarter, reflecting a deceleration in inventories and nonresidential fixed investment that was partly offset by the biggest gain in consumer spending in more than a year.
Gross domestic product, the value of all goods and services produced, grew at a 2.2 percent annual pace after advancing 3 percent in the previous three months, Commerce Department figures showed Friday in Washington. That was slightly below the 2.5 percent growth rate economists had expected.
Consumer spending, which drives more than 70 percent of GDP, increased 2.9 percent, the fastest pace since the fourth quarter of 2010, and exceeding the 2.3 percent projection.
An improving job market is boosting Americans' willingness and ability to spend. Employers increased payrolls by 635,000 in the first quarter, the biggest quarterly gain in six years, according to the Labor Department. Meanwhile, unemployment rate has fallen to 8.2 percent, the lowest since January 2009.
Disposable income after inflation rose 0.4 percent in the first three months of 2012, following a 1.7 percent gain in the prior quarter. The savings rate from January through March eased to 3.9 percent from 4.5 percent.
Another bright spot in Friday's report is a 19.1 percent rise in home construction. Benefited from the unseasonably warm winter, home construction rose at it fastest pace since the second quarter of 2010.
A jump in auto production also contributed to the economic expansion. Motor vehicle output added 1.12 percentage points to the first-quarter change in real GDP after adding 0.47 percentage point to the fourth-quarter change. Real GDP is gross domestic product after it has been adjusted for the effects of inflation.
Elsewhere, GDP was restrained by a drop in government spending and slower growth in business investment in equipment and in inventories.
Government spending decreased 5.6 percent in the first quarter, compared with a decrease of 6.9 percent in the fourth quarter.
Business spending fell for the first time since the fourth quarter of 2009, with investment in equipment and software posting the smallest increase since the recession ended.
Exports of goods and services increased 5.4 percent in the first quarter, compared with an increase of 2.7 percent in the fourth quarter, while imports increased 4.3 percent, compared with an increase of 3.7 percent.
The market will be watching how Friday's report will affect the Federal Reserve's view on the economic recovery.
Tweaks to an April 25 statement at the conclusion of a two-day meeting in Washington suggested the recovery may still falter.
The Committee expects economic growth to remain moderate over coming quarters and then to pick up gradually, the April FOMC statement said. In March, Fed officials said they expected moderate economic growth.
In describing the job market, Fed officials said the unemployment rate has declined but remains elevated, while last month, they said the jobless rate had declined notably in recent months but remains elevated.
Fed Chairman Ben Bernanke left open the possibility of further easing. We remain prepared to do more as needed to make sure that this recovery continues and that inflation stays close to target, he said at a news conference Wednesday following the FOMC meeting.
Fed officials reduced their forecast for unemployment after payroll gains averaged more than 200,000 a month during the first quarter, while affirming a plan to keep the benchmark lending rate around zero, at least through late 2014.
Policy makers forecast the unemployment rate would average 7.8 percent to 8 percent in the final three months of this year, compared with a forecast of 8.2 percent to 8.5 percent in January. The new forecasts, however, are still far above officials' estimates for full employment, which ranges from 4.9 percent to 6 percent.
Stock futures rose on Friday. The S&P 500 futures index gained 1.9 points, to 1,398.70, while the Dow Jones Industrial Average futures advanced 13 points, to 13,173.
© Copyright IBTimes 2023. All rights reserved.