US Auto Sales 2012: Pent Up Demand Bursts, Boosting Sales; Consumers Buy Smaller Cars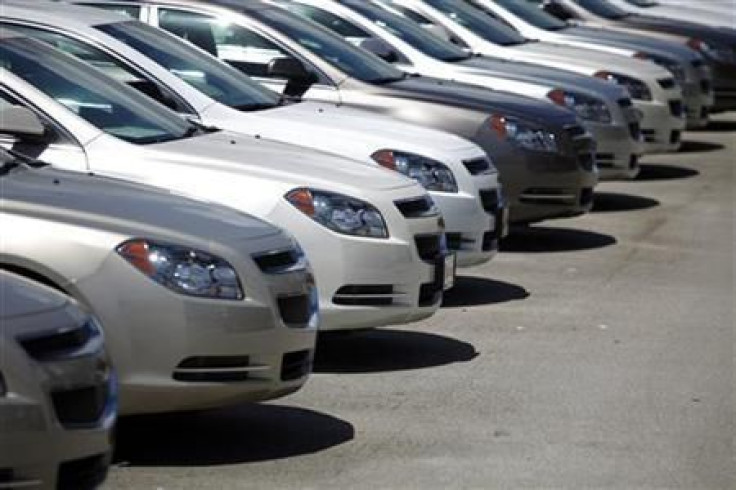 Automakers ended 2012 on a high note as Americans kicked tires and drove more new vehicles off the lots last month than they had years, a sign that despite a continued slow U.S. economic recovery, consumers were willing to replace their aging vehicles due to easier access to financing and enticing incentives.
U.S. consumers are estimated to have bought 15.6 million vehicles in 2012, on a seasonally adjusted basis, up 7.59 percent from 14.5 million the previous year. The world's 16 top automakers sold 1.3 million vehicles in the U.S. in December, a 9 percent increase from last year, according to an analysis by Thomson Reuters.
Toyota Motor Corporation's (NYSE:TM) U.S. subsidiary, based in Torrance, Calif., said it sold 194,143 units in the U.S. last month, 9 percent more than the previous year, led by double-digit growth of the Corolla sedan and the Prius, the world's top selling hybrid. Losers among Toyota's top sellers included the popular Camry mid-sized sedan, which saw a 6 percent decline, and the Sienna minivan, which saw sales fall 6 percent.

For the year, the Japanese automaker saw a 27 percent rise in sales from the previous year, to 2.1 million vehicles, putting it on par with Ford Motor Company (NYSE:F), which announced earlier in the day before Toyota's annual figures came out that it was the only brand to sell over 2 million cars and trucks in the U.S. last year.
The Torrance, Calif.-based U.S. subsidiary of Honda Motor Co Ltd (NYSE:HMC) said it sold 132,774 units last month, a 26 percent rise from last year largely due to the 66 percent jump in sales of the recently released Honda Accord sedan. Sales of the re-tooled Honda Civic compact sedan shot up 61 percent, a December record for the model. The CR-V crossover set an annual sales record, too. Honda saw the largest jump in annual sales of the six automakers that sold more than 100,000 vehicles.
Volkswagen Group of America, Inc., the Herndon, Va.-based wholly owned subsidiary of the German auto giant Volkswagen AG (PINK:VLKPY), sold 44,005 units in the U.S. last month, led by growth in the sale of the Jetta and Passat sedans.
The company said Thursday that it had its best December performance since 1970, its best annual growth since 1973 and its third consecutive year of double-digit growth. The Passat family sedan saw its sales more than double in December compared with last year to 14,462 units. One of the few losers for the month: The GTI small family sedan and the CC, a more luxurious version of the Passat. Overall, the Volkswagen brand gained 35 percent sales growth with 438,133 units sold last year.
General Motors Company (NYSE:GM) on Thursday said it sold 245,733 vehicles in December, a 5 percent rise from last year. It joins other major automakers in capping off the best year since the 2008 subprime mortgage meltdown shocked the global economy and sent the country into a recession.
Overall, car dealers unloaded 1.9 million GM vehicles in 2012, led by sales of the Chevrolet family. GM's Cadillac passenger car sales grew 64 percent in December compared with those of the same period last year, while the company's pickup sales last month were highest year-over-year since 2008.
Americans might have been more willing to make these big purchases in December, but what many bought last month were smaller, more economical vehicles.
As with Ford, which earlier on Thursday reported positive growth in cars and declines in trucks and utilities, GM saw the strongest growth in sales of its mini, small and compact cars, with 52 percent increases compared the same period in December 2011.
Sales of the F-Series truck, Ford's most popular model and the best-selling pickup in the country, were up less than 1 percent last month, while the overall truck category, which includes the Ranger, the E-Series and the Transit, saw sales decline 7 percent. Utility vehicles declined by 3.4 percent.
For the year, both automakers saw across-the-board sales growth for the year in all categories, with Ford reporting its best sales year since 2006.
"All four GM brands increased their sales year-over-year in December, and we were strong across the board in cars, crossovers and pickup trucks," Kurt McNeil, GM's vice president of U.S. sales operations, said in a written statement.
Chrysler Group LLC, a subsidiary of Fiat SpA (PINK:FIATY) of Torino, Italy, also reported the best end-of-the-year sales performance in five years.
"Looking back on 2012, we were again one of the fastest growing automakers in the country, with total sales up 21 percent," said Reid Bigland, Chrysler's head of U.S. sales. "We also recorded 33 consecutive months of year-over-year sales growth and our strongest annual sales in five years."
December's sales were bolstered by robust demand for Ram pickup trucks, which saw a 16 percent rise in sales last month of the company's most popular model.
The Dodge group saw a 26 percent rise in sales in December, led by double-digit growth for Dodge's Caravan minivan, Journey 7-passenger family crossover, Challenger sports sedan and Avenger passenger sedan.
© Copyright IBTimes 2022. All rights reserved.
FOLLOW MORE IBT NEWS ON THE BELOW CHANNELS