US Economic Outlook: Recovery Tied Directly To Success Of COVID Vaccination Program
KEY POINTS
Chamber of Commerce finds the economic mood is pessimistic
Fed officials see sharp bounce provided vaccinations go smoothly
Industries that were decimated by the pandemic will take longer to recover
Economists suggested vaccinations against COVID-19 would facilitate a broad-based recovery, but they differed over the general pace of an eventual rebound as some questioned how long the ramifications of the pandemic would last.
The Federal Reserve Bank of Atlanta revised its snapshot estimate for the fourth quarter, projecting gross domestic product would increase by 8.7%, up from its previous estimate of 8.5% from Jan. 7.
On Monday, Atlanta Fed President Raphael Bostic said the recovery depended on how well the country can control the pandemic.
"The recovery is directly linked to the pace of vaccinations and its effectiveness both in terms of numbers, but also in terms of the confidence it instills in consumers," he was quoted by the Reuters news service as saying.
Should inoculations face continued bottlenecks, recovery could be stalled, he added.
That sentiment differs somewhat from the U.S. Chamber of Commerce, which found a pessimistic mood in a recent survey. Of the 37 business leaders it interviewed, more than half said they were doing slightly or much worse than before the pandemic.
"Ten months after COVID-19 caused an unprecedented disruption in economic activity, some industries have fully recovered while others are in the equivalent of a depression," Neil Bradley, the chamber's executive vice president and chief policy officer, said in a statement.
"The full reopening of the economy that widespread vaccinations will make possible offers a light at the end of the tunnel, but we will be dealing with the fallout from the pandemic for years to come."
Vaccine distribution has gone slower than expected, though Dr. Anthony Fauci, the top infectious disease expert in the country, said any big program will face early setbacks, suggesting the major issues were already over.
According to Oxford Economics, if 92% of the population is vaccinated by August, the economy grows by 5.2% on the year. If only 68% gets both shots by then, the economy would grow by 3%.
Gregory Daco, an economist at the Oxford group, told Reuters the nation needs a comprehensive vaccination program in order to see uniform economic growth. Without that, he said, "You are going to see people be much more cautious going to some regions, travel is still impacted, and generally you see a multi-speed economy."
Major segments of the economy are on their back foot due to the social restrictions in place to control the pandemic. That's particularly true for travel, with the World Tourism Organization expecting international travel for 2020 to show a decline of around 1 billion arrivals -- levels not seen since the 1990s.
Elsewhere, the Chamber of Commerce found construction spending was down nearly 30% from 2019 and rental debt was up some $70 billion from pre-pandemic levels.
The Labor Department last week put the unemployment rate in December at 6.7% and estimated 10.7 million people were out of work, nearly twice the levels from February.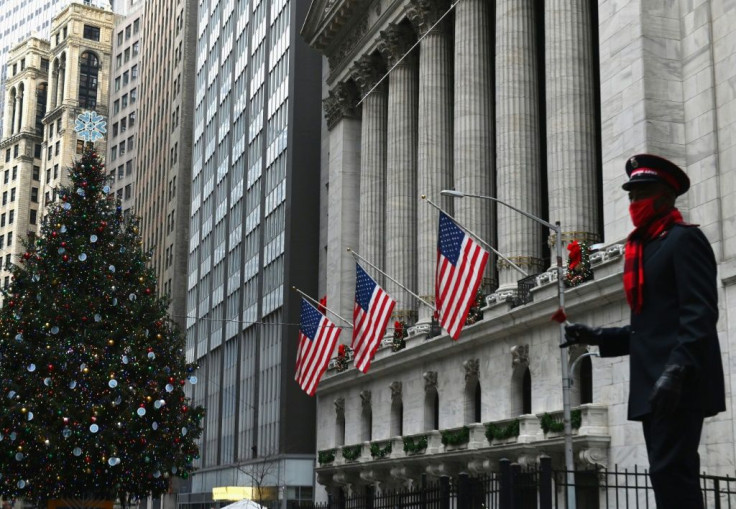 © Copyright IBTimes 2023. All rights reserved.
FOLLOW MORE IBT NEWS ON THE BELOW CHANNELS