US Employers Boosted Hiring By A Weaker-Than-Expected 160,000 In April, Unemployment Holds At 5%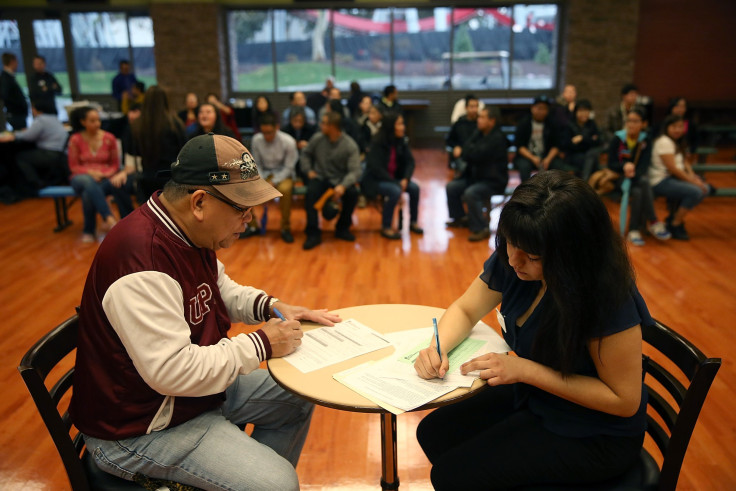 The U.S. economy added the fewest number of jobs in seven months in April, and Americans dropped out of the labor force in droves — signs of weakness that cast doubts on whether the Federal Reserve will raise interest rates before the end of the year.
Nonfarm payrolls increased by 160,000 jobs last month as construction employment barely rose and the retail sector shed jobs, the Labor Department said Friday.
The gain was the smallest since September and below the first-quarter average job growth of 200,000.
Employers added 19,000 fewer jobs in February and March than previously reported. While the unemployment rate held at 5 percent, it was because people dropped out of the labor force.
Economists polled by Reuters had forecast payrolls rising 202,000 last month and the jobless rate unchanged at 5 percent.
The stepdown in job growth could raise concerns that the weakness in overall economic activity was spilling over to the labor market. Economic growth slowed sharply in the first quarter this year.
Average hourly earnings were a bright spot in the employment report, rising 8 cents or 0.3 percent last month. That took the year-on-year increase to 2.5 percent from 2.3 percent in March, still below the 3 percent advance economists say is needed for inflation to rise to the Fed's 2 percent target.
The U.S. central bank last month offered a fairly upbeat assessment of the labor market, saying conditions had "improved further."
The Fed raised its benchmark overnight interest rate in December for the first time in nearly a decade. Fed officials have forecast two rate hikes for this year.
Market-based measures of Fed policy expectations have virtually priced out an interest rate increase at the Fed's June 14-15 meeting, according to CME Group's FedWatch. FedWatch sees a less than 50 percent probability of rate hikes in September and November, with a 59 percent chance at the December meeting.
The labor force participation rate, or the share of working-age Americans who are employed or at least looking for a job, fell 0.2 percentage point to 62.8 percent. It had increased 0.6 percentage point since dipping to 62.4 percent in September.
The labor force fell by 362,000 as people dropped out in April.
The vast private services sector dominated employment gains in April. Manufacturing added 4,000 jobs last month after shedding 29,000 in March, the biggest loss for the sector since December 2009.
There were further job losses in mining as the energy sector adjusts to weak profits from a recent prolonged plunge in oil prices. Mining payrolls fell 8,000 last month. Mining employment has decreased by 191,000 jobs since peaking in September 2014, with 75 percent of the losses in support activities.
Gains in construction employment slowed sharply, with the sector adding 1,000 jobs in April after home building showed some signs of fatigue last month.
Retail payrolls fell 3,100 after hefty gains in the first quarter, despite sluggish sales.
(Reporting by Lucia Mutikani; Editing by Andrea Ricci)
© Copyright Thomson Reuters 2023. All rights reserved.