US Promises $1B In Debt Relief For Egypt, Even More For Military Aid
ANALYSIS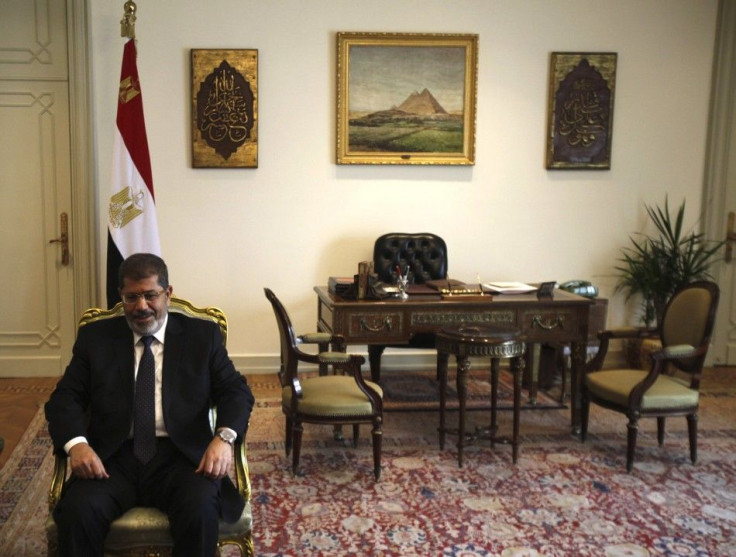 The United States is getting ready to finalize a deal for $1 billion in debt relief for Egypt, a move that could set a new tone for Egyptian-U.S. relations.
The debt deal does not signify a new willingness to allocate funds to Egypt -- the U.S. has been doing that for decades, both while former President Hosni Mubarak was in power and after his overthrow in February 2011.
What makes this deal so significant is not the money itself, but its intended use.
The countries' partnership has long been based more on defense and strategic interests than on economic alliances. But as Egypt charts its own way forward in the aftermath of a historic revolution, the old ways of doing things may be falling out of favor.
Long Time Coming
Negotiations over debt relief and other U.S. funding initiatives in Egypt have been dragging for months. The United States has been hesitant to fund a new Islamist-dominated government, and Egypt has been wary of the conditions that are often attached to development funding.
President Barack Obama first promised assistance to Egypt in May 2011, shortly after a popular resistance movement overthrew Mubarak.
Still, despite auspicious news that negotiations are near completion, nothing has yet been finalized.
The U.S. deal will probably be completed in tandem with another agreement between Egypt and the International Monetary Fund.
IMF director Christine Lagarde visited Cairo in August to discuss a $4.8 billion loan, and her presence there underscored the diplomatic importance of strengthening Egypt's faltering economy. Things have not improved much since Mubarak was ousted; the country still suffers from high unemployment rates and stagnant growth.
Egypt owes $3.2 billion to the United States, so the debt deal will relieve about a third of that obligation, partly through forgiveness and partly through debt swaps that help channel money into important areas like infrastructure and job creation.
In Their Defense
Though the current debt relief negotiations are plagued by complications, U.S. aid for Egypt is nothing new.
In 2010, the last full year of Mubarak's presidency and the most recent year that statistics on overseas loans and grants from USAID are available, Egypt was one of the top five recipients of American economic and military assistance worldwide.
If you disregard Afghanistan, Iraq and Pakistan, all of which took clear priority because they were integral to major U.S. military operations at the time, Egypt was the second most heavily U.S.-funded country on earth after Israel. In 2010, U.S. financial assistance for Egypt totaled $1.6 billion.
The vast majority of those funds went for military purposes.
And then came the Arab Spring. In February 2011, Mubarak was overthrown and the Supreme Council of the Armed Forces took control of the transitional government. American military assistance grew especially dicey after SCAF alarmed the international community by swiftly enforcing a court ruling to disband the popularly elected parliament.
According to the 2012 Appropriations Act signed by Obama in December 2011, Egypt could keep receiving military aid only if the government was "supporting the transition to civilian government, including holding free and fair elections; implementing policies to protect freedom of expression, association and religion and due process of law."
But the next clause stated that the secretary of state could waive that requirement in the interests of national security, which Hillary Clinton did in March. And so, reports the Los Angeles Times, military aid continued to flow into Egypt, reaching a monthly sum of $170 million.
It was a continuation of the policy that had existed under Mubarak: a willingness to fund the Cairo government for reasons that have much to do with U.S. national security, and little to do with human rights and the furthering of democracy.
Ever since Egypt signed a 1979 peace treaty with Israel, it has been a linchpin for U.S. diplomacy efforts in the Middle East. Egypt has long allowed U.S. troops access to its naval and air facilities, and Cairo officials have helped the United States to gain intelligence for use against rivals including al Qaeda and Iran.
But with a brand new government now in Cairo, that old partnership isn't so dependable anymore.
A New Direction
Many analysts argue that longer-term U.S. policies for Middle Eastern stability must take democracy and human rights into account, so Washington's continued military aid in spite of SCAF's contravention of democratic norms sparked plenty of criticism.
But in recent months, the popularly-elected president Mohammed Morsi has allayed some of those fears by pushing back against SCAF overreaching measures. He fired a slew of top-ranking generals in August and canceled a constitutional amendment through which the military had granted itself excessive power.
Morsi is a soft-spoken politician who was not well-known before his ascension to Egypt's top post -- but for those who doubted his strength, these recent moves came as a welcome surprise.
The president is certainly charting his own path, and onlookers on both sides are watching his every move.
The U.S. worries that his religious views might compromise his relationship with the West, since he is a member of the Muslim Brotherhood, a pan-Arab Islamist organization.
These fears were exacerbated last week, when Morsi visited Iran to participate in the Non Aligned Movement summit that was held in Tehran. This was the first time an Egyptian head of state had set foot in Iran in more than 30 years.
But Morsi has also shown amenability to Western interests by calling for the resignation of Syrian President Bashar al-Assad, Iran's strongest ally, and by cooperating with Israel to rout militants in the Sinai following their attack against Egyptian security personnel on the two countries' shared border.
In this context, the upcoming debt relief deal is a fitting response to Egypt's own realignment. The United States cannot take Egypt's military cooperation for granted anymore, but it can pursue policies that encourage a healthy economy and a stable democracy. Becoming a key player in those efforts could be Washington's best bet to maintain a strong -- and mutually beneficial -- relationship with Cairo.
An Overseas Connection
The debt relief deal is about more than just money -- the United States and Egypt also hope to forge new business connections, and that begins in earnest later this week.
According to the New York Times, the State Department and the U.S. Chamber of Commerce will begin sending a huge trade delegation to Cairo on Saturday. It will include American executives from dozens of big companies, and these officials will meet with Egyptian businessmen and government figures to discuss fiscal policies that could spur investments.
U.S. Deputy Secretary of State Thomas Nides will head to Cairo alongside that delegation.
"Our goal is to send a very strong message to Egypt that the government understands it's not just about assistance," he said. "It's about growth and business."
Initiatives like these have real potential to transform Washington's relationship with Cairo. Military aid helped to secure Cairo as a U.S. ally for decades, but many Egyptians resented that arrangement -- and the 2011 revolution has rendered it ultimately untenable.
But economic assistance, which addresses Egypt's biggest domestic problems and sets up a partnership that has great potential to be profitable for all parties, could be the winning ticket. Although this upcoming debt deal does not match the value of the military assistance that still flows into Cairo, it is a definite step in the right direction.
© Copyright IBTimes 2023. All rights reserved.