US Retailers Dig Their Own Grave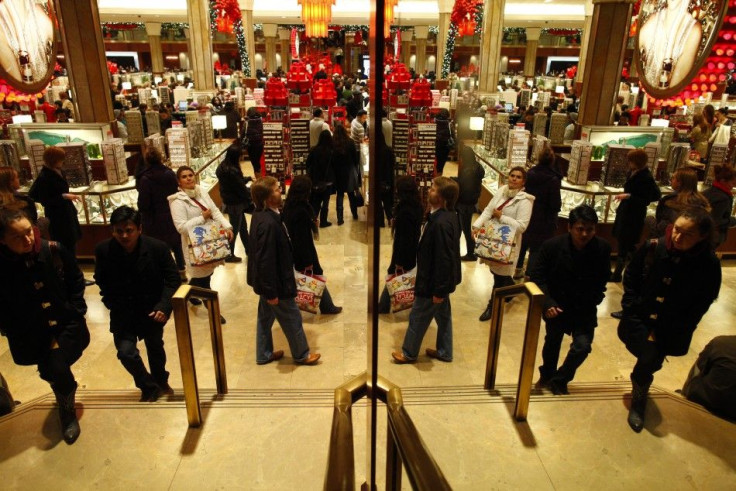 U.S. retailers are digging their own grave in their battle with credit-card companies and large banks.
The hefty $7.25 billion settlement that MasterCard Inc. (NYSE: MA), Visa Inc. (NYSE: V), and a number of big banks reached to resolve a 2005 class-action lawsuit over credit-card swipe fees will disadvantage retailers further and restrict consumer spending in an economy that relies heavily on credit-card use and personal expenditures, Litle & Co., a self-described payments intelligence and processing platform in the business-to-consumer space, said Friday.
The historic antitrust settlement was filed in the U.S. District Court for the Eastern District of New York (Brooklyn) this month to conclude a lawsuit that was filed on behalf of more than 7 million U.S. retailers protesting against existing credit-card and debit-card interchange and processing fees set by MasterCard, Visa, and big banks such as the Bank of America Corp. (NYSE: BAC) and Wells Fargo & Co. (NYSE: WFC).
Interchange fees account for most credit-card processing costs. They have historically been levied on merchants to reimburse issuing banks and card companies for the interest they may lose when cardholders exceeds the grace period for repaying their debts.
Litle's statements come in the wake of a push for credit-card fee settlement reform among certain retailers and retail trade groups that are opposing the $7.25 billion deal in a bid to protect consumers. These protests are led by retailers Wal-Mart Stores Inc. (NYSE: WMT) and the Target Corp. (NYSE: TGT). Retail trade groups such as NACS: The Association for Convenience and Fuel Retailing and the National Grocers Association have also joined the fray.
The settlement offers an eight-month reprieve of 10 basis points off the default interchange rates. Card issuers are not permitted to skirt this discount by raising other network fees.
However, such a deal will allow merchants to exploit customers and one another, by surcharging particular types of cards to ward off the burden of interchange and processing fee payments that they would otherwise have to shoulder themselves.
"This [the settlement] might be a financial break for merchants. But the bad news is that it will allow merchants to differentiate on their pricing based on the card type," Tom Pouliot, the payments evangelist at Litle & Co., said in an interview. "And we are really not addressing how interchange rates will be set in the future."
Another related problem is the impact the settlement will have on online merchants that cannot find alternatives to relying on credit cards for purchases made over the Internet. Online sellers cannot rely solely on PayPal, which navigates transactions through card issuers itself.
Online merchants have been struggling to simplify checkout processes, add more security, and provide more payment options after shopping-cart abandonment rates -- the ratio of shopping carts abandoned online to the number of completed orders -- reached a new, all-time high of 72 percent at the end of last year. The last thing they want is an interchange fee reduction that drives these abandonment rates even higher.
Decreased consumer spending will be another consequence of the interchange fight, merchants said. Consumer spending already has a dim growth rate forecast of 1.5 percent to 2 percent toward the end of this year, according to Sterne Agee, a U.S. brokerage and investment firm. And new interchange fees could make that situation worse.
If interchange fees are slashed, "we will likely see banks and card issuers try and move their marginally profitable customers [those with low balances] over to prepaid cards," Pouliot said. As a result, prepaid cardholders, who would be responsible for clearing their fees, could be paying hundreds of dollars more, he explained.
If merchants decide to surcharge on credit cards, consumers then face a double whammy: Both types of fees will curtail buying power and discourage consumer spending at a time of high unemployment and dim forecasts on the growth of consumer spending.
Merchants are also skeptical of the Durbin Amendment of the Dodd-Frank Wall Street Reform and Consumer Protection Act in the wake of the Federal Reserve's Regulation II ruling on card interchange fees. The amendment seeks to cut fee burdens on merchants and help consumers cope with additional fee levies imposed on them by their banks or card issuers, causing many to alter, scale back, or drop their plans altogether.
"Politicizing the issue of interest rates on cards isn't the best way to go about it," said a merchant who asked not to be identified. "What we need is an independent panel that considers merchants' and consumers' points of view, rather than having the Fed or Congress figure things out for us."
© Copyright IBTimes 2022. All rights reserved.
FOLLOW MORE IBT NEWS ON THE BELOW CHANNELS