US September Jobs Report 2013: 148,000 Added To Non-farm Payrolls, Unemployment Rate Falls To 7.2%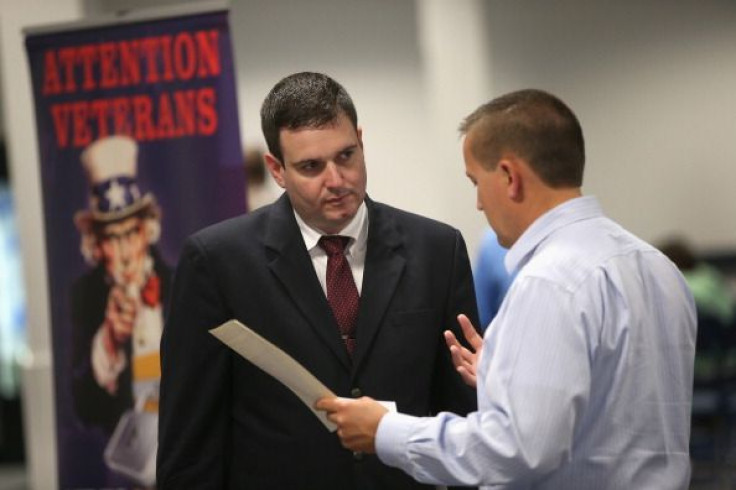 The September government jobs report, which was initially scheduled for release on Oct .4 but was delayed by the government shutdown, showed the U.S. economy added far fewer positions than expected last month.
Employers hired 148,000 workers in September, the Labor Department said on Tuesday. Meanwhile, the unemployment rate edged down to 7.2 percent. Economists polled by Thomson Reuters were looking for the headline nonfarm payrolls to increase by 180,000 and for the jobless rate to hold at 7.3 percent.
The August number was revised up to 193,000 from the earlier estimate of 169,000. The July's increase was revised down to 89,000 from 104,000. Employers have added an average of 185,000 jobs each month over the past year, but the gains have slowed in recent months. Payrolls expanded by 332,000 jobs in February, the strongest increase in three years.
Given that the numbers in this employment report are a little stale -- they were collected in mid-September -- the report is probably carrying less weight than usual. While it can shed some light on job creation, the result doesn't reflect the impact of the partial government shutdown and likely won't move the needle for the data-dependent Federal Reserve's decision at its Oct. 29-30 policy meeting.
The central bank surprised most of Wall Street in deciding against paring back its $85 billion in monthly bond buying at its last meeting in September. While December, the last Fed policy meeting of the year, is still an option, some Fed watchers don't expect the central bank to slow its purchases until 2014.
"October's payrolls are likely to be weak too. That means unless November's gain turns out to be over 300,000, it now looks like the Fed could delay tapering until early next year," Capital Economics' Paul Ashworth wrote in a note to clients.
Following the release, Barclays pushed out its expectation for the first Fed tapering to March 2014 from December 2013. The bank now expects the Fed to finish the asset-purchase program in September of next year, later than its previous forecast of June 2014. The timing of the first Fed rate hike remains unchanged in June 2015, Barclays said.
© Copyright IBTimes 2023. All rights reserved.