No US September Jobs Report On Friday Due To Government Shutdown, Labor Department Confirms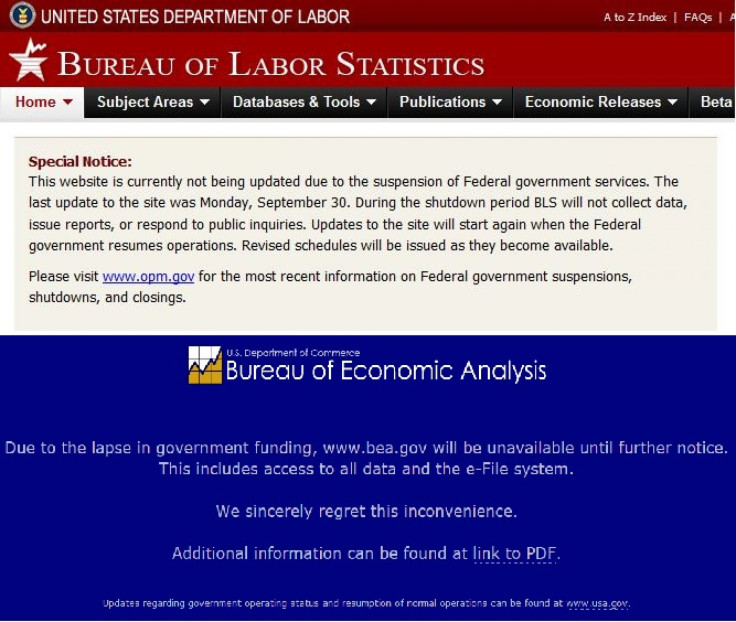 The U.S. Labor Department on Thursday confirmed that the nonfarm payrolls report for September won't be released as scheduled on Friday due to the government shutdown and that a new release date hadn't yet been set.
"Due to the lapse in funding, the Employment Situation release which provides data on employment during the month of September ... will not be issued as scheduled on Friday," the department said. "An alternative release date has not been scheduled."
Even if law makers strike a deal Thursday, the report will be delayed.
ADP Employer Services reported on Wednesday that the U.S. private-sector employment increased by a relatively disappointing 166,000 in September, albeit up slightly from a 159,000 gain in August. The number also missed analysts' expectation of a 180,000 gain. ADP's reading on the U.S. labor market appears to be the only one available for awhile.
No one knows how long the shutdown will last. While a brief shutdown of one or two weeks would have only a modest impact on the U.S. economy, that multiplies as the shutdown continues.
Capital Economics' Paul Ashworth estimates that the furloughing of 800,000 federal employees will reduce spending by roughly $155 million per day, which on an annualized basis is roughly equivalent to a mere 0.3 percent of GDP. "If the current shutdown drags on, however, then once the debt ceiling limit begins to bite in the second half of this month, the economic and market impact would become much greater," Ashworth said.
© Copyright IBTimes 2023. All rights reserved.