US Solar Companies SunEdison Inc And First Solar Inc Give Critical Boost To India Solar Energy Target With 20,000 MW Pledge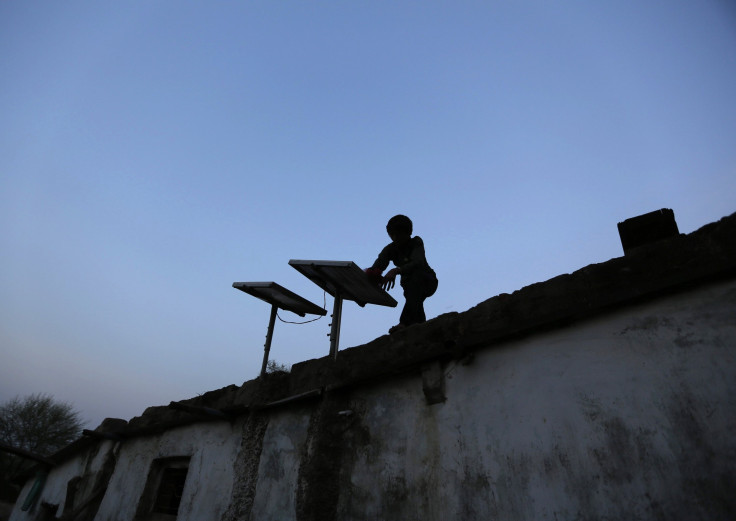 U.S. solar companies are cashing in on India's efforts to scale up clean energy and address climate change. SunEdison Inc. and First Solar Inc. this week pledged to build more than 20,000 megawatts of solar energy capacity across India -- an amount greater than all the solar capacity in the United States.
The solar firms announced the plans Sunday in New Delhi at the opening of India's first major renewable energy conference. Prime Minister Narendra Modi is using the event to raise support from private and foreign investors to meet the government's target of 100,000 megawatts of solar power in India by 2022, a 33-fold jump from current levels, Reuters reported.
India will need to raise around $100 billion in total financing to reach those goals, opening up a massive investment opportunity for U.S. developers and banks, according to trade experts.
Missouri-based SunEdison said it would build 15,200 megawatts of both solar and wind power capacity within the next seven years. The company in November became one of the world's largest renewable energy developers after acquiring First Wind Holdings Inc. for $2.4 billion.
First Solar committed to developing 5,000 megawatts of solar energy capacity by 2019. Last week, the Arizona-based solar panel maker and project developer landed an $850 million deal with Apple Inc. to supply the tech giant with renewable power for the next 25 years.
"India has a critical need to add capacity to its grid as it continues to experience strong economic growth and growing demand for energy," said Pashupathy Gopalan, president of SunEdison Asia-Pacific, Reuters reported.
At the conference Monday, Michael R. Bloomberg, the United Nations' special climate envoy and former New York City mayor, praised Modi's solar goals. In his keynote address, Bloomberg called India a "crucial global leader" in ongoing efforts to reach a worldwide climate change treaty. Nearly 200 nations this year are negotiating a pact to cut greenhouse gas emissions and have pledged to sign a formal agreement in Paris this December.
"No other country faces an energy challenge, or has seized an energy opportunity on nearly the same scale and scope," Bloomberg said. "Imagine the signal it would send to the world if India were able to achieve its goal of bringing electricity to every household that lacks it, largely using clean solar power.... It would be a success story told -- and copied -- around the world."
Modi's renewable energy targets are central to India's plans for avoiding carbon emissions while simultaneously supplying power to the rapidly expanding population. The prime minister has also pledged to invest $1.2 billion in 100 "smart cities" with highly efficient energy supplies, plenty of public transportation and well-conserved water resources.
Even so, India is facing mounting pressure from the international community to curb or cap its greenhouse gas emissions. The U.S. and China, for instance, have each set national targets for limiting carbon emissions. The Modi administration has declined to set such limits, insisting that India's top priorities are lifting people out of poverty, providing electricity to millions more people, and creating jobs and building infrastructure.
In recent weeks, however, Modi has begun to signal an important shift in the country's tone on climate action. After a meeting with President Barack Obama in January, Modi acknowledged that India, similar to all nations, is also obligated to reduce emissions from the burning of fossil fuels.
"When we think about the future generations and what kind of a world we are going to give them, then there is pressure," Modi said in a Jan. 25 news conference with Obama. "Global warming is a huge pressure."
© Copyright IBTimes 2023. All rights reserved.