US Spends Most On Healthcare Compared To Other High-Income Nations - IBT Graphics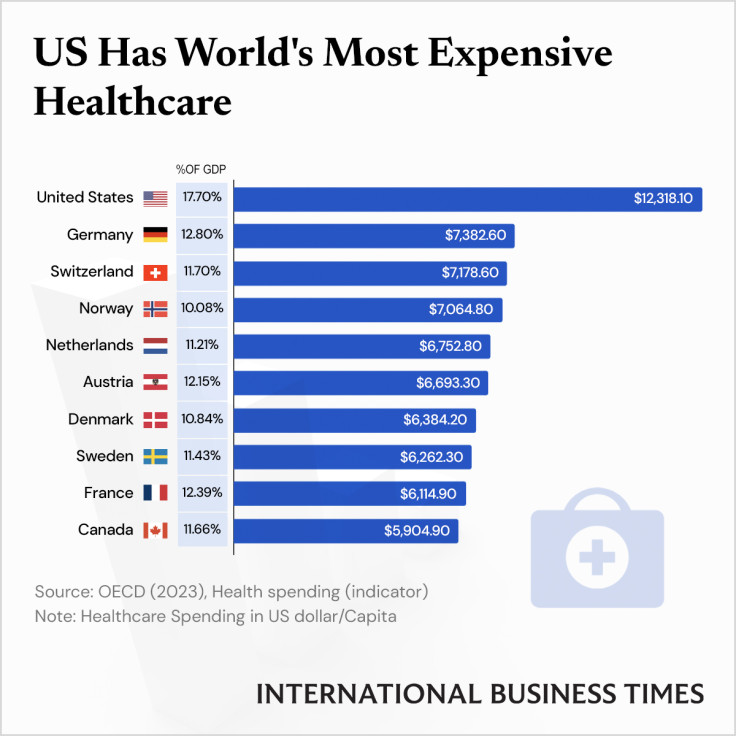 Higher-income countries tend to spend more per person on healthcare than lower-income nations. Among the higher-income countries, the U.S. spends significantly more on its healthcare budget per capita, as well as based on its gross domestic product (GDP).
Health spending per person in the U.S. reached $12,914 in 2021, at least $5,000 more than other countries, according to health expenditure and financing data compiled by the Organization for Economic Co-operation and Development. Between 2020 and 2021, the U.S. per capita health spending increased by at least 2.6%.
The average money spent on healthcare per person was reported to be $6,125, less than half of what the U.S. spends per person. European countries dominate the list of the top 10 highest spenders on healthcare in the world.
Comparing the expenditure on the basis of GDP, the U.S. topped the ranking by spending approximately 18% of its GDP on healthcare. Germany followed at the second spot, spending around 13% of its GDP on healthcare.
© Copyright IBTimes 2023. All rights reserved.