3 Of The World's Most Surveilled Cities Are In India - IBT Graphics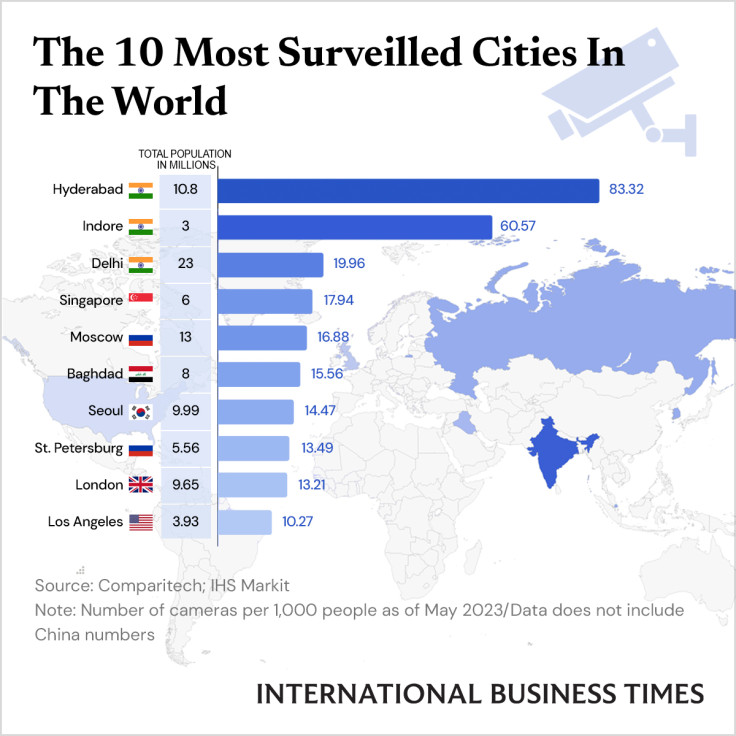 The importance of CCTV surveillance, which helps in monitoring traffic and preventing crime, has amplified with the increasing proliferation of digitalization.
According to a recent report by Comparitech, some of the most surveilled cities in the world are in India, one of the fastest-growing economies. The city of Hyderabad in the Southern Indian state of Telangana has the most number of cameras per 1,000 people at 83.32.
Delhi, the national capital of India, has a total number of 449,934 cameras for a population of 22.4 million, which implies 19.96 cameras per 1,000 people. The only U.S. state on the list is New York, with 70,882 cameras for 300 square miles, indicating 235.97 cameras per square mile.
As per IHS Markit estimates, China collectively has the maximum number of surveillance cameras at 626 million, equating to a total of 439.07 per 1,000 people. Beijing, the Chinese capital, for instance, has 9,556,892 cameras for 21.7 million people, which implies 1,508.28 cameras per square mile.
© Copyright IBTimes 2023. All rights reserved.