US Steel Warns Of Layoffs In Arkansas And Texas As Trans-Pacific Partnership Looms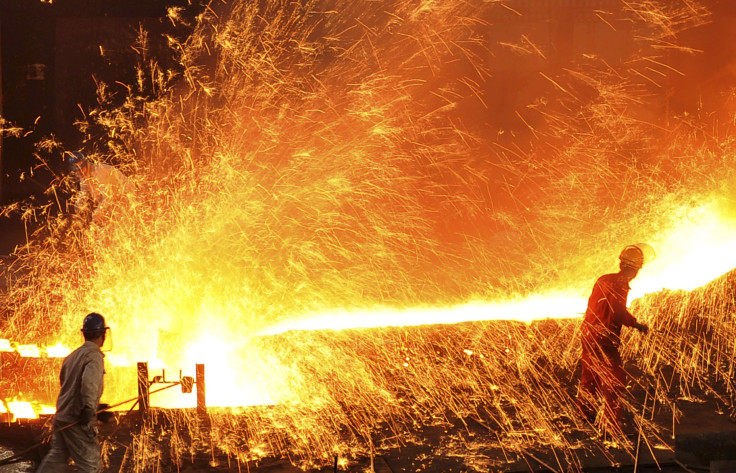 United States Steel Corporation issued layoff notices to 1,404 workers in the latest sign of struggle for the American steel industry. The missives went out in recent days to workers producing pipe and tube products that are used in the oil and gas sector. Job cuts could come as early as June for 17 to 579 employees at a plant in Lone Star, Texas, 166 at a factory in Houston, 255 at a mill in Pine Bluff, Arkansas, and 404 managers across the company's tubular operations nationwide.
Since last June, the company has informed 7,800 employees of potential job cuts, a tally from Pittsburgh Business Times indicated. U.S. Steel spokeswoman Sarah Cassella said the ongoing layoffs are the result of "challenging market conditions and global influences in the market including a high level of imports, reduced prices for oil and natural gas and reduced steel prices."
Looming in the distance is the Trans-Pacific Partnership (TPP), a proposed trade agreement with 11 other Pacific Rim countries that includes major steel producers like Japan and South Korea, and has the support of the White House. Critics say it could exacerbate domestic steel's woes.
In the aftermath of the recession, cheaper steel imports, many of them from China and other Asian countries, flooded U.S. markets. From January 2014 to January 2015 alone, imports to the United States surged increased by about a third to reach nearly 4 million metric tons. The glut in foreign-produced steel has made it harder for American companies like Pittsburgh's U.S. Steel to compete.
Meanwhile, the recent decline in oil prices -- about 60 percent since last June -- presents another challenge. As wary domestic oil and gas companies scale back spending and lay off workers, demand for pipe and tube sags.
The recent layoff announcements join a geographically diverse list of pending job cuts at U.S. Steel. Since March, the company has announced plans to idle temporarily a massive factory in Granite City, Illinois, that employs 2,000 and a tubular steel facility in Ohio that employs 614 in addition to other plants in Pennsylvania and Minnesota. U.S. Steel has 23,000 workers in North America and 12,500 in Europe, filings with the Securities and Exchange Commission show.
Added to those concerns is the TPP. Last week, a bipartisan group of legislators introduced a so-called fast-track bill that would limit Congress' ability to amend the version of the trade deal approved by negotiators.
Scott Paul, president of the Alliance for American Manufacturing, said the current version of the deal fails to address adequately currency manipulation -- a long-standing concern shared by top steel industry employers and labor unions in North America. Domestic steel executives voiced similar concerns at a congressional hearing last month.
Paul said TPP signatory Japan -- the second largest steel producer after China -- regularly undervalues its currency as a means of artificially boosting exports, dumps the goods in the U.S. and faces little consequence: "The way that many of these trade laws are structured, you have to be in the economic equivalent of the ICU before you can petition for relief and expect it to be successful."
Supporters have lauded the TPP as a "21st century trade agreement" that sets "high-standard" rules for future trade deals. By the same token, if the TPP locks in low standards on currency manipulation and provides insufficient means to challenge countries on such grounds, the trade deal would help cement what's already an uneven playing field for domestic steel producers and workers, Paul said. In other words, that could mean more low-cost imports from Japan and South Korea -- not to mention Malaysia and Vietnam, which are also part of negotiations.
Paul worries the TPP doesn't include sufficiently rigorous "rules of origin," which determine how much domestically produced content something must have before it can benefit from the trade deal. In other words, a South Korean refrigerator or a Japanese car made from Chinese steel could, in theory, could enjoy the protections and benefits of the TPP even though China is not part of the agreement. Paving the way for more inexpensive Chinese steel to enter U.S. markets can only hurt domestic producers, he said. (The full text of the agreement has not yet been made public, so the specifics of the rules of origin section remain unclear.)
So long as the TPP does not address those concerns -- and the deal, at the moment, does not appear to do so -- it will have a "negative effect on the steel industry," Paul said.
The United Steelworkers union, which represents most of the North American labor force at U.S. Steel in addition to workers in other manufacturing sectors, has helped lead the opposition to fast-track legislation. More than 1,000 activists from environmental groups and organized labor rallied against the bill on Capitol Hill Monday.
Iron and steel work is a relatively well-compensated field. The roughly 60,000 steelworkers in the United States make about $22 an hour, the Bureau of Labor Statistics figures show.
© Copyright IBTimes 2023. All rights reserved.
FOLLOW MORE IBT NEWS ON THE BELOW CHANNELS