US Stock Futures Point To Flat Open Retreating From Fed Induced Highs, Ahead Of PPI, Core PPI, Consumer Sentiment, Corporate Earnings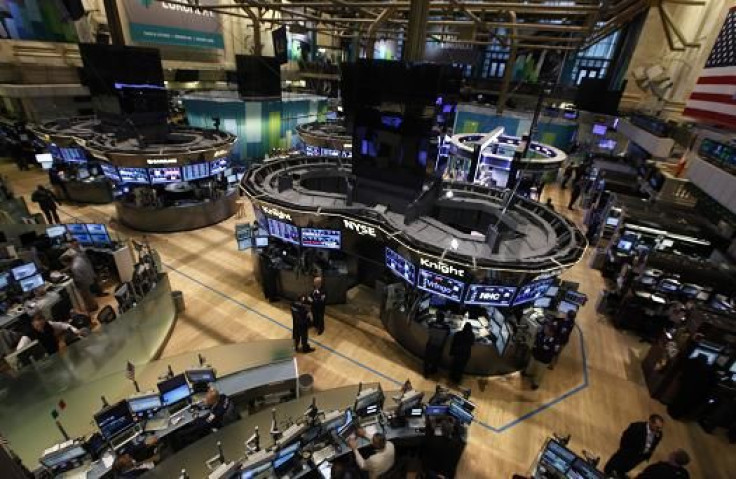 U.S. stock index futures point to a flat start to the market on Friday as markets retreated from record highs triggered by U.S. Federal Reserve Chairman Ben Bernanke's comments about the continuation of easy monetary policy, and ahead of the publication of the Producer Price Index , or PPI, a consumer sentiment index and corporate earnings reports.
Futures on the Dow Jones Industrial Average were down 0.01 percent, futures on the Standard & Poor's 500 Index were up 0.04 percent and those on the Nasdaq 100 Index were up 0.07 percent.
"Today, we expect the exuberance induced by [Federal Reserve Chairman Ben] Bernanke to subside as the market realizes his words haven't substantially changed the assessment of Fed's tapering timing and investors look ahead to Chinese second-quarter gross domestic product [data] next Monday," said Crédit Agricole strategist Anthony Lam, MarketWatch reported.
On Thursday, the Dow Jones industrial average rallied 1.1 percent, to end at a record high of 15,460 while the S&P 500 surged 1.36 percent to 1,675, also a record high, and the Nasdaq rose 1.63 percent to end at its highest level since September 2000.
On Friday, investors are likely to focus on the PPI -- a leading indicator of consumer price inflation -- for June to be published at 8:30 a.m. EDT. The PPI, which measures the change in the price of goods sold by manufacturers, is estimated to remain steady at 0.5 percent in June.
The core PPI for June, also released by the Department of Labor on Friday, which measures the change in the selling price of goods and services sold by producers, but excludes food and energy, is likely to post a 0.2 percent increase in June, after remaining flat at 0.1 percent in the previous month.
Investors are also expected to focus on the consumer sentiment report from Reuters/University of Michigan, which is due to be released at 9:55 a.m. EDT. The preliminary index for July, which shows what consumers in the U.S. think of the nation's business climate and economic conditions, is expected to hold steady at 84.1 in the month, according to a Bloomberg report.
In addition, investors will look to quarterly earnings reports from banking majors JPMorgan Chase & Co. (NYSE:JPM) and Wells Fargo & Co. (NYSE:WFC), expected to be released before the market opening.
JPMorgan Chase is expected to report FY 2013 second-quarter EPS of $1.43 on revenue of $24.77 billion, compared with a profit of $1.21 per share on revenue of $22.89 billion in the year-ago period, while Wells Fargo is expected to report FY 2013 second-quarter EPS of 92 cents on revenue of $21.20 billion, compared with a profit of 82 cents per share on revenue of $21.29 billion in the year-ago period.
European markets extended gains on Friday, tracking Thursday's record gains on Wall Street, with the Stoxx Europe 600 index gaining 0.47 percent. London's FTSE 100 was up 0.52 percent, Germany's DAX-30 was up 0.88 percent and France's CAC-40 was trading up 0.39 percent. Investors also await euro industrial production data for June, due at 5:00 a.m. EDT.
In Asia, markets remained mixed, paring gains from the previous session, as concerns mounted over fresh indication of a slowdown in China's economy after the country's finance minister, Lou Jiwei, on Thursday said that world's second-largest economy will miss its GDP targets. According to a state media report, quoted by MarketWatch, Lou said that China's economy will grow at an average of 7 percent this year, below the Chinese government's earlier projection of 7.5 percent.
Macquarie also cut its Chinese GDP growth forecasts for 2014 to 6.9 percent from an earlier projection of 7.5 percent, in a report issued Thursday.
The MSCI Capital Index, excluding Japan, lost 0.17 percent, on Friday, after hitting a three-week high on Thursday. In China, the Shanghai Composite index ended down 1.62 percent and Hong Kong's Hang Seng Index lost 0.75 percent, while South Korea's KOSPI Composite index closed down 0.41 percent. Australia's S&P/ASX 200 rose to end the day up 0.17 percent while Japan's Nikkei ended up 0.23 percent.
In India, the BSE Sensex ended the day up 1.44 percent, buoyed by better-than-expected quarterly earnings from IT company Infosys, and trade data that showed the country's trade deficit in June fell steeply to $12.24 billion from $20.14 billion in May.
© Copyright IBTimes 2023. All rights reserved.