US, Sunni Nations Closer To Coalition And Strategy To Fight ISIS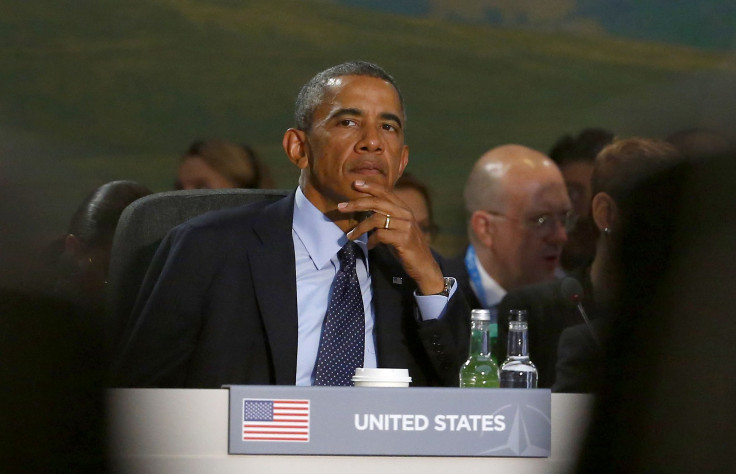 Secretary of State John Kerry said Friday the U.S had identified a "core coalition" of 10 countries that could help in the fight against the Islamic State in Iraq and Syria, indicating that the U.S. is one step closer to spearheading, with other Western nations, a major campaign to fight the Sunni militant group.
"There is no contain policy for ISIL. They're an ambitious, avowed genocidal, territorial-grabbing, Caliphate-desiring, quasi state with a regular army. And leaving them in some capacity intact anywhere would leave a cancer in place that will ultimately come back to haunt us," Kerry said Thursday in Wales at the NATO summit. "So there is no issue in our minds about our determination to build this coalition, go after this."
Kerry's statement at the NATO summit in Wales comes after two weeks of statements by President Obama and State Department and Pentagon officials that the U.S. was "in the process" of forming the international coalition to fight ISIS. President Obama said last week that the U.S. did not yet have a strategy on fighting ISIS and that it was considering several options, a phrase that dismayed many observers.
But Kerry's statement, along with the one President Obama made Thursday afternoon, point to the fact that, in reality, the U.S. now has a "strategy that is clear, becoming more clear by the day," Kerry said. The U.S. and other Western allies have yet to give any clear detail of what the coalition would look like.
"We want to make sure we get it right," Obama said at a press conference at the NATO summit Thursday.
Kerry said the coalition relies on a "holistic approach." "We need to attack them in ways that prevent them from taking over territory, that bolster the Iraqi security forces, others in the region who are prepared to take them on, without committing troops of our own," Kerry said. "Nevertheless, there are many ways in which we can train, advise, assist, and equip."
Denise Natali, a fellow at the National Defense University in Washington said the U.S. is already beginning to arm Kurdish military forces in Iraq to fight ISIS, but that strategy might not be efficient in the coming months and years in Iraq.
"The U.S. and others should keep the arms to light weapons, and be very careful. The U.S. cannot be the air force and security forces for the Kurds as they seek to expand territories that they evidently cannot control on their own," Natali said.
In a joint statement Kerry and Secretary of Defense Chuck Hagel on Thursday laid out the areas the international coalition needed to cover in order to fight ISIS effectively, which included military support to Iraqi partners, stopping the flow of foreign fighters, countering ISIS financing and funding, addressing humanitarian crises, and de-legitimizing ISIS ideology.
The statement released by Kerry and Hagel did not include a list of international partners willing to participate in the coalition.
So far, the only countries that have agreed publicly to help in any way are France, Australia, and the United Kingdom, all of which are delivering humanitarian supplies to the citizens of Amerli in northern Iraq. In addition, there will be a multinational task force that will be formed to share information about the flow of foreign fighters into Syria and from Syria into Iraq. That intelligence will most likely be shared about NATO member states.
"These foreign fighters represent an acute threat to our NATO allies," the statement from Kerry and Hagel said. "We also agreed to work in concert to stifle ISIL's sources of revenue, including any trade in petroleum products, and hold accountable those who violate international prohibitions on such trade."
In his speech Thursday Obama noted that the international coalition would rely heavily on Sunni partners in the region "that reject the extremists, that say that it is not what Islam is about." In the past, the U.S. has relied on Jordan and Saudi Arabia to support its mission of propping up the moderate opposition in Syria. Both countries could be key partners in the fight against ISIS, along with other Gulf states like Qatar and the United Arab Emirates, experts say.
"In the past few years you have seen an emergence of much more autonomous special operation and even conventional military operations among Gulf countries," Austin Long, a professor at Columbia University, said. "In the past, they were very hollow militaries, but that has started to change. Now, they bring checkbooks and intelligence capability."
The question, Long said, is whether the U.S. will be able to get everyone on the same page in terms of strategy in Syria. The coalition will need to attack ISIS without empowering the Assad regime, but will also need to come to an understanding of who to support on the ground.
© Copyright IBTimes 2023. All rights reserved.