USAF To Deploy Drone-Killer Laser Overseas, Costs A Buck A Shot!
The Air Force has a new weapon in the fight against Unmanned Aerial Vehicles (UAV) threats. It is taking delivery of its HELWS laser and is now deploying it overseas as part of a year-long experiment.
Having finished its initial test phase, the system and its operators will now train with it in a real-world environment.
Raytheon has been developing the weapon for almost two years to aid in defense of targets against smaller drones. Several incidents have hit the world stage as of late, ranging from attacks on oil production facilities to shutting down entire airports, New Atlas reported.
"Now, we hear about attacks or incursions all the time. Our customers saw this coming and asked us to develop a ready-now counter-UAS capability. We did just that by going from the drawing board to delivery in less than 24 months," says Roy Azevedo, president of Raytheon Space and Airborne Systems. That is an impressive feat for such new technology.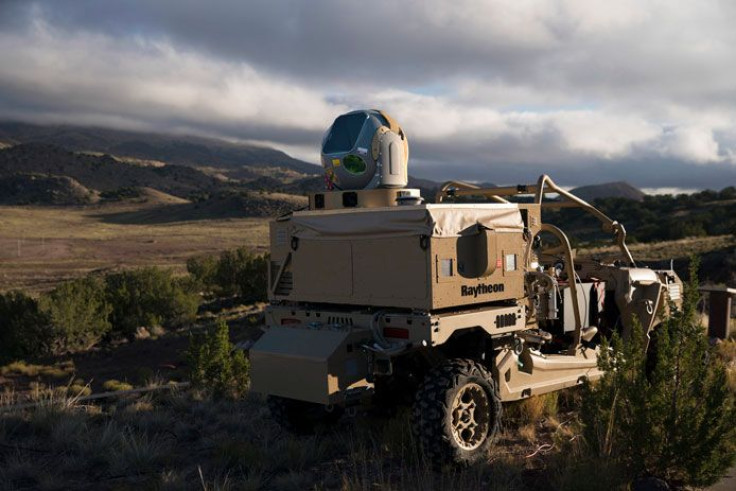 Weapons, such as this laser, are not considered to be high-powered enough to attack full-sized aircraft yet! They are more than enough to deal with smaller threats doing everything from blinding them to destroying the electrical circuits and effectively "killing" them.
The new laser is small and portable, so it can quickly get to where the action is. It comes mounted on an all-terrain vehicle. It leaves behind a minimal footprint which aids in its defense against possible enemy attackers.
The best part of the system so far is that it's straightforward to operate. Instead of costing millions of dollars in fuel and ordinance, the HELWS costs approximately $1 per shot. That is less than most carnival games. The system even contains active intelligence to help operators track targets and provide information.
The system is powered with a standard 220-volt power outlet. This means, when it's plugged into a continuous power source, it will never run out of "ammunition."
© Copyright IBTimes 2023. All rights reserved.
FOLLOW MORE IBT NEWS ON THE BELOW CHANNELS