'Vampire Diaries' Canceled After Season 8; 7 Things That Must Be In The Final Episodes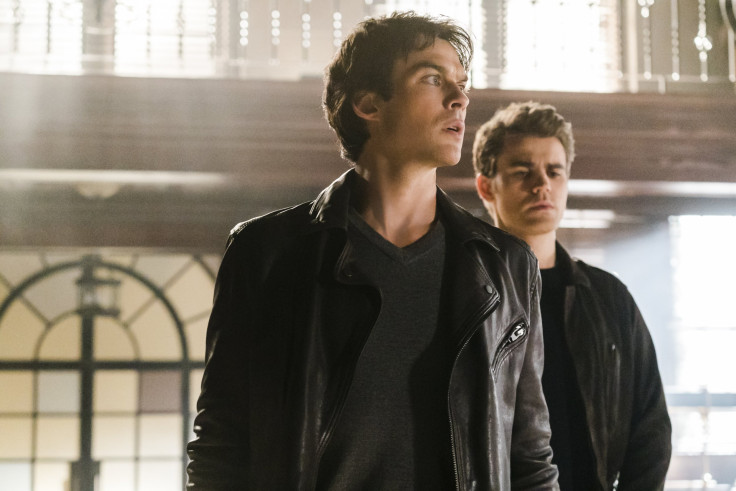 It's the news most fans knew was coming, but it still hurt: "The Vampire Diaries" is ending. The cast and producers made the announcement Saturday at San Diego Comic-Con. Season 8 will be the last year of the CW drama, but that leaves 16 episodes for crazy twists and turns. We're hoping the writers can fit in these events before the series finale.
1. Caroline and Klaus — It's pretty clear that Caroline (Candice King) wants to be with Stefan (Paul Wesley) again, but would it kill the CW drama to give her a scene with Klaus (Joseph Morgan)? Something more than a phone call would be great. After all, the crossover with "The Originals" last season proved that Klaroline shippers are alive and well.
2. Matt Is Happy — He has had to put up with so much. If anyone deserves to be free of the vampires' drama, it's Matt (Zach Roerig).
3. Bonnie Gets Her Powers Back — Season 7 ended with Bonnie (Kat Graham) losing her powers, but it seems unlikely that she'll be happy to be a normal human again. Here's hoping Bonnie gets back to normal as soon as possible in "The Vampire Diaries" Season 8.
4. Flashbacks — Where were Damon (Ian Somerhalder) and Stefan (Paul Wesley) during the '60s? Viewers have gotten to see them in the Civil War, in the '20s, WWII and the '90s, but there are still some fantastic eras that haven't been explored. Let's delve into the Salvatore brothers' pasts one more time.
5. Focus On The Core Group — If the CW drama could not add a dozen new characters that need a ton of screen time, that would be great. This is our final time with the Salvatores and their friends. The focus should be on them.
6. Returning Characters — That doesn't mean familiar faces have to stay away. Since it's the final season, it seems like a good time for a final encore from some beloved characters. Quick appearances from Tyler (Michael Trevino) and Jeremy (Steven R. McQueen) would be more than welcome. One last visit from Stefan's dead friend Lexi (Arielle Kebbel) would also be great.
7. Elena Returns — Finally, Elena (Nina Dobrev) should come back. Sure, we all know that showrunner Julie Plec has said Dobrev would return for a series finale, but it would be nice if the actress were to return for a few episodes. Fans will have to see how the series plans to bring her back, though. They'll have to deal with the curse that links Elena and Bonnie first.
Watch the announcement for the final season of "The Vampire Diaries" below:
The final season of #TVD begins Friday, October 21 on The CW. #TVDForeverhttps://t.co/wbRKkQGIUL

— The Vampire Diaries (@cwtvd) July 23, 2016
"The Vampire Diaries" Season 8 premieres Friday, October 21 at 8 p.m. EDT on The CW.
© Copyright IBTimes 2022. All rights reserved.
FOLLOW MORE IBT NEWS ON THE BELOW CHANNELS