Vanessa Bryant Shares Plans To Keep The Legacy Of Kobe Bryant Alive
Vanessa Bryant was recently honored at the third Annual Sports Power Brunch where she spoke about her role in keeping the legacy of late husband Kobe Bryant alive, through the Mamba & Mambacita Sports Foundation.
The awards ceremony, presented by athletic apparel maker, Champion, was held in California on Tuesday and honored women who made outstanding contributions in sports and entertainment.
"As a mother of four strong girls, I care deeply about not only leveling the playing field for girls, but elevating it. I want to instill in our young people that girls are just as good as boys and often times, better," Vanessa said as she accepted the "Be Your Own Champion" award.
The 39-year-old sports foundation president continued, "I want to provide young girls with opportunities to showcase their talents and to dominate in their fields," adding, "It was important to Kobe, it was exemplified by Gigi and it is something for which Natalia, Bianka, Capri and I will always fight for."
NBA star Kobe and his daughter, Gianna "Gigi," who was 13 years old at the time, were killed with nine other people in a helicopter crash in January 2020. Mambacita was Gianna's nickname.
Aside from Gianna, Vanessa is also mother to daughters Natalia, 19, Bianka, 6, and Capri, 2.
The foundation recently launched its first inaugural skills academy where they invited various chapters of boys and girls club to participate in activities. Vanessa said the academy is meant for participants to run drills and play together and cultivate a sense of teamwork within themselves. It is important to "elevate" the way boys and girls view each other at a young age as "teammates versus competitors," she said.
"If they're taught how to share common goals and compete together to achieve them, then those skills will not only help them grow as children but also help them grow in business and future relationships as adults," she added in her speech on Tuesday.
In 2021, Vanessa launched the Mambacita clothing line shortly after she announced that Kobe Bryant's estate has parted ways with Nike. The former model said all of the proceeds of the Mambacita clothing line will go to the sports foundation.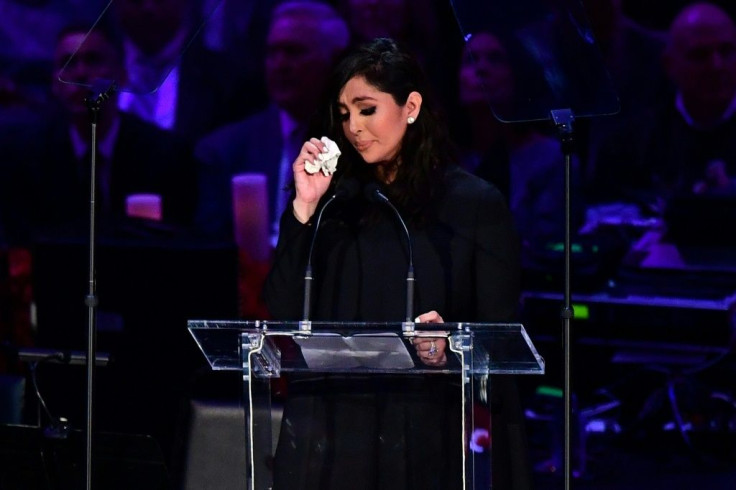 © Copyright IBTimes 2023. All rights reserved.