Verizon Strike 2011: Which Side Will Win? Flared Emotions Spark Sabotage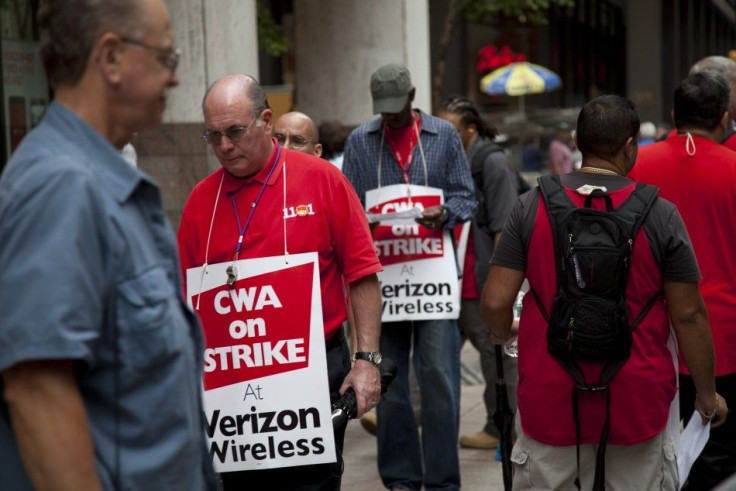 On Monday, Verizon claimed there had been at least 143 acts of sabotage to telephone facilities since 45,000 of its workers began striking on Aug. 7.
After contract negotiations failed largely over the amount that union employees would be required to pay for health care and pension and retirement contributions, union workers stormed the streets on the East Coast, from Massachusetts to Washington, D.C.
Verizon officials did not offer proof that any particular act was sabotage, but they said it was suspicious that there had been three times the number of incidents in the last eight days as in the previous six months, The New York Times reported.
Verizon Communications' (VZ.N) U.S. Northeast wire line unit provides traditional phone as well as high-speed Internet and FiOS television services.
"It just isn't feasible that there is not a connection because there's been such an uptick since the calling of the strike," Mike Mason, Verizon's chief security officer, said. "Whoever is doing it, I consider it un-American and unpatriotic to attack critical infrastructure."
Verizon claims that since the strike began, it has suffered more than 70 incidents of sabotage, including cut fiber optic lines, incidents of harassment of management sent to fill in during the strike, and vandalism, according to CNET.
The company complained of network sabotage cases in the same statement where it said some picketing workers were unlawfully blocking Verizon managers' access to work centers.
Yet, a spokeswoman for the Communications Workers of America, representing 35,000 of the strikers, said the union "does not condone illegal action of any kind."
According to the Times, Verizon officials said phone lines had been deliberately cut in Washington, D.C., where the police chief has urged residents to keep an eye out for such acts of sabotage; Maryland; New Jersey; and New York.
"We really want to negotiate the issues," Richard Young, a Verizon spokesman, told CNET. "We're asking the unions to come to the table with an open mind and discuss ways to make this wire line business more competitive and more successful. We're beginning to do that. The unions need to do the same."
The International Brotherhood of Electrical Workers, representing 10,000 strikers, also said members "are expected to obey the law."
However, the CWA said some picketing workers were hurt by Verizon managers' cars and that one worker was knocked unconscious when he was clipped by the mirror of a manager's car that was speeding past a picket line.
Verizon said it was working with the police to investigate what happened, but noted that it believed the allegations are "totally inaccurate."
The CWA also cited a case in which a security guard hired by Verizon had punched a worker and knocked him to the ground on Monday morning.
Verizon did not have an immediate comment on this accusation.
Meanwhile, the company said it was working with authorities to investigate at least 12 cases of sabotage, including deliberate cutting of fiber optic lines in 10 places and a case of stolen equipment that caused an outage.
Verizon said it did not know who was responsible for the sabotage, but noted an unusually high number of incidents since Saturday, the last day of the contract.
The CWA said it would not condone network sabotage.
© Copyright IBTimes 2023. All rights reserved.