Verizon Strike Ends: 5 Reasons Why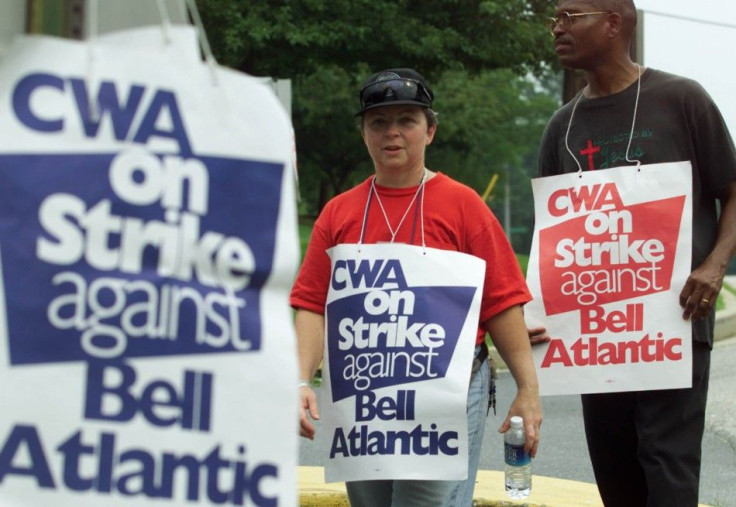 Two weeks into the strike by 45,000 workers against Verizon Communications, both sides agreed Saturday to resume negotiations. The strike will end Monday.
The strike involving members of the Communications Workers of America and the International Brotherhood of Electrical Workers against the largest U.S. phone carrier proved nasty at times. New York-based Verizon claimed there had been more than 143 acts of sabotage. Customers have complained.
Neither Verizon nor the unions released many details of their agreement, but both Verizon executives and CWA and IBEW officials indicated the economy knocked some sense into both sides. Verizon is losing business in a time of weak economic growth and the workers realize that some benefits negotiated in 2009, when circumstances were different, might have to be adjusted.
Here's a guess why the two sides agreed to talk again.
Verizon faces growing competition. Although Verizon Wireless, which is non-union, wasn't affected, the strike dealt with the slower-growing landline business, which also includes its flourishing FiOS package, a fiber-optic service for voice, TV and Internet service for consumers and businesses.
FiOS was a late entrant to a sector previously opened in the Middle Atlantic states by cable operators, including Comcast, Time Warner Cable and Cablevision, whose workforces are mainly non-unionized. Their packages are usually priced below FiOS.
With Verizon relying upon managers to replace workers until now, the cable companies have been upping their sales calls and mail solicitations. Verizon's growth could slow or stall no matter how long the strike lasts.
The strike raised major issues that affect everyone. One of the main issues is paying for health insurance. Verizon wants the unionized workers to start paying an average of $1,450 annually for part of their health premiums. The unions balked, but most other workers now pay at least some of their costs.
Other issues included pensions, vacation time and seniority, which had been resolved before. Recently, Verizon CEO Lowell McAdam wrote all employees, The existing contract provisions, negotiated initially when Verizon was under far less competitive pressure, are not in line with the economic realities of business today.
True, the last recession and today's slow-growing economy mean a network operator has to watch costs, but it's not the workers who made the decisions to build the expensive FiOS network. Indeed, they're the ones who made it such a success in installing it in more than three million households.
Until the strike, Verizon ran commercials and print ads bragging that one reason to get FiOS was because the installers themselves had the service in their homes.
Precedent says a deal will be done. Verizon workers last went on strike in 2000, when 86,000 walked out for two weeks. That walkout disrupted service and installations. The same will apply this time, although after six weeks of talks, Verizon was still demanding some non-starters like the elimination of Martin Luther King Jr.'s birthday and Veterans Day as paid holidays.
Now, Verizon said it had agreed on a process of moving forward and union officials said their walkout had shown they couldn't be pushed around.
Clearly, Verizon, which reported second half net income of $3.6 billion on revenue of $27.5 billion, iwas dug in. But the CWA and IBEW workers also know their counterparts at AT&T have already agreed to contribute at least some of their health premiums.
Technology can eliminate more jobs over time. Remember the days of the telephone operator? Free directory assistance? Those days have passed. Verizon is a huge purchaser of computers, network management and billing software as well as database systems from the big vendors like HP, IBM and Oracle.
Its entire system for both wireline and wireless service is fully digital, i.e. computerized. But Verizon can't work without professionals to handle installations and customer repairs, deal with emergencies like fires and storm damage as well as customer requests for billing and new service.
In its latest earnings report, Verizon noted its customers are loyal, with the lowest churn of the major carriers.
This gives the workers a leg up because Verizon management knows it's still essentially a telephone company running 21st century applications.
Economic growth may be easing again. Latest signs indicate the U.S. economy is slowing down. But the wired network is still growing, although the latest reports by equipment providers including Cisco Systems and Brocade Communications showed that orders from government agencies have eased.
Why continue a strike and service disruptions into late summer, a time when businesses plan for the fourth quarter, families that have moved over the summer into new homes make choices and students return to college?
To protect their stake in the market for all manners of communications, putting everyone back to work makes sense.
FOR FREE to continue reading
✔️ Unlock the full content of International Business Times UK for free
offer available for a limited time only
✔️ Easily manage your Newsletters subscriptions and save your favourite articles
✔️ No payment method required
Already have an account?
Log in
© Copyright IBTimes 2023. All rights reserved.