The Very Personal Reason This FCC Commissioner Fought To Regulate Prison Phone Calls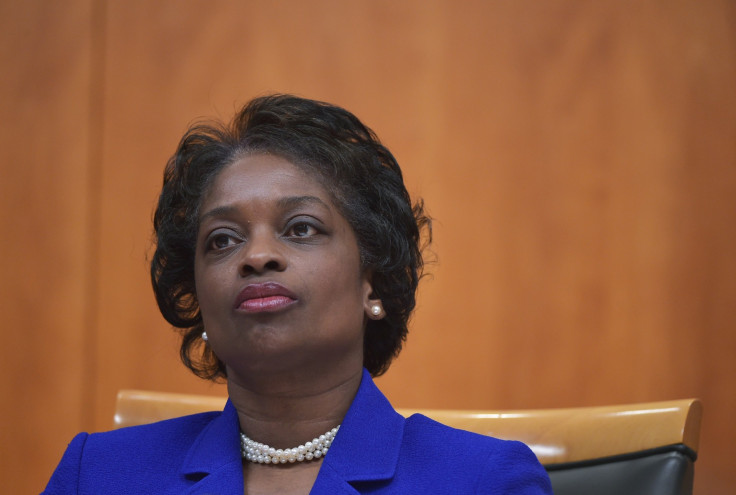 WASHINGTON, D.C. - Mignon Clyburn isn't exactly a household name for most of America, but for anyone who has a friend or family member behind bars, Clyburn has become something of a folk hero. That's because late last month, Clyburn, a commissioner on the Federal Communications Commission appointed by President Barack Obama, voted to impose new regulations on the freewheeling prison phone call industry that charges high rates on calls between prisoners and their families.
Criminal justice advocates have long positioned the prison phone business as a shadowy trade, driven by exclusive contracts, kickbacks and outright bribes. The industry generates some $1.2 billion per year, while prisoners and their families bear the costs. In some cases, Clyburn has pointed out, rates have "ballooned" to $14 per minute. Under Clyburn's leadership, the FCC has proposed regulations that will limit calls to $1.65 for a 15-minute conversation and force companies to remove several additional fees.
Among insiders, Clyburn is widely credited as the commissioner who pushed through a notoriously lengthy and bureacratic government process to regulate an industry. "Without her, and without her interest, we'd still be hitting our heads against the wall asking the FCC to move forward," says Lee Petro, a Washington, D.C., attorney at Drinker Biddle & Reath who has fought for fair phone rates on behalf of inmates and their families.
But behind the scenes, she has also drawn plenty of scorn from the business community in question, who say she's mishandled the regulation. Chief among them is Rick Smith, the chief executive of Securus Technologies, a billion-dollar company that serves 1.2 million inmates at 2,200 prisons and jails around the country.
In a rare interview, Smith told International Business Times that he traveled from Dallas to Washington to meet with Clyburn's staff more than 25 times in the past 18 months. Smith is frustrated, he says, because he feels Clyburn has grandstanded on the issue, using the $14-per-minute figure as a scare tactic to rally public support. Actual costs, he says, are nowhere near that figure.
"I process about 15 million calls per month," he says. "I may have a dozen calls that, for some crazy reason, are at that level."
Smith says the average cost per minute is actually 21 cents, but that figure is "not sexy enough" to get attention. In fact, he says, he and his company have been so vilified in the wake of the regulations that he has received death threats and has enlisted 24-hour security to protect himself and his family.
Smith says that because of the way the current proposal is structured -- a reduction of rates and fees while not allowing for the provision of additional commission fees back to correctional facilities -- the company will be forced to challenge the ruling.
"We'll fight to the death on getting it stayed or appealed," he says.
The prison calling industry has operated without interference for decades, but that all ended last month largely at the hands of Clyburn, in a turn of events that shocked executives at Securus, Global Tel*Link and Telmate, which dominate the industry. But the 53-year-old Democrat, daughter of South Carolina Congressman Jim Clyburn, had a deeply personal connection to the issue.
In an exclusive interview with IBT at Clyburn's D.C. office, the commissioner opened up -- for the first time on record -- revealing that she, herself, had a close friend from high school go to jail and was forced to deal with the high costs of keeping in touch.
Back in the early 1980s, she says, a schoolmate was sent to jail. (Clyburn did not want to discuss the specifics of her friend, or the case.) After receiving the phone bill after the first month of communication, Clyburn says, she stopped the relationship altogether -- in large part because of the bills she'd receive in the mail.
"I denied myself the continuation of a friendship that was relatively solid in high school but disintegrated quickly when I lost contact and refused that call," Clyburn said, growing visibly emotional. "We haven't spoken in almost 40 years. I don't want any other family to go through the guilt that I obviously still feel about me not accepting that call."
She continued, "There are so many families and individuals that are going through that each and every day, and making difficult financial choices because of a framework that, for a number of years, compounded itself in a way that family, friends and attorneys could not keep in touch."
A Commitment To Public Service
Long before she was an FCC commissioner, Clyburn grew up in Charleston, South Carolina. She earned a B.S. in Business Administration from the University of South Carolina, graduating in 1984. After college, she co-owned and operated the the Coastal Times, a newsweekly that covered issues affecting the African-American community.
In 1994, at 32 years old, Clyburn jumped at a new opportunity: to join the South Carolina Public Service Commission (PSC) as its commissioner. At her interview, which is now a matter of public record, Clyburn was visibly nervous as she was grilled by a panel of state senators and county commissioners. Asked what role a consumer advocate should play in the Public Service Commission, Clyburn replied: "Someone is going to fall through the cracks, so a consumer advocate can say, yeah, 90 percent of our population will benefit from X, but there is 10 percent over here who are really suffering."
Clyburn served on the South Carolina PSC for 11 years, and in 2009 was nominated by President Obama for an open seat on the Federal Communication Commission. A news article at the time described Clyburn as a "South Carolinian little-known within Washington's insular communications policymaking world," but the reality is that Clyburn carries a notable pedigree.
Her father, James Clyburn, a former House Majority Whip, has served as the U.S. Representative for South Carolina's 6th Congressional District since 1993.
When Clyburn took the helm at the commission in 2009, the case for more-affordable inmate calls was already winding its way through the FCC. It began in 2000, when Martha Wright-Reed, a low-income nurse, filed a class-action lawsuit against the country's largest private prison company, Corrections Corporation of America, alleging that exclusive contracts at the prisons and jails had driven phone rates through the roof.
In 2001, a district court judge agreed there was civil rights concerns, but referred the case to the Federal Communications Commission. Years later, despite calls for relief, the contracts continued -- and so did the high prices. "They seem to be dragging their feet," Wright-Reed said in a 2012 Washington Post article. (Wright-Reed died in January 2015.)
'Relief To Millions Of People'
That's when Clyburn stepped in. In 2013, the FCC established its first set of rules to limit the interstate rates private companies were allowed to charge, and the more recent ruling expands the scope of the regulation. "Commissioner Clyburn took a risk in taking up this proceeding and moving this forward," says Petro, the pro bono telecommunications lawyer. "Through her leadership, they delivered relief to millions of people. That can't be understated."
Bernie Sanders joined 14 other senators to laud the decision as well. "It is of utmost importance that the FCC move forward with its proposal to curb the cost of intrastate calling rates for inmates," they wrote. "These changes will enable families to stay connected and allow inmates to be better prepared to reenter society once their time has been served."
The businesses that provide the services, no doubt, are somewhat less enthusiastic about Clyburn's recent proposed ruling. Shortly after the fact sheet came out, two of the largest prison phone companies, Securus Technologies and Global Tel*Link (GTL), described it as a "colossal" error and a potenial "business-ending" event.
In addition to the lower rates the companies are now allowed to charge, the FCC discouraged -- though did not prohibit -- the use of "site commissions." Commissions are a controversial payment made to county jails and state prisons based on a percentage of the calling revenue. Many critics describe this scheme as nothing more than a simple kickback, while the companies and sheriffs have argued this money is used to enhance security protocols necessary to monitor criminal activity on the phones.
Smith, the CEO of Securus, agrees that commissions are the "elephant in the room." He says he met with Clyburn and her staff several times and urged the FCC to ban percentage-based commissions, but to grant companies the opportunity to charge inmates an additional $0.01 to $0.03 per-minute. These fees would go back to the correctional facility, "like a sales tax," he says. By lowering the rates, the argument goes, inmates will speak more often, which would accomplish Clyburn's goal of keeping rates affordable, give the companies enough revenue to survive, and enable correctional facilities to recoup the costs of phone security.
But Clyburn chose not to ban commissions, fearing the FCC lacked the authority to do so.
"We'll live with you cutting our fees over 50 percent," Smith says. "We'll find a way to make that up. We wanted one thing."
He added, "She decided to throw out our argument and put out that fact sheet ... now she's risking everything she wants to do on a stay or appeal."
By forcing companies to lower their rates, but not prohibiting the use of commissions, both Securus and GTL say their margins are being squeezed too tightly. "The order reduces rates below the sustainable cost of service for providers and preserves the largest driver of overhead costs," Brian Oliver, the CEO of GTL, said in a statement.
Balancing Consumer Interests With Business Needs
Commissioner Clyburn is sympathetic to the companyies concerns but says she and her staff diligently analyzed the costs for each phone provider, and the proposed rates are fair.
"As regulators, we must regulate and render a decision based on what our legal authority is and balance the need for those companies to make a profit," she says. "We're not unmindful that the Communications Act is a two-way street, that rates should be fair, just and reasonable. But there should also be a return [for the companies] that is fair, just and reasonable."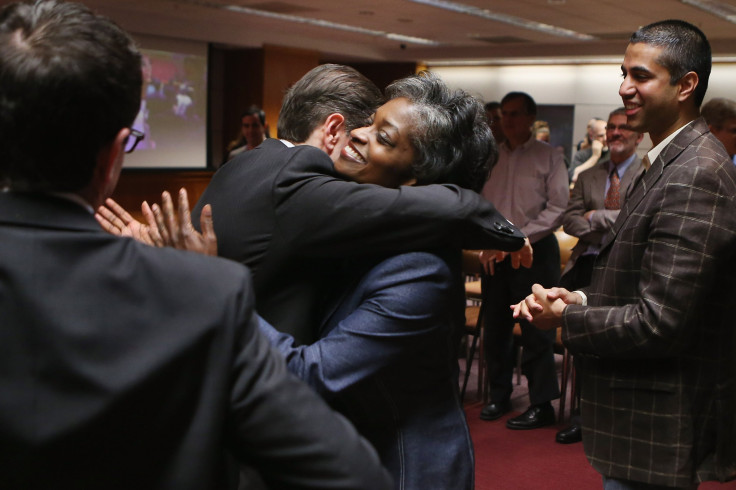 She continued, "We are attempting to right a market dysfunction that is obvious. I don't want to have this conversation again next year. What I want is families to be able to say, 'Oh my gosh, this student is acting better because they just spoke with their father [in prison.' What I want is that person to be able to get in touch with an employer -- affordably -- before he or she is released. What I want is to reduce the recidivism rates. I think that this decision will be key to impacting this. Alone, will it? Maybe, maybe not. But it's an incredible first step to turn the attitude of families and inmates [and keep them] in touch. And I'm happy that we pushed and pushed."
FOR FREE to continue reading
✔️ Unlock the full content of International Business Times UK for free
offer available for a limited time only
✔️ Easily manage your Newsletters subscriptions and save your favourite articles
✔️ No payment method required
Already have an account?
Log in
© Copyright IBTimes 2023. All rights reserved.