Video Shows Police Beating iPhone Factory Workers Who Protested Over Pay Dispute
A newly released livestream shows Chinese police beating Foxconn factory workers protesting at a manufacturing facility in Zhengzhou, China, the world's largest Apple iPhone manufacturer.
Foxconn, which manufactures smartphones and other electronics, has been under strict COVID-19 lockdowns in recent weeks. To contain the latest outbreaks, factories have attempted to implement a closed-loop management plan, where workers live inside the factories and have no outside contact.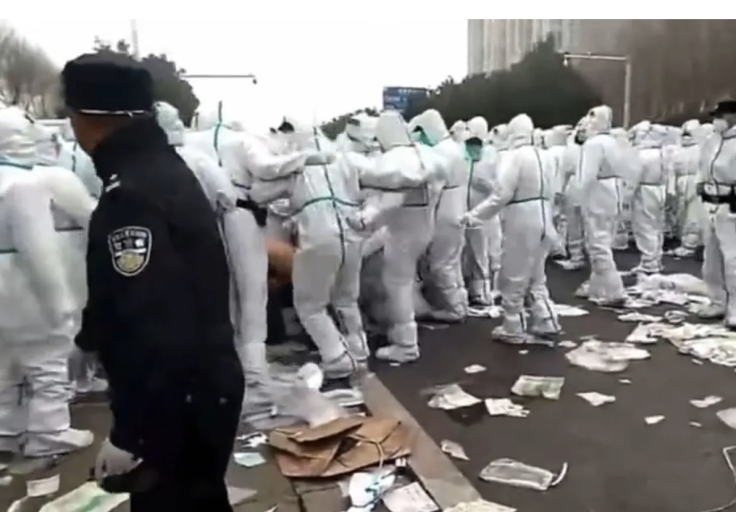 Foxconn announced they recruited 100,000 new workers on Friday in a massive recruitment drive, as Apple faces significant supply chain constraints ahead of holiday demand. To attract more workers amid the COVID-19 lockdowns, the company said it would quadruple daily bonuses for workers at the plant.
According to employee Li Sanshan, who spoke to the Associated Press, the protest at the Zhengzhou factory erupted Tuesday after employees who had traveled to Foxconn after being promised higher pay complained the company changed its salary terms.
When employees arrived, Foxconn said they had to work "two additional months at lower pay to receive the 25,000 yuan they were initially promised," said Li. "Foxconn released very tempting recruiting offers, and workers from all parts of the country came, only to find they were being made fools of."
The newly released video shows thousands of protestors in masks facing rows of police in white hazmat-style suits and riot gear. Police officers can be seen hitting multiple protestors with clubs.
Footage shared on the live streaming site also showed workers shouting: "Defend our rights! Defend our rights!" Other workers were seen smashing surveillance cameras.
One Foxconn worker yells in the background, "They changed the contract, so we could not get the subsidy they promised. They quarantine us, but don't provide food."
One employee told BBC News that workers are protesting because they wanted to "get a subsidy and return home." The worker also claimed to have seen a man "severely injured" after being beaten by police.
Bloomberg News tweeted the graphic video of the violent protests Wednesday.
© Copyright IBTimes 2023. All rights reserved.