Video: Warriors' Steph Curry Mocks LeBron James Workout At Wedding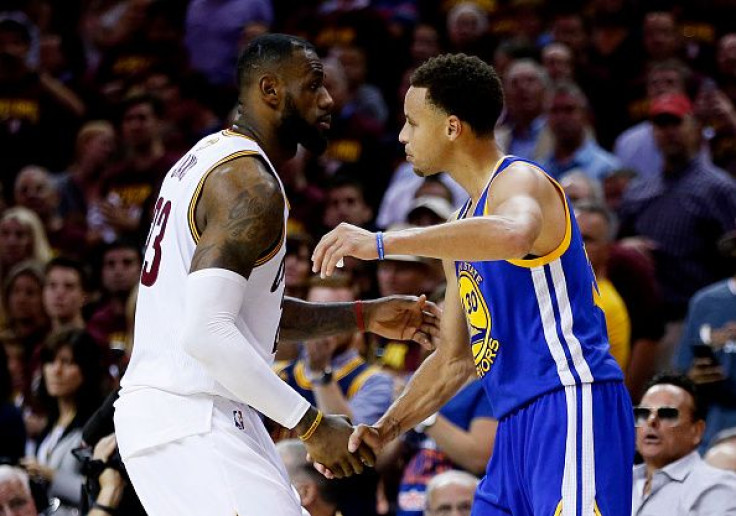 Golden State Warriors guard Steph Curry appeared to be mocking rival Cleveland Cavaliers star LeBron James during a wedding reception. The video surfaced Sunday after the reception.
During the wedding of former Golden State Warriors player Harrison Barnes Saturday, Curry appeared to be doing a pantomime of someone working out, which looked like the "LeBron James Challenge" — an internet spoof created after James posted a video of himself on Instagram singing and dancing to rap music.
READ: Kyrie Irving Trade Rumors: Minnesota Timberwolves Exploring Possible Deals With Cleveland Cavaliers
While Curry danced in the video, James' teammate Kyrie Irving appeared to be laughing and egging on the mockery.
Steph making fun of LeBron's workout video with Kyrie egging him on ___ (via ryanonlyryan/IG) pic.twitter.com/fBj7idGzWA

— Sports Illustrated (@SInow) July 30, 2017
Curry seemed to be on a trolling spree after video surfaced of him in China giving a fan a pair of his signature sneakers after tossing away a pair of James' sneakers he was wearing.
Steph Curry threw away this kids LeBrons and gave him some Currys__ pic.twitter.com/3yeQUB4G9W

— NBA Inside Stuff (@NBAInside_Stuff) July 27, 2017
Curry and the Warriors blew a 3-1 lead in the 2016 Finals, losing the championship to the Cavaliers. The two-time MVP avenged himself and his team in 2017 by beating James and the Cavaliers — securing the NBA title last June.
James seemed to be having a troubled offseason amid rumors that he was unhappy as a Cavalier. Things also appeared to be getting worse for James after his teammate Irving reportedly requested a trade out of Cleveland last week.
Irving's agent, Jeff Wechsler, neither confirmed or denied that Irving did, in fact, ask for a trade, ESPN reported July 24.
"Kyrie and I had a meeting with Cavs leadership where we discussed many different scenarios in reference to Kyrie and his future with the team," Wechsler told ESPN. "The basis of those discussions and what went on in those discussions are between the Cavs and us. We are respectfully going to keep those private."
Irving talked about being in a "peculiar place" regarding the Cavaliers, according to Sports Illustrated.
"I understand we're in a very peculiar place," Irving said July 19 "We just have to, you know, make sure that all our pieces are aligned first, and then we go from there. It's the summertime, a lot of craziness going on in the NBA. Best to just observe and then see what happens, but obviously there are some things that I'm pretty sure our organization wants to do, and we'll go from there."
Irving agreed to five-year $90 million max contract extension with the Cavaliers, 10 days before James returned to the team in 2014. At the time, Irving reportedly "didn't particularly care for James to return to Cleveland."
"Kyrie isn't saying he's better than LeBron and should be seen that way," a source close to Irving told ESPN last Friday. "He's saying he's not about to let LeBron 'SON' him treating him like he's the child and LeBron's the father or big brother he's supposed to look up to."
"Kyrie knows he's a franchise-caliber talent. He wants to be treated like it. And he's tired of hearing about what LeBron needs, and he's damn sure tired of hearing LeBron sound like he always needs more. As if the crew they have isn't enough."
© Copyright IBTimes 2023. All rights reserved.