'Vikings' Season 3 Spoilers: Will Bjorn And Porunn Get Married? New Promo Video Teases Proposal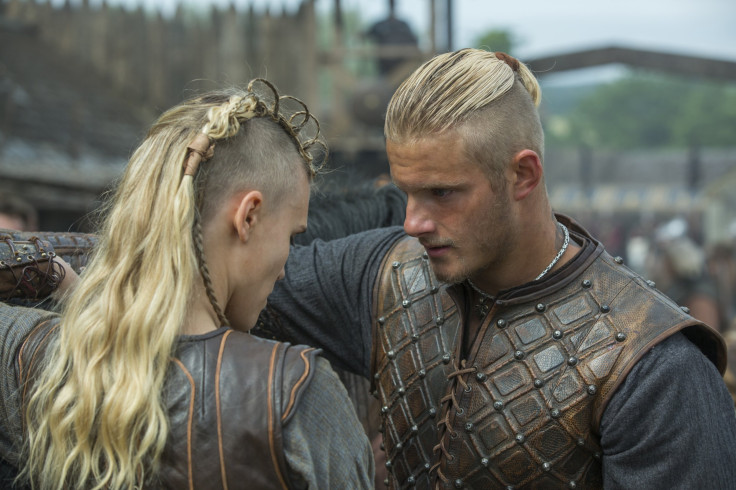 Is that wedding bells we here amongst the clashing of swords? According to a sneak peek video of "Vikings," which you can watch here, fans will get their fill of bloodshed and romance when Season 3 of the historical drama returns to the History Channel on Thursday, Feb. 19.
But who should viewers expect to get hitched in the new installment of the Michael Hirst created drama? It looks like Ragnar's (Travis Fimmel) eldest son, Bjorn (Alexander Ludwig), will be taking the relationship plunge with former slave girl Porunn (Gaia Weiss).
However, according to the "Vikings" trailer, there might be one obstacle standing in Bjorn's way from marrying the woman of his nordic dreams: Porunn's independence. In Season 2 of "Vikings," Aslaug (Alyssa Sutherland) made Porunn a free woman, which gave her the right to fight among the warriors of Kattegat in battle – something she'll be taking advantage of in the new season. But will Porunn take a break from slashing away at enemies to say "I do" to Bjorn Ironside?
"I enjoyed fighting," Porunn says in the promo video, following one of the Vikings' battles.
"You fought well today, I watched, but you took too many risks," Bjorn replies. "You jumped into battle, you did not stay by my side. Don't do that, Porunn. You have too much to learn."
Porunn can't believe her ears. She questions what has swayed Bjorn's faith in their Gods. "Do you not believe in fate? Is that really Bjorn son of Ragnar? Or some imposter who just looks like you?" she wonders.
Bjorn rebuts, claiming that he only hovers because he cares.
"Or because I'm a woman?" Porunn inquires. Bjorn quickly says no but then blindsides the shieldmaiden with the question of a lifetime.
"Marry me," he proposes, catching Porunn off guard. "I asked you to marry me. What it your answer?"
Smooth, Bjorn. Smooth.
Do you think Porunn will accept Bjorn's marriage proposal? Or will she turn him down seeing that her heart is already taken by the thrill of battle? Sound off in the comments section below with your predictions before the Season 3 premiere of "Vikings" on Thursday, Feb. 19, at 10 p.m. EST.
© Copyright IBTimes 2023. All rights reserved.