Wall Street Analysts Upgrade Shares Of Credit Card Issuers Despite Less Borrowing by US Consumers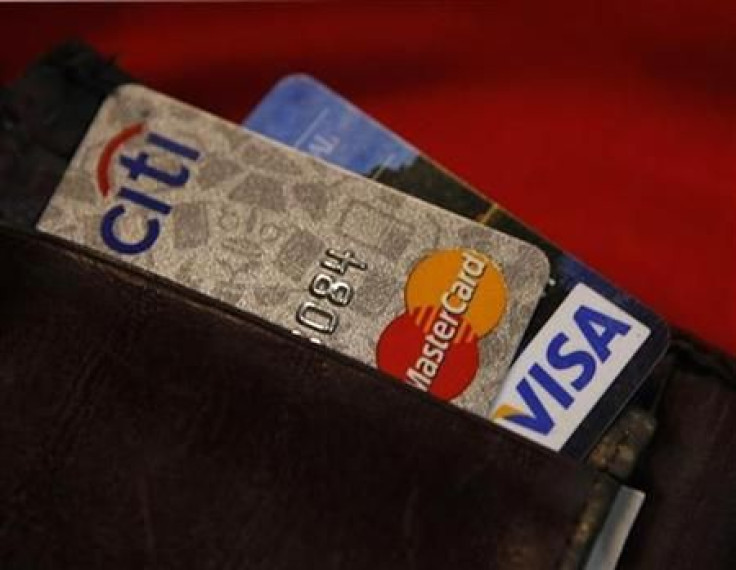 Despite the fact that Americans are rapidly paying down credit card balances, eating into the interest charges that form the bulk of credit card company revenues, Wall Street is betting enthusiastically on the future of companies like Visa Inc. (NYSE:V), Mastercard Inc. (NYSE:MA) and Discover Financial Services (NYSE:DFS).
Citigroup analyst Donald Fandetti on Friday upgraded MasterCard shares, giving them a "buy" rating after noting global spending data showed a stabilization in credit card use but augured future growth.
"We believe the company can continue to deliver strong 20 percent long-term earnings growth, and the pull back in spend is stabilizing based on our channel checks and recent data," Fandetti wrote. "While we recognize we are late on our call and the easy money has been made, we see no reason to remain on the sidelines given the attractive risk/reward and our general positive view on cards and the broader equity market."
The Citigroup report came after a similarly positive nod for MasterCard on Thursday by analysts at Credit Agricole. Analysts at Jefferies reiterated their "buy" rating on MasterCard shares last week.
And MasterCard is not even the most celebrated card issuer on the Street. Last week, shares in both Visa and Discover reached all-time highs on positive news and analyst upgrades.
Bank analysts are optimistic on the companies' futures for several reasons. One is recent regulatory developments that they believe take a lot of uncertainty and risk off the table. MasterCard executive Chris McWilton, for example, was quoted by the Dow Jones Newswires as saying during a company conference Thursday that credit card issuers have recently been "just swamped with regulation."
But a series of lucky breaks for the industry, including a $7.25 billion settlement over a credit-card swipe fees issue that would end lawsuits against various issuers and big banks, is widely seen as a positive.
International growth also is helping boost issuer's bottom line and, thus, Wall Street's opinion of credit card issuers.
Those companies surely need overseas growth to pick up the slack from domestic customers. U.S. credit-card balances, a significant part of the securitized revolving credit, are down more than 20 percent from peaks before the global financial crisis. Unlike other types of borrowing, those balances have not seen a pickup as the recession has turned into a slow recovery, as the following graph from the Federal Reserve shows.
In late-afternoon trading on the New York Stock Exchange, stock in MasterCard Inc. was up 0.84 percent, or $3.83, to $458.01 per share. Shares of Visa Inc. were up 0.66 percent. Discover Financial Services shareholders were the day's winners, however, as stock in that company rose 1.57 percet to $38.76 per share.
© Copyright IBTimes 2023. All rights reserved.