'Warhammer 40K: Darktide' Release Delayed; See New Launch Date
KEY POINTS
"Darktide's" release date was moved to spring 2022
The developers wanted to take more time to polish the game
Fatshark also noted that the pandemic had affected its working conditions
In an unfortunate turn of events for "Warhammer" fans, Fatshark announced that the release date of its four-player co-op shooter "Warhammer 40k: Darktide" has been delayed to spring 2022. The game was originally scheduled for a late 2021 launch.
Fatshark said in a tweet that "Darktide" is not yet ready for a 2021 release as it feels the game has not yet met its quality standards. The developers also noted that creating the game under the conditions set by the COVID-19 pandemic has caused problems for the development process, resulting in slower progress overall.
However, Fatshark noted that it will use the extra time to further polish the game and prepare it for systems that will ultimately increase its longevity.
This announcement puts "Darktide" in the growing list of delayed games, joining the likes of "Resident Evil Re:Verse" which was also recently delayed to 2022 for the sake of gameplay polish and improvements.
"Warhammer 40k: Darktide" follows a similar style of gameplay as that of "Left 4 Dead" and Fatshark's previous "Vermintide" games, which are set in the "Warhammer Fantasy" universe. In "Darktide," players will take the role of ordinary soldiers of the Imperium of Man under the guidance of the Imperial Inquisition as they attempt to thwart a Chaos Invasion from within a hive city.
Players will have access to a variety of Imperial Guard weaponry like the Kantrael Pattern Lasgun, kinetic auto-rifles, chainswords and break-action Ogryn shotguns that double as large clubs.
"Darktide" is co-written by Dan Abnett, a veteran writer who previously worked on "Middle-Earth: Shadow Of Mordor." He is also popular in the "Warhammer 40k" community as the author of the "Gaunt's Ghosts" series of novels that explored the stories of regular infrantrymen and ground-level combat.
The game's delay to spring 2022 has opened up some breathing room for many of 2021's other releases, especially for similar co-op games. Turtle Rock Studios' "Back 4 Blood" is currently scheduled for an October launch with several open betas lined up for August. Meanwhile, "Aliens: Fireteam Elite" is due out on Aug. 24.
In the meantime, "Warhammer" fans can pick up Fatshark's "Vermintide 2," which is still getting constantly updated with more content.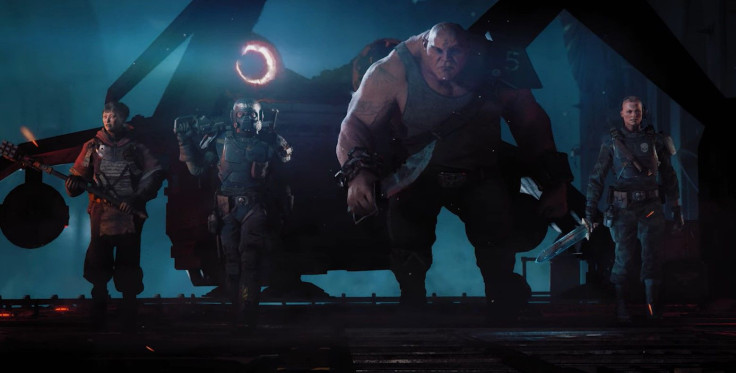 © Copyright IBTimes 2023. All rights reserved.
FOLLOW MORE IBT NEWS ON THE BELOW CHANNELS