Warren Jeffs Promises 'Sickness and Death' for Prosecutors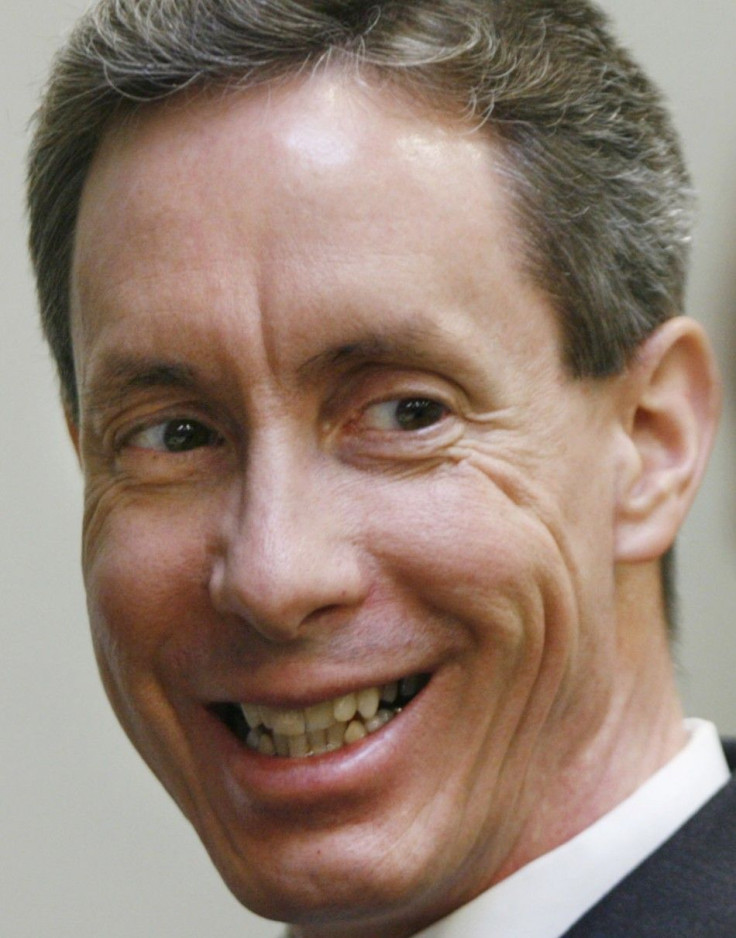 Warren Jeffs broke his courtroom silence in dramatic fashion on Friday, when he took over proceedings to deliver a threatening hourlong diatribe he called "a statement from God."
The Salt Lake Tribune reported that Jeffs' outburst came as a state Child Protective Services worker was beginning to testify about one of the girls Jeffs is accused of forcing into sexual activity.
The polygamous sect leader is charged with sexually assaulting two underage girls he took as "spiritual wives."
Jeffs abruptly launched in to a prolonged sermon aruging that polygamy -- or plural marriage, as it is referred to by Jeffs and his followers -- is a constitutional freedom, and condemned his prosecuters for exposing "sacred" records obtained in the 2008 raid on the Yearning for Zion ranch.
"I will wrest your power. I shall judge you. I shall let all people's know your unjust ways," Jeffs is quoted as telling the court. "I will send a scourge upon the counties of prosecutorial zeal that to be humbled by sickness and death."
Jeffs had up until that point remained silent through Friday's court procceedings. After being granted permisson yesterday to represent himself, Jeffs refused to articulate a plea, make an opening statement, or question witnesses, remaining "unresponsive" as the prosecution presented evidence against him.
Jeffs is the self-proclaimed "prophet" of the splinter group Fundamentalist Church of Latter-day Saints (FLDS), who are known to openly practice polygamy in compounds, including the Yearning for Zion ranch in Eldorado, Texas.
Jeffs fired all seven of his lawyers early Thursday and told Judge Barbara Walther he wished to represent himself.
The prosecution offered support of Jeffs' request, and Judge Walther "reluctantly" agreed to it, but cautioned Jeffs against what she called an "unwise decision."
"I don't think I've ever seen a defendant successfully represent themselves," the Salt Lake Tribune reported Walther telling the defendant.
"My counsel doesn't have the full understanding of the facts and are unable to assist in my defense," Jeffs told the court Thursday in what Reuters described as a "slow, halting voice."
"I have trained my defense, but they were unable to do what I said," Jeffs continued.
"I am presenting the need for true justice to be presented, and for the truth to come out."
Judge Walther insisted that one attorney remain in the courtroom at all times, in the event that Jeffs reconsiders.
"It's not as easy as it looks on TV, Mr. Jeffs," Judge Walther told the defendant after granting his request. "You're on your own."
The court recorded a "not guilty" plea on his behalf when Jeffs did not enter one himself, Reuters reported.
Jeffs had also requested the trial be postponed in order to give him more time to prepare, but Walthers denied that request.
"Mr. Jeffs, the court is not going to recess these proceedings to let you go to law school," she said.
Evidence against Jeffs was obtained in a 2008 raid on the ranch, which was prompted by multiple phone calls by a woman claiming to be 16 and a victim of abuses there, CNN reported.
The raid on Yearning for Zion ranch resulted in 400 children being removed by the state -- a decision that was later overturned by the Texas Supreme Court, after which many children were returned to the ranch. Still, some men were charged with sexual abuse.
The records seized in the 2008 raid -- the mention of which prompted Jeffs to break his silence during Friday's proceeedings -- have been a previous point of contention for the defense.
Jeffs' attorneys had moved to suppress the evidence obtained in the 2008 as it was discovered that the phone calls police used to obtain search warrants were a hoax. The Salt Lake Tribune reported on Wednesday that Judge Walther ruled against the defense, permitting the prosecution to use "the equivalent of 1.7 billion pages of evidence" obtained in the raid.
CNN reported that Walther issued the initial warrant for the raid, and ruled that the evidence can remain in the case because authorities legitimately perceived a need to protect a potential victim from danger.
The prosecution claimed today to have an audio tape of a sexual encounter between the 55-year-old Jeffs and a 12-year-old girl, and DNA evidence showing he impregnated a 15-year-old girl, ABC reported.
Members of FLDS believe they are preserving the beliefs of the original Latter-day Saints who traveled to the Great Basin in the mid-19th century. They are not affiliated with the official Mormon church -- the Church of Jesus Christ of Latter-day Saints, or LDS -- as Mormons renounced polygamy at the end of the 19th century, and the practice has been condemned by LDS ever since.
According to FLDS beliefs, plural marriage is a means of ensuring one's exaltation in heaven, as it increases the size of families.
The Associated Press reported that during Jeffs' sermon in the courtroom on Friday, he claimed that the practice of plural marriage was ordered by God, who is a higher power than the U.S. courts.
LDS rejects the term "fundamentalist Mormons": In 2008, the Deseret News reported that the church sent a letter to multiple media outlets about the importance of maintaining a distinction between Mormons and polygamist sects.
Jeffs is believed to have 10,000 followers in North America, and he has maintained his position of leadership in the sect despite being incarcerated.
Judge Walther called a court recess and dismissed the jury after Jeffs' interruption Friday afternoon.
© Copyright IBTimes 2023. All rights reserved.