Watch Every 'Fifty Shades Freed' Movie Scene Released So Far [VIDEO]
There are still a few more days to go until "Fifty Shades Freed" hits theaters, but quite a few scenes from the flick are already available for the viewing pleasure of fans.
Hold yourself over until the final chapter of the franchise based on the E.L. James novels arrives on Friday with the Mr. and Mrs. Grey-filled clips below.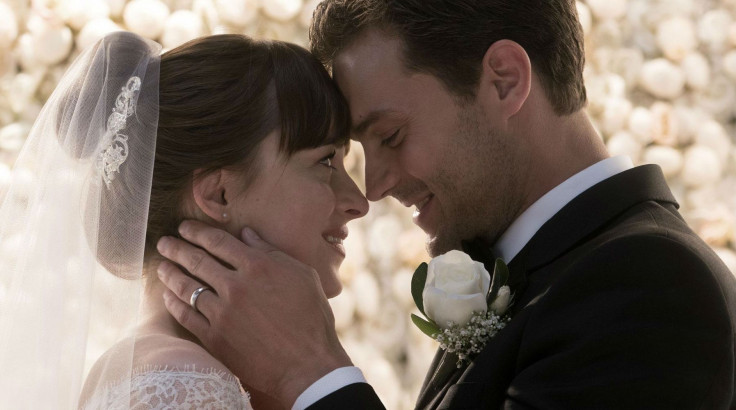 Christian Surprises Ana
A shirtless Christian (Jamie Dornan) welcomes Anastasia (Dakota Johnson) home with a red blindfold and lots of instructions. He tells her to turn around before tying the cover over her eyes with a nice little bow in the back. With her eyes now shielded, Christian whispers in her ear that they're going to the play room just as the clip comes to an end. Viewers will just have to imagine what happens next until the full movie is out.
Ice Cream Scene
Looks like midnight snacks are on everyone's mind in this clip. Ana startles Christian in the kitchen as he's opening the fridge and she's sitting in the dark eating ice cream. Apparently, he was looking for her, though not likely in the refrigerator, and asks her if she's okay. Turns out, she just couldn't sleep and decided ice cream was the best option. When Christian tries to turn from her to make some tea, she has other ideas. She wraps her legs around him, teases him with ice cream and then chooses to "accidentally" coat his chest with it instead.
Ana Confronts Gia
Standing her ground, Ana tells Gia (Arielle Kebbel) to back off of her husband and be respectful or she won't get the job building their home. She tells Gia to call her Mrs. Grey and to keep her hands to herself, just as Christian walks in and asks if everything is okay.
Aspen Shopping Trip
With a little help from Mia (Rita Ora), Ana and Kate (Eloise Mumford) search for new outfits for upcoming dates with their respective men. Ana opts for a low-backed gold number, while Kate chooses a classic red Valentine's Day dress with a deep v-neck.
Christian Visits Ana
Ana gets a visit at work from Christian who is not too happy after finding out that an email he sent to her bounced. He's even less happy to find out that the reason for this is because Ana's been going by her maiden name instead of her married one. She reveals it's because she doesn't want people at work to think that she only has her job because of him. His charm ends up doing the trick, though, because she agrees to think about changing her name.
Baby Talk
While eating dinner in the kitchen, Ana asks Christian if he wants to have children. He gets a little choked up but reveals that he would like to some day. When she doesn't believe him, he continues that while he does want to have kids, he doesn't want to have them for a while because he doesn't want to have to share her just yet. That seems to be the end of that conversation, for now, as the two move on to teasing each other with food.
"Fifty Shades Freed" comes out in theaters on Friday.
© Copyright IBTimes 2023. All rights reserved.