Watch R. Kelly Walk Out Of Huffington Post Live Interview When Host Asks About Sexual Assault Allegations [VIDEO]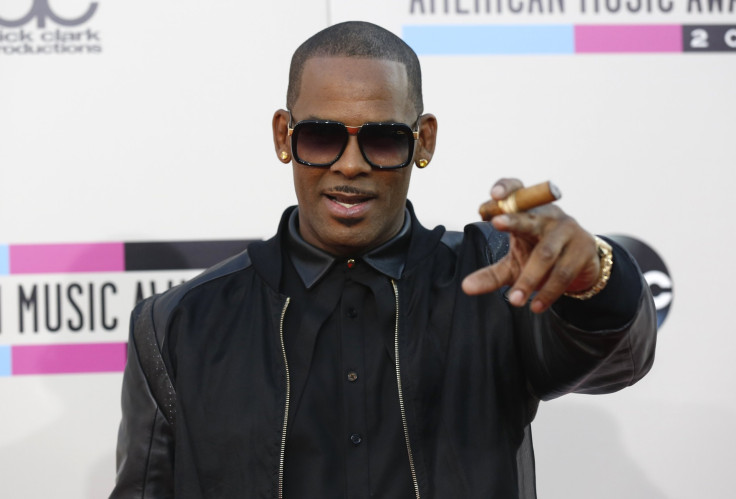 Singer R. Kelly walked out of an interview with Huffington Post Live Monday when the host asked about allegations that he has had "inappropriate" sexual relations with minors — a controversial aspect to his career that he is known to avoid addressing in interviews. The Grammy award-winning artist was on the show to talk about his latest album, "The Buffet," which he emphasized was inspired by his many generations of fans.
Aside from to his music, the R&B singer, who has been making hits for years — this album is his 13th — has become notorious for being accused of rape and child pornography several times throughout his career. There have been many stories alleging that R. Kelly has preyed on teenage girls for years, but the charges have not stuck and he has continued to make popular music, often filled with extremely sexually explicit lyrics.
While many of his songs are now considered classic hits, there has been more discussion of R. Kelly's sexual behavior in recent years, leading some fans to say they feel conflicted about listening to the artist's music. During the HuffPost Live interview Monday, the host, Caroline Modarressy-Tehrani, asked Kelly about these conflicted fans, first broaching the topic by asking why he thought his latest album has not been selling as well as his previous "Black Panties."
The R&B artist did not seem concerned about his sales, blaming lower numbers on the internet and a general lack of support. But when Modarressy-Tehrani began to read tweets from fans who said they felt conflicted about listening to his music, the singer grew annoyed.
The interviewer cited a tweet from a @VanteEllis: "Would I let R. Kelly babysit my daughters? F--- no. Would I play his music at a family party? Ya gotdamn right."
"I have a lot of fans around the world and they don't feel the way she do, God bless her. You can't satisfy everybody," Kelly said in response.
The host pressed further, specifically mentioning the allegations that Kelly had sexual activity with minors, and he dismissed those as well.
"F--- that. I'm a man that believes what I see," Kelly said. "Everywhere I've been I get nothing but love. Unless all of those people are tricking me and acting when they come to a concert…" Modarressy-Tehrani attempted to interject with another question, but he cut her off.
"When I start to hear what I just heard you say to me when I step on that stage, which is my office, which is my interview room, if I hear what you just said from 20- to 50,000 fans I will never show up to that venue and any other venue again," Kelly said.
"I'm not perfect but I'm perfectly me," he added. "I always do a job until I get fired."
After a few more minutes of crosstalk, during which the HuffPost Live host tried to ask Kelly other questions about the allegations, his music and his lyrics — all to no avail — the singer took of his microphone and declared the interview was over.
© Copyright IBTimes 2023. All rights reserved.