Weakening Demand In Europe And China Takes Toll On US Manufacturing Jobs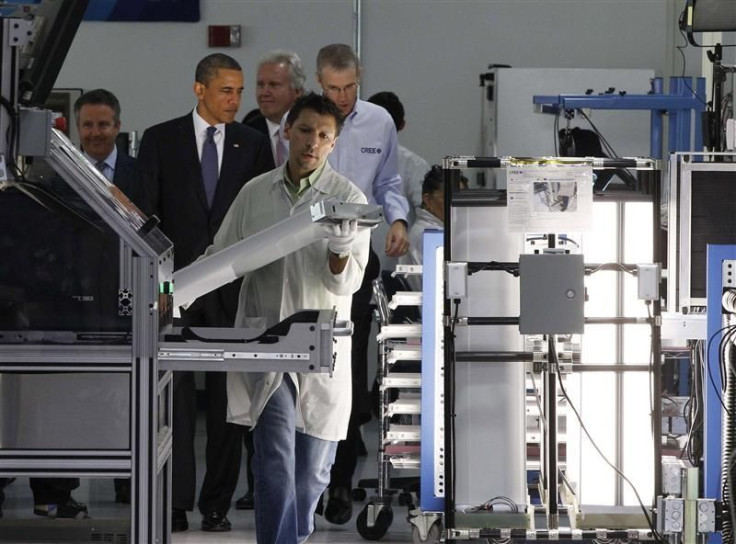 There are fresh signs the U.S. economy may be caught in a storm fed by a floundering Europe and a slackening China. Weakening demand in both regions appears to be taking a toll on U.S. manufacturing, already the locus of a contracting workforce.
On Friday, the Federal Reserve Bank of New York reported the general business conditions index in its Empire State Manufacturing Survey conspicuously dropped by nearly 15 points -- to 2.3 in June from 17.1 in May -- as it reached its lowest level since last November.
Also on Friday, the Federal Reserve reported U.S. manufacturing output on a month-over-month basis fell 0.4 percent in May, after rising 0.7 percent in April. Within the manufacturing sector, the Fed said the furniture, primary-metals, and motor-vehicle industries were particularly hard hit last month.
This is another illustration of how rapidly the economy has lost momentum after a very strong start to the year, Paul Ashworth, a senior economist at Capital Economics in Toronto, said in a statement.
The Institute for Supply Management's national manufacturing PMI could fall 2 points, to 51.5, when it is next reported on July 2. This would consistent with growth of 1.5 percent in the gross domestic product, according to an extrapolation of the findings in the Empire State Manufacturing Survey.
The slump in price indexes revealed a buildup of liabilities and asset write-downs on the balance sheets of manufacturing firms as customer price payments retreated as did the amount of money creditors and producers in the Empire State survey said they were receiving.
Even as current employment levels increased marginally, the Empire State index for number of employees, although stronger than other indicators, plummeted to 12.4 in June from 20.5 in May.
Meanwhile, the survey's future general business conditions index nosedived to 23.1, its fifth consecutive monthly decline, suggesting that hopes for a better economic climate have waned over the past six months.
However, 43 percent of the manufacturers surveyed indicated they intend to boost their capital expenditures over the next six to 12 months. They cited high capacity utilization as the most important factor contributing to the anticipated increase in capex. Other significant factors were expected sales growth and the need to replace obsolete equipment.
Declines in U.S. industrial jobs are not a new phenomenon. As a share of total U.S employment, manufacturing jobs have been falling for more than half a century.
However, the fresh concerns looming are an offshoot of a steep decline in the number of manufacturing jobs since 2002. The U.S economy has lost about 5.5 million jobs and 57,000 factories between 2000 and 2010, according to U.S. Bureau of Labor Statistics data. To put it another way, 13 times as many manufacturing jobs were lost between 2000 and 2010 as were lost from 1990 to 2000, according to a report released by the Information Technology and Innovation Foundation in March. Manufacturing is now making a tepid recovery, though not nearly enough to scale up output.
The expanding U.S. trade deficit isn't helping the situation, either, some manufacturing representatives have said. The trade gap between the country and China cost the U.S. 1.9 million manufacturing jobs between 2008 and 2010, according to Robert E. Scott, director of trade and manufacturing policy research at the Economic Policy Institute.
Some manufacturers have argued that expanding exports in overseas markets and cutting back on imports would create fresh opportunities for producers at home.
We are buying a lot more from the world than we are selling to them, said Steven Capozzola, a representative of the Alliance for American Manufacturing, a nonpartisan group of U.S. manufacturers. Look at how vast our imports are! We need to sell more in our home markets.
In the face of an increased dispersion of products and services across global supply chains, Washington is finding it challenging to determine where value is added. This makes it difficult for the government to promote domestic-goods production, according to a Congressional Research Service report published last year.
Structural unemployment -- a mismatch between the skills that workers have and those that the jobs available require -- has also affected manufacturing output as a spinoff of the recession. American workers need to be more competitive, said Van Ton-Quinlivan, vice chancellor of workforce and economic development at California Community Colleges.
© Copyright IBTimes 2023. All rights reserved.