Weekly Roundup: Asian Markets Decline On Global Economic Concerns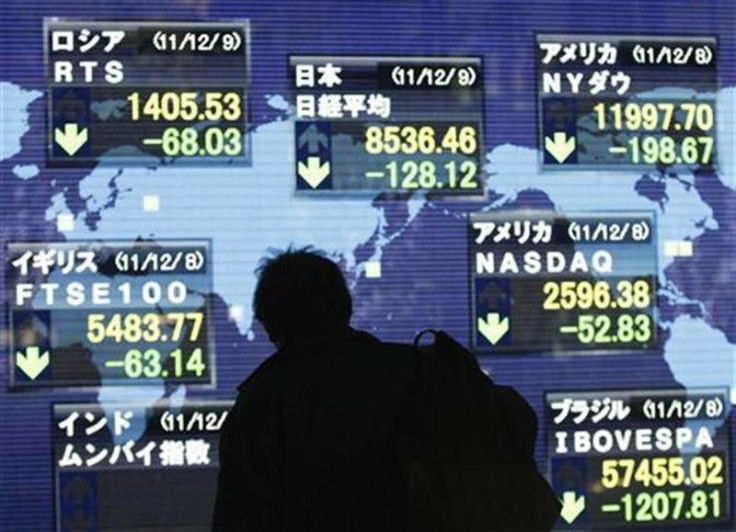 Asian markets fell in the week as investor confidence was dragged down by the increasing concerns about the global growth slowdown amid the weak economic reports from Japan and South Korea.
Japan's Nikkei 225 Stock Average dropped 2.5 percent and closed at 8839.91. Market sentiment turned negative as the Cabinet Office in Tokyo stated in its monthly report released Tuesday that the government was downgrading its assessment of Japan's economy. Earlier this month, it was reported that Japan's economic growth slowed down in the April-June quarter compared to the same in the first three months of the year, indicating that the country was losing the growth momentum affected by the soft global demand and weak consumer spending.
The country's retail sales saw a decline of 0.8 percent in July down from 0.2 percent increase in June, according to data released Thursday by Japan's Ministry of Economy, Trade and Industry. Investors were worried to note that private consumption in Japan was losing momentum.
According to data released Friday by Japan's Ministry of Economy, Trade and Industry, the country's industrial production saw a decline of 1.2 percent in July, down from 0.4 percent increase in June. Market players were concerned to find that the soft global demand is affecting the industrial output of the world's third largest economy.
Market participants feel that the Bank of Japan would need to urgently expand its asset purchase program with Japan's economy having lost its growth momentum faced with deflation and the strengthening of the yen.
South Korea's Kospi Index declined 0.8 percent and closed at 1905.12. According to data released by the Bank of Korea (BoK) Thursday, South Korean manufacturing BSI Index for September was at 75. A reading below 100 is an indication that the number of firms that see business conditions deteriorating is more than those that see an improvement.
According to data released Friday by the National Statistical Office, the industrial production in South Korea saw a decline of 1.6 percent in July, down from 0.6 percent decrease in June. With South Korea's economy continuing to slow down, investors feel that the BoK will be under pressure to announce monetary easing measures at the next meeting in September.
India's BSE Sensex fell 2.2 percent and closed at 17380.75. The Comptroller and Auditor General's report, which accused the government of costing the exchequer about $33 billion by underpriced coal fields selling, rocked the parliament with the opposition pressing for Prime Minister Manmohan Singh's resignation. This further weighed down the market confidence which was already under pressure due to the weak economic growth.
According to data released Friday by the Central Statistical Office, India's gross domestic product grew by 5.5 percent in the first quarter of the fiscal year 2012-2013, up from 5.3 percent in the previous quarter, but down from 8 percent in the same quarter last year.
Hong Kong's Hang Seng Index declined 2 percent and closed at 19482.57 and China's Shanghai Composite Index fell 2.1 percent and closed at 2047.52.
The official Xinhua News Agency reported last week that China's Premier Wen Jiabao supported extra measures to lift exports and make sure that economic targets were achieved. However, this could not support the market confidence. The continuing debt crisis in Europe and the tentative U.S. recovery have hurt the demand for exports, the key driver of China's economy.
Investors also remained watchful waiting for policymakers around the world to announce stimulus measures to boost the faltering global economy. Market players waited for U.S. Federal Reserve Chairman Ben Bernanke's speech at the Fed's Jackson Hole Symposium Friday for further hints of what the Fed might do next. Bernanke used his speech to state that unconventional monetary policy worked and that the U.S. needed more of it.
Major Losers: Shares of Chubu Electric declined 10 percent. Shares of China Southern Airline dropped 7.8 percent and those of Samsung Electronics Ltd fell 3.3 percent.
Week Ahead: After Bernanke's speech, investors could hope that the Fed will launch a third round of asset purchases at the next Federal Open Market Committee meeting in mid-September. Market players will be focusing on the European Central Bank meeting Thursday in Frankfurt. Investors sense that the policymakers in the euro zone will need to urgently follow their words with action. A re-launch of the ECB's bond-buying program is the absolute minimum to be expected.
© Copyright IBTimes 2023. All rights reserved.