What Carrie Underwood Wrote In Her Diary After Winning 'American Idol' [Details]
Carrie Underwood celebrated the 17th anniversary of her "American Idol" victory by sharing her diary entry from the night of her success.
"Today is the 17-year anniversary of my @americanidol win! Where does the time go? Please enjoy a page from the journal of a 22-year-old farm girl who just had the most incredible night! I still feel the excitement through the pages! Happy anniversary to me and a forever 'thank you' to all who voted!" Underwood wrote on her Instagram page Wednesday.
The journal entry encapsulates the feelings of the then-22-year-old Underwood before host Ryan Seacrest announced her name as the winner of the reality competition show on May 25, 2005.
The singer's diary entry read, "It came down to this final moment. Ryan had the gold card in his hand. Oh yeah, I forgot to mention that they presented us with keys to 2 identical red convertible 2005 Mustangs! How cool is that? Anyways, back to the story. Big moment. I took one more look at the amazing crowd and let it sink in for a few seconds."
The country music star continued, "Ryan said something like, 'And your 2005 American Idol is…' My heart beat fast and I closed my eyes. CARRIE UNDERWOOD!!! The crowd went wild. I immediately started crying. It was a beautiful moment."
Underwood said she saw all the other contestants come up to her to congratulate her. "I was crying the whole time," she added.
The "Before He Cheats" singer said she was emotional when she was asked to sing her debut single, "Inside Your Heaven," and admitted that she "blubbered through" it as "Pyrotechnics went off" behind her.
Underwood competed in the TV show's fourth season in 2005. Paula Abdul, Simon Cowell and Randy Jackson had served as judges. Underwood went against Bo Bice in the finale.
She appeared as a celebrity mentor on the show's 20th season this year. She canceled her performance for the season finale last Sunday due to COVID-19 exposure.
At the beginning of the finale episode, Seacrest announced, "There was a COVID exposure within Carrie Underwood group" and added, "So following protocol, she is unable to perform tonight. Sad, but you can check her out on her tour, Denim & Rhinestones."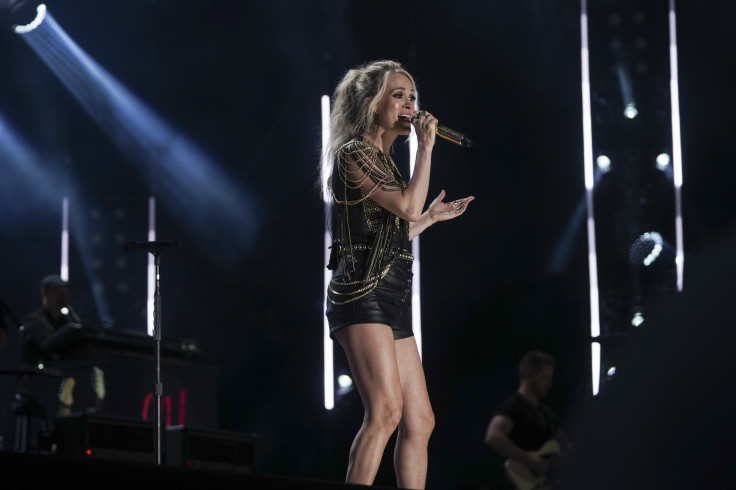 © Copyright IBTimes 2023. All rights reserved.
FOLLOW MORE IBT NEWS ON THE BELOW CHANNELS