What Is Dick Gregory's Cause Of Death?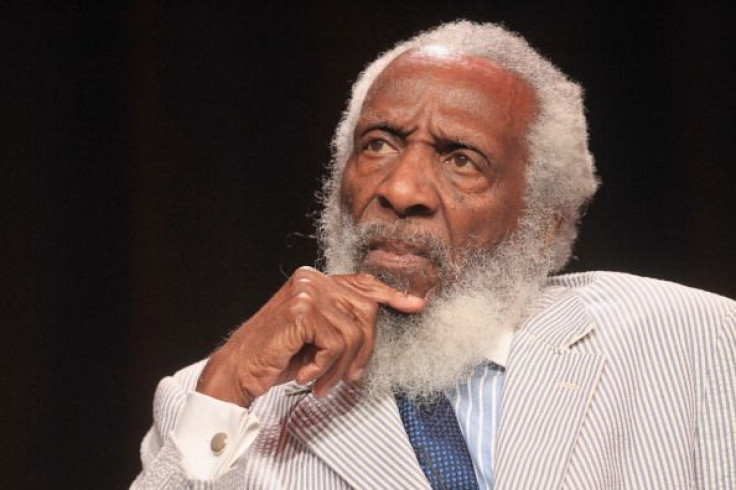 Civil rights activist, writer and comedian Dick Gregory died Saturday at the age of 84. His son, Christian, took to Instagram to reveal the sad news. A cause of death was not immediately given, though the family promised to give more details in the coming days.
"It is with enormous sadness that the Gregory family confirms that their father, comedic legend and civil rights activist Mr. Dick Gregory departed this earth tonight in Washington, D.C.," Christian wrote Saturday. "The family appreciates the outpouring of support and love and respectfully asks for their privacy as they grieve during this very difficult time. More details will be released over the next few days."
Christian took to social media to reveal Gregory was hospitalized for an unknown illness.
" My father, Dick Gregory remains hospitalized with a serious but stable medical condition. His prognosis is excellent and he should be released within the next few days," Christian wrote Thursday.
"After feeling ill last Wednesday (August 9th) Mr. Gregory was taken to the hospital. He was evaluated, treated and released," the statement said. "Showing only minimal improvement we returned him to the hospital Saturday (August 12) he was evaluated and admitted. Balancing a fine line between privacy and his friends and fans (who are his extended family) right to know. We have and will always gladly and freely share this gift with the world."
Christian continued: "When it comes to sickness and disease one's age is highly significant. There is no such thing as a 'simple' condition. In advanced age a simple cold or a simple infection could be catastrophic. At soon to be chronologically 85, my father's true age far exceeds that. A life well-lived but heavily sacrificed, has definitively taken its toll."
"Laughter is truly good medicine," Gregory's son finished. "I've watched my father for a lifetime heal the world. Today he is in need of your healing. We are truly grateful for the phenomenal care he has been receiving. My family and I remain thankful for all of the prayers, positive thoughts, messages and good energy."
Various celebrities and prominent figures flocked to social media to send their condolences. Disgraced comedian Bill Cosby was one of them. "His comedy showed his education, intelligence, and was inclusive of humanitarianism along with great timing," Cosby wrote about Gregory. "The man went off the stage into the arena of Civil Rights worldwide facing his enemies. He was FEARLESS. Rest in Power Dick Gregory."
Singer John Legend also issued a statement. "Dick Gregory lived an amazing, revolutionary life. A groundbreaker in comedy and a voice for justice. RIP," he wrote.
This is a developing story. Please check back for updates.
Follow me on Twitter @mariamzzarella
© Copyright IBTimes 2023. All rights reserved.