What Is Frostbite? How To Recognize It And 7 Ways To Keep Yourself Safe During 'Life-Threatening' Winter Storm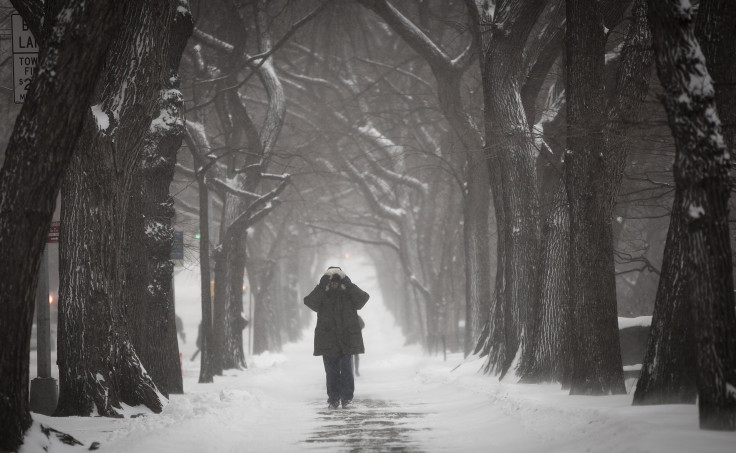 The first week of 2014 has brought brutal weather conditions to much of the U.S. Last week, a blizzard (dubbed Hercules by the Weather Channel) blanketed the Northeast in dense snow, with some areas receiving as much as 20 inches. Then came Winter Storm Ion, which pummeled the Midwest and East over the weekend with heavy snow and rain, all ahead of an Arctic air mass that is pushing temperatures to well below zero.
"The snow has quit, but the wind is kicking up. These temperatures are life-threatening," the Weather Channel's Janel Klein, reporting from Green Bay, Wis., said Monday. "Many schools throughout Wisconsin have closed today, due to the dangerous cold."
With many Americans grappling with sub-zero temperatures as the "polar vortex" descends on the country, meteorologists warn of the dangers of extreme cold, including frostbite. The National Weather Service noted that frostbite and hypothermia can set in quickly at temperatures below minus 15 degrees Fahrenheit. It's time to bundle up.
Already, some areas are experiencing temperatures as low as minus 30 degrees Fahrenheit – numbers not seen in nearly two decades. Experts say cold like that can freeze exposed skin within minutes. Gov. Mike Pence of Indiana declared a state of emergency, telling residents to "stay in today" because of the "very serious" and "dangerous" winter storm conditions.
"People need to protect themselves against the intense cold," Dr. Brian Mahoney, medical director of emergency services at Hennepin County Medical Center in Minneapolis, told The Associated Press. "They have to wear a hat, they have to have face protection."
What is frostbite, and how can you protect yourself against it during the U.S. winter storm season?
What Is Frostbite?
Frostbite is damage to body tissue caused by exposure to extreme cold. In severe cases, frostbite causes blisters, blackened, dead tissue, called gangrene, and even damage to tendons, muscles, nerves and bones, according to the National Institutes of Health.
Frostbite typically affects the extremities like the nose, fingers, ears and toes, which the body doesn't work as hard to keep warm as it does the internal organs. When your body is exposed to extreme cold for a prolonged period, your brain tells the blood vessels in your arms and legs to constrict in order to send more blood to your vital organs.
According to eMedicine Health, anyone can suffer from frostbite, but some people are at greater risk than others. People who spend a lot of time outdoors, such as the homeless or hunters, are particularly vulnerable. The elderly and people under the influence of alcohol are also at greater risk.
How To Know If You Have Frostbite
Symptoms of frostbite include a loss of feeling and lack of color in one or more parts of your body. Early signs of frostbite include redness, numbness and prickling of the skin.
The affected area might also throb or ache. When it thaws, the flesh can become red and painful.
7 Ways to To Prevent Frostbite
Here are seven ways to keep yourself safe from frostbite during the winter storm.
Focus on the extremities. It's easier to keep your core warm, and important to remember your vulnerable extremities. Invest in a good pair of mittens, thick socks and a reliable winter hat.
Cover up your face. Make sure all parts of your skin are covered. Get a face mask or use a thick scarf to wrap around your head and face.
Wear mittens instead of gloves. Mittens are better at trapping heat.
Layers of dry clothing are best. Layers, layers, layers. And when you don't think you can layer any more, keep layering. It might take you 20 minutes to peel it off later, but at least you'll be frostbite-free.
If you're wet, get inside fast. Frostbite can set in much more quickly when skin is wet.
Wear a hat that fully covers your ears. Ears are an extremity like fingers and toes. Don't keep them out in the cold.
Don't drink alcohol before going outside. You might "feel" warmer, but your skin is just as susceptible to the effects of frostbite.
© Copyright IBTimes 2023. All rights reserved.
FOLLOW MORE IBT NEWS ON THE BELOW CHANNELS