What Happened To Meerkat? From Hype-Ball To Pivot In Just One Year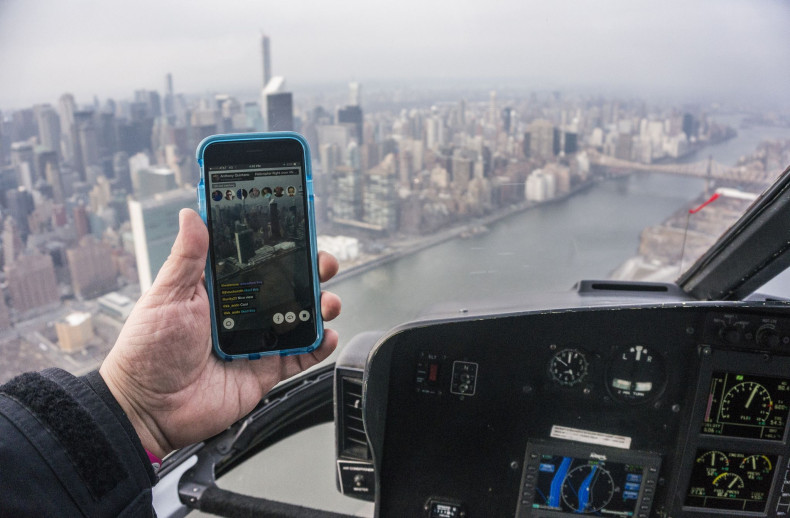 One year ago, tech fell in love with a live mobile video service named for a little social animal that lives in "clans" in the Kalahari Desert. It also fell in love with an idea: a world where people streamed their lives in real time and everyone gathered around to watch.
Meerkat offered something simple, social and new: With just an iPhone and one app, people could broadcast live video to a global audience. "There was so much going for it: the logo being cute and the color being cute. The interface is great. It's easy to use. It's fast," Ronald Pruett, chief adviser to Al Roker Entertainment who was an early advocate of the app, told International Business Times last month.
Meerkat "won" South by Southwest, the annual prom of social media that spawned Twitter nearly a decade earlier. Tech enthusiasts, celebrities like Jimmy Fallon and Ashton Kutcher, news networks, politicians and some companies embraced it.
And yet, when SXSW 2016 begins this week, Meerkat will be remembered as the little startup that couldn't. "If you have a Google alert for Meerkat, you know what you're going to see? Like actually meerkats, the animal," said Ryan Bell, an independent brand consultant and founder of the Periscope Summit.
Meerkat, which raised $14 million amid the hype last year and convinced thousands of budding 'casters to join and build businesses on its platform, is pivoting. CEO Ben Rubin took to Medium last Friday to say "change" is coming, and while he wasn't specific he did say the company is pivoting from "1-to-many" mobile video to "group" messaging.
The speed with which Meerkat moved from startup to phenomenon to pivot is a cautionary tale for tech, a cheerleading press, and the hunger to be first-mover on a new platform. Meerkat was released to Apple's app store in February 2015. Prior to that, it was a side project to a company called Life on Air, run by 28-year-old CEO Rubin, who worked for Intel in Israel before taking to social startups.
Meerkat was Rubin's third attempt at a live video app, but this time, he was determined to make sure the world would notice. His team courted journalists prior to SXSW last March and landed at least five stories about his startup before the conference even started. TechCrunch's headline from March 1, 2015, was unusually prescient: "Meerkat Is The Live Streaming App Twitter Should Have Built."
Shortly after its flurry of publicity, four of the biggest talent agencies in Hollywood had put their names and some money behind it.
A glowing Rubin and his new lead investor, Josh Elman of Greylock Partners, who previously worked on product at Facebook, Twitter and LinkedIn, took to Meerkat to share the news. According to the now-dead stream, 173 people watched it live.
By May, the last time Rubin or anyone connected with Meerkat would reveal user numbers, he was touting 2 million users. In hindsight, that was probably the high-water mark for Meerkat.
A hammer struck the 'kat quickly. During SXSW, exactly two weeks after Meerkat launched, Twitter cut off the app's access to its social graph. The reason? Twitter had its own live video service coming. It was based on Periscope, a startup it quietly bought in January 2015.
Yes, Twitter was building its own Meerkat; it just hadn't talked about it yet.
Rubin wasn't worried — at least that's what he told the press at the time. "It doesn't mean they blocked the main mission of what we do," Rubin told Yahoo News on March 15. "The idea was to jump-start the community on top of Twitter, but the idea was never to build the social graph on top of Twitter."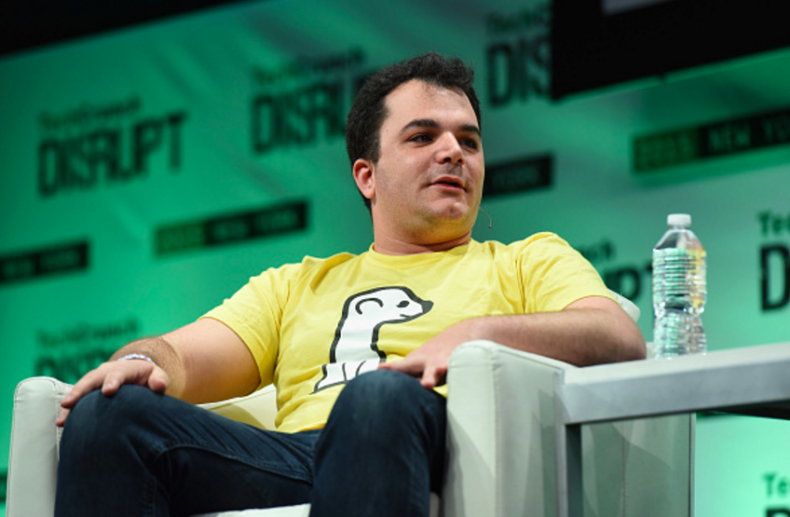 Thousands of users took Rubin at his word and a great many committed to building networks on Meerkat even as it started to unravel. "I think Meerkat was the best time I had on the internet with anything ever," Steve Isaacs, a creative director at an advertising agency in Los Angeles, recalled last month. Like thousands of others, Isaacs first used Meerkat at SXSW. There, he streamed from the streets of Austin, Texas, for two hours. Later, he broadcast from his bed with his girlfriend, which he called #bedkast, and hundreds of people watched.
Even when Twitter's "Meerkat-killer" Periscope launched and there was quiet talk of Facebook releasing its own product, Meerkat continued to make headlines: Its streams got picked up by national news networks; Madonna premiered a music video; famed weatherman and NBC personality Al Roker launched three shows. The app even had its own homegrown star, the "Meerkat Queen," an actress from Los Angeles who quickly gained one of the largest followings on the app.
Last fall, "Meerkat Queen" Victoria Fratz was at the top of Meerkat's leaderboard with 35,500 followers. "I was a very blessed person in their Meerkat family. I was their star girl at VidCon in their special suite," Fratz said last week.
If anything went wrong with her stream, Fratz would reach out to Rubin directly. She loved their support and features. Being able to schedule her broadcasts, share photos and cameo guests — three options that Periscope still does not have — allowed Fratz to optimize for quality in her broadcasts, from the hair salon to the red carpet.
Fratz is no longer active on Meerkat. A few months back, she replaced her "Meerkat Queen" title with "Stream Queen." She has shifted her time to YouTube, Snapchat and, recently, live-streaming app YouNow, whose team had directly approached her.
Fratz said she didn't have any hard feelings about Meerkat. Indeed, they both shifted their priorities around the same time. Rubin didn't tell Fratz of a future pivot, but as revealed in his letter to investors, his team was working on building the new product in October. "When I didn't hear from them as much it wasn't an intentional thing," Fratz said. "I feel like what they have they could spiral off. I see more potential here."
There were public failures from Meerkat. Madonna's streams kept crashing. Meerkat could not reveal more data on the audience or insight on the product road map, even to Al Roker's team. "YouNow, we have a really good idea of who the audience is. Facebook, we feel the same way. On Meerkat ... their audience seems to be leaving and their audience is the least defined," Pruett said last month.
Meanwhile, the so-called "Meerkat killer," as the tech press wrote, grew fast. In August, the Periscope team posted a blog on Medium titled, "Periscope, by the numbers." CEO Kayvon Beykpour had shared that Periscope hit 1 million downloads in the first 10 days. Four months later, the app had 10 million accounts and 2 million daily active users.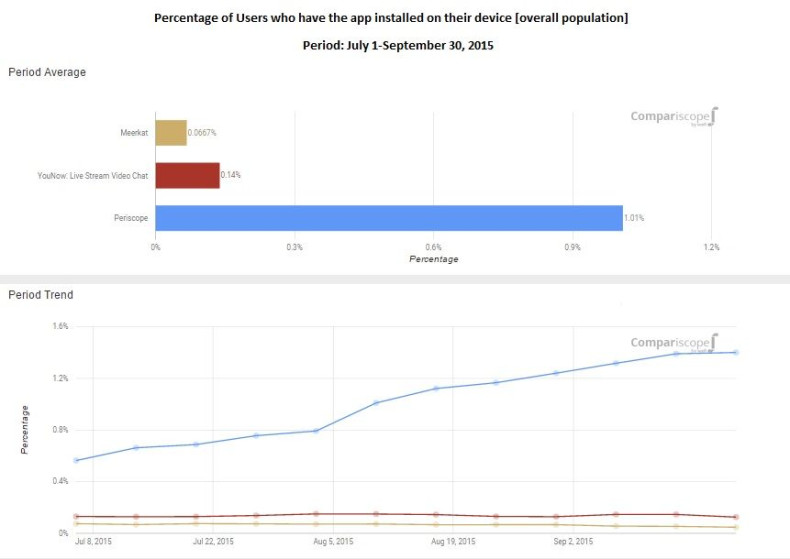 Meerkat stayed quiet on its numbers. After the 2 million user announcement in May, Rubin kept quiet. In response to a query from IBT last week, a Meerkat representative said the app saw a 20 percent increase in sign-ups from the week prior but did not elaborate. Rubin declined to comment.
By the fall, many of Meerkat's top streamers were prioritizing Periscope. Gary Vaynerchuk, CEO and co-founder of digital agency VaynerMedia, opted for Periscope despite being an investor in Meerkat. (He's also an investor in Twitter.) Niv Dror, who joined the Meerkat team in March, moved in October to Product Hunt, a site that curates tech products.
"The thing that Niv did better than anybody is he never bashed Periscope. He wanted to make you feel like you were part of the Meerkat family," said Brian Fanzo, a brand marketer who runs digital storytelling agency BackLamp and has worked with IBM.
Dror didn't have any six-figure checks like Facebook Chief Operating Officer Sheryl Sandberg is reportedly offering to celebrities to use Facebook Live. As a community manager for Meerkat, Dror was tasked with fostering a community on a startup budget. "What he grew and built was such an organic community of advocates without us getting paid," Fanzo said. "The day he left was the last day I did Meerkat."
Soon enough Fanzo's clients were pushing for Periscope. Fanzo said all 30 of his clients in the fall were on the same page about live video. "They would all tell me that, 'We love the other app, but because we're making a risk assessment today we're going for Periscope,' " he said.
But it wasn't just Twitter coming after brand attention. Enter Facebook. "Meerkat is going to be bought by Facebook, I think, in the next six months," angel investor and blogger Jason Calacanis told CNBC in April. That vision wasn't realized. Instead, Facebook turned on its own switch within the core app. First, in August, Facebook gave access to a select group of celebrities and public figures. In December, all verified pages could broadcast on iOS. By January, Facebook allowed all iOS users to stream.
While Facebook was building and promoting its live feature, Meerkat's product was dormant. September was the last time Meerkat released a major update to its app. On the phone with IBT, shortly after he met with Facebook's team to chat about live, Bell recalled, "I used to say, 'I go on Meerkat when I want to be alone.' "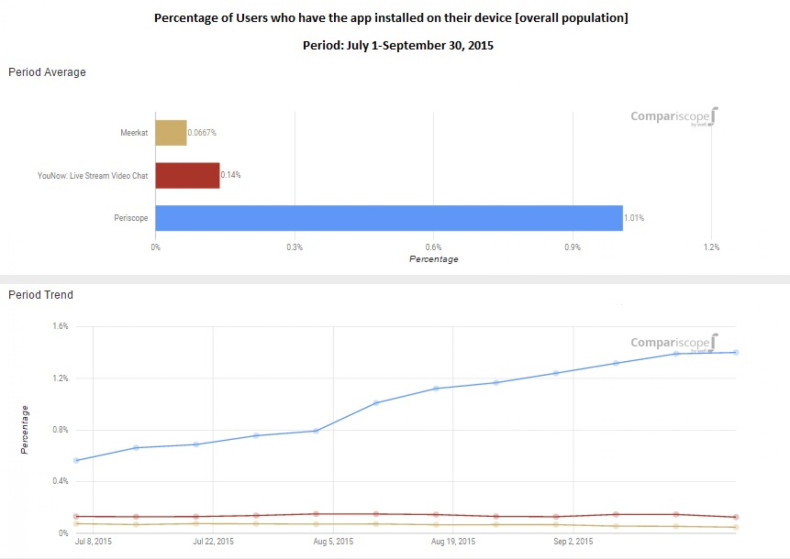 Despite Rubin's call last March that Meerkat could build its own social graph, he has given up on the fight — at least with the current product. "The distribution advantages of Twitter/Periscope and Facebook Live drew more early users to them away from us and we were not able to grow as quickly alongside as we had planned," Rubin wrote in his email to investors last week.
However, others in the live video industry are not so keen to back down. "The fact that Facebook and Twitter moved into this market is an endorsement," said Will Jamieson, chief marketing officer of Stre.am, another live video app that also had pushed its consumer app at SXSW last year.
Perhaps Meerkat lost a format war. It's a full-service solution and customer loyalty that win the game, Jamieson said. The chief marketing officer for Stre.am may be just 22, but he's confident of his startup knowledge as founding member of Yik Yak, the anonymous messaging app that got its start on college campuses.
Meerkat hasn't written themselves off completely, and neither has one of its investors. DreamIt Ventures, which brought Rubin and his team into its startup class in 2013 and invested in the company, is confident in the future. "Obviously it's become a much more crowded space with Periscope and Facebook Live," Welch told IBT last week. "We look at this team as a team that's executing better."
Indeed, Meerkat's team did cause quite a stir at last year's SXSW, and its launch required action from Twitter. While Twitter had kept the Periscope acquisition under wraps for two months, the decision to cut off Meerkat's access in March came along with the grand reveal of its own live video product. "I remember being at a Twitter meeting because they were scrambling to try to get Periscope up and running," said Rye Clifton, director of experience at ad agency GSD&M.
For the last five months, Twitter publicly touted Periscope and so did Facebook with Live, yet Meerkat remained quiet about the app's falling engagement numbers and the decision to pivot.
After SXSW, #bedkast featuring Isaacs and his girlfriend, now fiancée, turned into a weekly routine. "My instant reaction was super positive," he said. "I had a blast with the product. The way I described it was having a dinner party and nobody has to clean up. ... I met more cool people that I still stay in touch with."
But in November, Isaacs decided to end the fun.
The "fatal flaw," he said was Meerkat's decision not to add replays within the product. "That strategically was not a good move if you're going to pick up a phone and dedicate five to 10 minutes speaking in your phone," Isaacs said. He's gone back to YouTube.
© Copyright IBTimes 2022. All rights reserved.