How Periscope Is Building A Community In The Midst Of Twitter's Turmoil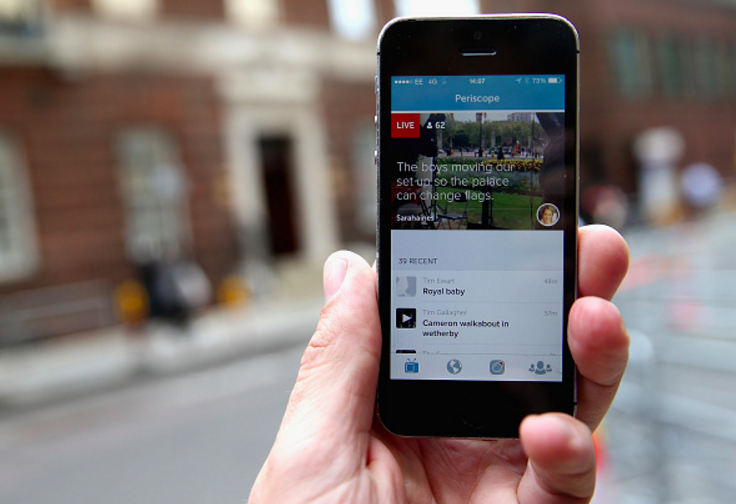 SAN FRANCISCO — Here's the trending narrative for Twitter: User growth has stagnated, and the product has not improved, at least not fast enough. But that isn't the case with Twitter's Periscope, the live-streaming video application the microblogging site acquired a year ago this month.
Inside a three-floor apartment about a 15-minute walk from Twitter Inc. headquarters in San Francisco, a team of 28 is building something they believe is changing the world and could perhaps save the parent company. The two outfits have the same mission: to build a service that shows people's lives unfiltered, in real time, around the world.
As happened during Twitter's early days of fascinating the biggest brands, the richest celebrities and people just seeking to make names for themselves, Periscope has become a destination for many personalities, from a television host in Los Angeles to a surfer in Australia, to broadcast live video via their smartphones.
"With Periscope's team, they understand that what they built is a way to connect with people on a different level," said Jon Jacques, a professional magician who quit his marketing job to contribute to Periscope full-time. "Great content for them is what it's all about."
Since its public launch last March, Periscope has had 100 million broadcasts. Nearly 40 years of video content is watched on the app every day, the company estimated. During its first four months, Periscope grew to 2 million daily active users. In contrast, Twitter over its first year, from 2006 to 2007, garnered only 50,000 weekly active users.
Clearly, the momentum is strong, but in Silicon Valley where technology giants and startups can change the game at any moment, Periscope is attempting to ensure the enthusiasm and the growth does not falter. For Twitter, user growth fell off drastically in 2012, and its year-over-year percentage growth has stagnated since then.
To push forward, Periscope is leaning on Twitter — the brand, the people and the knowledge — as well as those who have made social media and live streaming among their life passions, and, in some cases, their careers. Simultaneously, Periscope has helped bring renewed attention to Twitter.
Community, both inside the office and around the world, is key for Periscope. While Meerkat has fallen out of favor with popular broadcasters and Facebook Live has yet to open up to everyone, Twitter is trying to capitalize on the moment: The team at Periscope has been commenting in videos, sending swag bags to popular broadcasters and taking feedback about what to do next. This week, Periscope opened the doors to its HQ and also participated in a community summit in San Francisco with an expected 800 attendees over the weekend.
"Tell us what you need," Periscope CEO Kayvon Beykpour said while onstage with seven of his staff members Friday. "You guys use the product more often than we do ... It's our job to listen."
Indeed, Periscope has listened to suggestions, and beyond that, has implemented innovations that users have requested. Despite Periscope being owned by Twitter, the integrations between the two signature apps historically have been fairly sparse. But Tuesday, the companies made an announcement that had broadcasters cheerleading online and loudly clapping at the summit.
Now, when scrolling through the Twitter for iOS app, users will see live Periscope streams or replays on auto-play. "With that Twitter integration, it shows that there's vitality between both," said Lizza Monet Morales, a popular broadcaster who oversees her own community called Lovebug Nation as well as PeriLatinos. "I think Twitter now sees the value of what we provide."
There's more to be done. At the Periscope community happy hour Thursday, Monet Morales suggested to Jonah Grant, the engineer who led the Twitter integration, that he remove the gray box appearing when a broadcast had disappeared. It was neither the first time nor the last that Grant had heard the request, but he listened, nodded and said it was on his to-do list.
A 20-year-old former intern at Twitter, Grant is one of two dozen engineers at Periscope. He is also one of several employees who moved over from Twitter. Bill Couch, a senior product engineer, shifted from Twitter to Periscope to help build the app's web-view version. Before making his move, Grant expressed an interest in augmenting Periscope and, specifically, improving its ties to the main site.
While Grant is tapped into the Periscope community, it's the job of another employee to take in and organize feedback. Lili Salzberg works as Periscope's official, and sole, community manager. It's a title she also had at BuzzFeed and the now-defunct anonymous app Secret.
Periscope hired Salzberg in April, about a month after launch. Back in January of last year, Salzberg saw her first Periscope video while still at Secret and in company of Sara Haider, a former engineer at Twitter and Vine who now also works at Periscope. The broadcast was of a fire near Mission Street in San Francisco, Salzberg recalled while sitting just down the street from Secret's old office.
At the time Salzberg approached Periscope about a potential job, its team had, for the most part, been purely focused on engineering the product. "The way I was thinking about how content intersects with community was something they weren't really thinking about yet," Salzberg said. "How do you understand the ebbs and flows of content? ... How do you make streamers happy besides giving them technical support?"
One way, for Salzberg, has been not only to listen but also to understand, to appreciate and to try new things she has learned from popular Periscope broadcasters:
Now, Salzberg spends her weekdays at a desk in Periscope HQ with six screens — two personal-computer monitors, two iPads, an iPhone and an Android handset — and color-coded headphones to watch broadcasts while responding to emails. "People always ask, 'Did you see me?' And I'm like, 'Yes, I am always watching,'" she joked.
She also sits in on the company's all-hands engineering meetings to share what she has seen from the broadcasters and viewers and what they have requested. Some days she goes to Twitter's HQ to explain insights gleaned from the Periscope team and community.
"I have a lot of trust in the team to do the right thing. I know they have a long list of features and tweaks. I know they're working really hard. I know they don't sleep a lot," the magician Jacques said. To prepare for the release of the Twitter integration, several members stayed up all night and live-streamed updates from the office.
While Periscope continues building the product, the community is growing itself. Some members have taken on mentorship roles to help new broadcasters, such as Jon Erlichman with Parachute TV. A panel at the summit this weekend was titled "Just Do It. Helping Newbies Press the Button."
Periscope relies on such actions. Salzberg said, "I make sure we send love to people who share awesome content. That'll be a lot harder as we get bigger and bigger, but those people will become advocates for us down the line."
© Copyright IBTimes 2023. All rights reserved.