What Is Jon Snow's Real Name? R+L=J Confirmation Sparks New 'Game Of Thrones' Fan Theory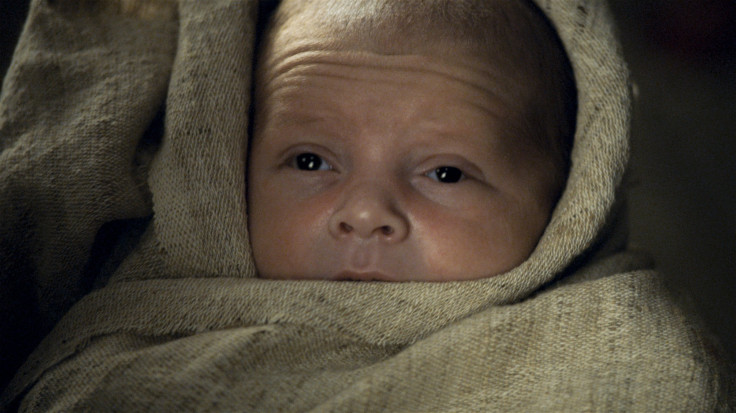 You know nothing, "Game of Thrones" fans. No, seriously. According to a new fan theory, born after confirmation of the R + L = J theory, Jon Snow (Kit Harrington) may not be who you think he is.
The theory regarding the current King of the North's parents was touched upon in Season 6 during "The Winds of Winter" in a scene from the past between Lyanna Stark (Cordelia Hill) and her brother, Ned (Robert Aramayo). The now-deceased King of Winterfell visits his sister in Rhaegar Targaryen's Tower of Joy, where she makes him promise to care for her son after her certain death. While the rest of her secret was inaudible to viewers, one self-proclaimed not-so-great lip reader watching along at home was able to pick up some of what she said — or so they think.
Reddit user Sparkledavisjr posted on the site that it appeared Lyanna's child's name started with a "J," speculating that it may be "Jaehaerys" — which seems to fit better into the Targaryen family tree than Jon. The "Game of Thrones" theorist went on to explain why the name makes sense — at least if you believe that Lyanna and Rhaegar were in love, rather than her having been taken against her will.
"If Lyanna was in love with Rhaegar (as seems likely), it makes sense for their son to have a Targaryen traditional name like his siblings Aegon and Rhaenys. Jaehaerys would be a good pick as the name isn't associated with any real negative connotations, like Aerys, Maegor, etc.," Sparkledavisjr wrote. "Not only is Jaehaerys the great-grandfather of Jon, he was the King who received the ORIGINAL PROPHECY about the prince who was promised from the woods witch with Jenny of Oldstones."
HBO confirmed the paternity of Jon Snow on Wednesday, releasing a complicated infographic to set the record straight. The chart lists Lyanna as his mother, Rhaegar as his father and Ned Stark (Sean Bean) as his "guardian." The infographic also explains how people like Jamie Lannister (Nikolaj Coster-Waldau), the Mountain (Hafþór Júlíus "Thor" Björnsson) and more fit into the picture.
It remains unclear how this news will affect future seasons of the show, which is nearing its end. Uproxx speculated that an hidden clue in the Season 6 finale may signal that the series is closer to its finish than fans previously believed.
During the episode, Samwell Tarly (John Bradley), Jon Snow's close friend and confidant, finally arrives at the Citadel. Once there, he explains his business to a particularly difficult maester, who grants him access to the vast library while he waits. Once inside, Samwell stares in awe at the many books he is now able to use, but the site suggests there is something far more important hanging just above the shelves of books — a chandelier, which also appears in the "Game of Thrones" opening credits. Joanna Robinson, a writer at Vanity Fair, speculates that the skewed appearance in the credits is due to the fact that viewers are meant to be looking at the chandelier through the lenses of a great maester — which will, in time, be either Samwell or Gilly's (Hannah Murray) son Sam. That person will be tasked with recording the many adventures of Jon Snow, the Watchers Beyond the Wall, Daenerys Targaryen (Emilia Clarke) and more to be read long after they're gone.
HBO has yet to announce a release date for Season 7 of "Game of Thrones." The series has chosen four male directors for the forthcoming season, though no further details about the show are known at this time.
© Copyright IBTimes 2023. All rights reserved.