What Is The 'Misery Index' Saying About Obama's Re-Election Chances?
U.S. "Misery Index" increased under President Barack Obama's watch.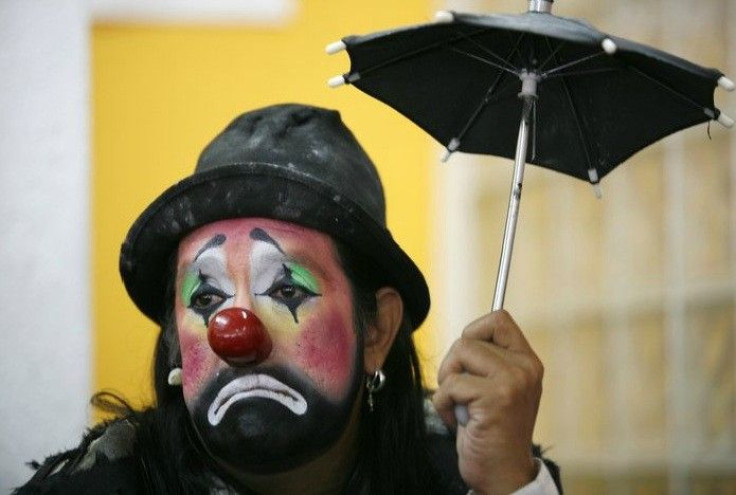 An unofficial gauge of human misery in the U.S. is now sitting at its lowest level in three years. Not four. In other words, while economic conditions have improved somewhat, Americans are still feeling miserable under President Barack Obama's watch and that obviously doesn't bode well for his re-election chances.
Economist Arthur Okun, an adviser to President Lyndon Johnson in the 1960s, invented the "Misery Index" in the 1970s when inflation was going through the roof along with unemployment. He simply added these two together -- the unemployment rate and the inflation rate -- and generated a new compact measure to look at the health of the economy.
It is assumed that a higher rate of unemployment and a worsening of inflation both create economic and social costs for a country. A combination of rising inflation and more people out of work implies a deterioration in economic performance and a rise in the misery index.
The index peaked at 21.98 in June of 1980, when the unemployment rate was 7.6 percent and the inflation was running at a staggering 14.38 percent.
Okun's index spoke to two very serious questions. Are my job prospects improving? And if I currently have a job, what's happening to the purchasing power of my money?
Given that low inflation and low unemployment are the central aims of economic policy, the higher the index, the worse the authorities are doing.
Right now, we are less than three months away from the U.S. presidential election. While it's rare to unseat an incumbent, when it does happen -- as in 1980 -- poor economic performance usually is to blame.
The "Misery Index" reads 9.7 in July (the latest data available), according to miseryindex.us, which tracks the indicator. That's the lowest level since September 2009, but still higher than the 7.8 reading when Obama took office.
Source: http://miseryindex.us/
Typically, when the index rises, voters choose the challenger over the incumbent.
Obama, who in 2008 became the first African-American elected president, would make a different kind of history if he wins re-election in November. He would be the first incumbent in at least a generation to claim a second term when most Americans say they aren't better off than they were when he came in.
In a nationwide USA Today/Gallup Poll and in a dozen so-called swing states, most voters say they aren't better off than they were four years ago, the first time that has happened since Ronald Reagan posed this famous question to voters in his 1980 campaign.
Although the unemployment rate hasn't improved much, lingering above 8 percent for almost four years throughout Obama's term, economists at Credit Suisse find that this factor shouldn't prevent Obama from being re-elected.
"Unemployment also rose over Ford's and George H.W. Bush's presidencies by more than any of the others, and ticked up some under Carter's. Despite the current weakness in the labor market, Obama's record in this regard is better than two-thirds of his predecessors' presidencies," Credit Suisse economists, Neal Soss and Jill Brown, said in a note.
Ford, Carter and Bush were all voted out of office.
Accelerating inflation also can work against the incumbent. Luckily for Obama, inflation has been tame during his tenure.
The U.S. Consumer Price Index was unchanged in July, and up only 1.4 percent year-on-year, which has left economists scratching their heads.
For the past four years, the U.S. has run budget deficits of more than $1 trillion annually, while the Federal Reserve has kept interest rates close to zero and has helped finance about $1.2 trillion of the deficits indirectly through market purchases of Treasuries. Theoretically, easy monetary conditions and money-printing should have caused inflation. But that has not happened, at least not yet.
The U.S. money supply has expanded far faster than gross domestic product in the last two years. The broader M2 measure rose 8 percent in the first seven months of 2012, according to the St. Louis Federal Reserve, while the nominal GDP rose 3.9 percent. Yet inflation has remained low, and has even declined this year.
Some say it could be just a matter of time before inflation picks up, which will then push up the "Misery Index."
Food prices are set to rise thanks to drought that grips more than half the country. Oil prices have also recovered from their spring decline. Benchmark oil rose 42 cents to finish Wednesday at $97.26 per barrel. Oil prices have risen about $8 per barrel since Aug. 1.
And further policy action from the Fed could also give inflation a boost.
The minutes from the August Federal Open Market Committee meeting, released Wednesday, strongly suggest that the Fed will launch a third round of quantitative easing, or QE3, at its meeting in mid-September.
"Many [voting FOMC] members judged that additional monetary accommodation would likely be warranted fairly soon unless incoming information pointed to a substantial and sustainable strengthening in the pace of the economic recovery," the minutes said.
Some commentators had suggested in the past couple of weeks that the modest improvement in the most recent incoming economic data, particularly July's employment and retail sales figures, would be enough to persuade the Fed to hold off. But the alliterative "substantial and sustainable strengthening" language indicates that the Fed isn't going to be distracted by a modest pick-up in employment, not when the unemployment rate actually edged higher, according to Paul Ashworth, chief economist at Capital Economics.
Most estimates still have third-quarter GDP growth tracking at between 1.5 percent and 2.0 percent annualized, only slightly above the first-quarter performance.
Another interesting point is the relationship between the "Misery Index" and the crime rate.
Using data from 1960 to 2005, economists have found that the "Misery Index" and the crime rate correlate strongly and that the index seems to lead the crime rate by a year or so.
© Copyright IBTimes 2023. All rights reserved.