What Is Sakharov Prize? Yazidi Women Nadia Murad, Lamiya Aji Bashar Win EU's Human Rights Award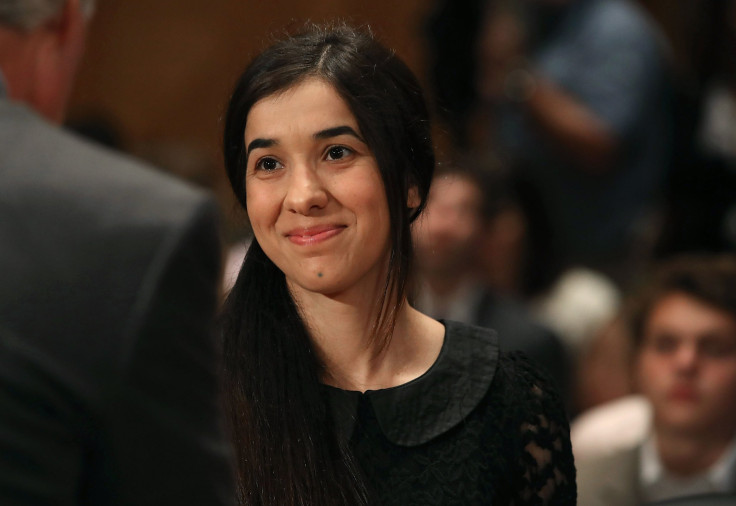 Two Yazidi women who were once captives of the Islamic State terrorist group (also called ISIS) won the European Parliament's Sakharov prize for Freedom of Thought. The two women, since gaining freedom, have turned spokeswomen for women abused by the militant group.
Nadia Murad and Lamiya Aji Bashar are part of Iraq's minority Yazidi community, which has been targeted by ISIS. Murad and Aji Bashar were one of the hundreds of women sexually enslaved by the militant group.
Guy Verhofstadt, president of the Alliance of Liberals and Democrats for Europe group in the European Parliament, called the winners "inspirational women who have shown incredible bravery and humanity in the face of despicable brutality."
"I am proud that they have been awarded the 2016 Sakharov Prize," he said.
The Sakharov prize, established in 1988, is the European Parliament's award for individuals who have "made an exceptional contribution to the fight for human rights across the globe, drawing attention to human rights violations."
The award is named after one of the Soviet Union's most outspoken critics, nuclear physicist Andrei Sakharov. Sakharov, a Nobel Peace Prize laureate, created the first Soviet hydrogen bomb. However, he later campaigned for nuclear disarmament.
Aji Bashar and Murad were captured when ISIS killed all the men in their village of Kocho in Iraq. Murad lost six brothers and her mother in the massacre, and she and her sisters were enslaved. Murad and Aji Bashar were bought and sold several times as sex slaves. Aji Bashar was also forced to make suicide vests in Mosul.
Murad managed to escape in November 2014. She is also the first Goodwill Ambassador for the Dignity of Survivors of Human Trafficking of the United Nations Office on Drugs and Crime, and was awarded the Václav Havel Human Rights Prize by the Council of Europe.
Aji Bashar, after several failed attempts, managed to escape from the terrorists in April this year. She is actively involved in raising awareness on the issues the Yazidi community faces and helps women and children who were ISIS victims.
Raif Badawi, a Saudi blogger who won the Sakharov prize last year, is currently serving a 10-year prison sentence which includes 1,000 lashes for "insulting Islam" in 2012. He was also fined nearly $215,000.
© Copyright IBTimes 2023. All rights reserved.