What We Know About Tesla's Pickup Truck
As if electric-car maker Tesla (NASDAQ:TSLA) isn't already pulling enough levers to get investors excited about its business, it sent out invitations on Thursday for the unveiling of its long-awaited pickup truck. This news comes on the heels of Tesla swinging to a profit in Q3, obtaining a manufacturing license to start production of its made-in-China Model 3 for Chinese customers, and announcing that it's building a new vehicle factory in Berlin.
Ahead of the event, here's a look at what CEO Elon Musk has said about the truck.
CYBRTRK?
Following up on a Nov. 6 tweet from Musk noting that Tesla would unveil its new pickup truck on Nov. 21, Tesla has now sent out invitations to the truck's unveiling event. It will start at 8 p.m. PST on Thursday, Nov. 21 at the company's Design Center in Hawthorne, California. According to the invitation, the event "will be held both indoors and outdoors."
The invitation was sent just moments after a Twitter user discovered Tesla had filed for a trademark of the logo reading "CYBRTRK" -- a likely name for the truck since Musk has been referring to the vehicle as Cybertruck. Tesla has also registered the domain cybrtrk.com, as the website is currently redirecting to Tesla.com.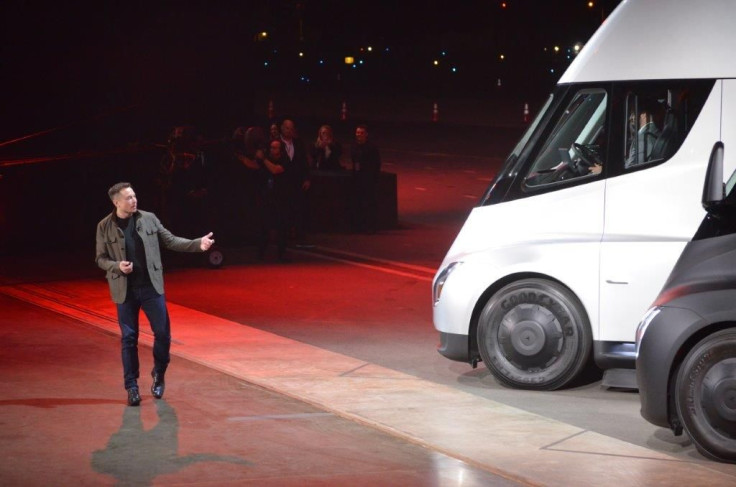 Design and performance
Little is known about the truck, but Musk did say in the company's third-quarter earnings call that he believes it's Tesla's "best product ever." Its design is expected to be bold, with Musk saying in an Oct. 13 tweet that the vehicle looks like "an armored personnel carrier from the future."
Tesla has also made some comments about the truck's performance in a podcast interview this spring.
It's going to be a truck that is more capable than other trucks. The goal is to be a better truck than a [Ford] F-150 in terms of truck-like functionality and be a better sports car than a standard [Porsche] 911. That's the aspiration.
Availability and pricing
Investors will have to wait until the event to find out when the electric-car maker expects to bring the truck to market. The company hasn't provided any specific time frame for the truck's production yet. But with Model Y production expected to be the company's current priority when it comes to new vehicles, the truck will likely come after the Model Y. Tesla's website currently forecasts Model Y production to begin in "late 2020."
Regarding pricing, Musk has said that the goal is for the vehicle's pricing to start at $49,000 or less.
Of course, any of these details may have changed by now. Further, the vehicle could evolve even more by the time it goes into production. Nevertheless, investors will finally get at least some answers about the highly anticipated truck during Tesla's unveiling event next week.
Daniel Sparks has no position in any of the stocks mentioned. The Motley Fool owns shares of and recommends Tesla and Twitter. The Motley Fool has a disclosure policy.
This article originally appeared in The Motley Fool.