What will Apple Reveal at Education Event on Thursday?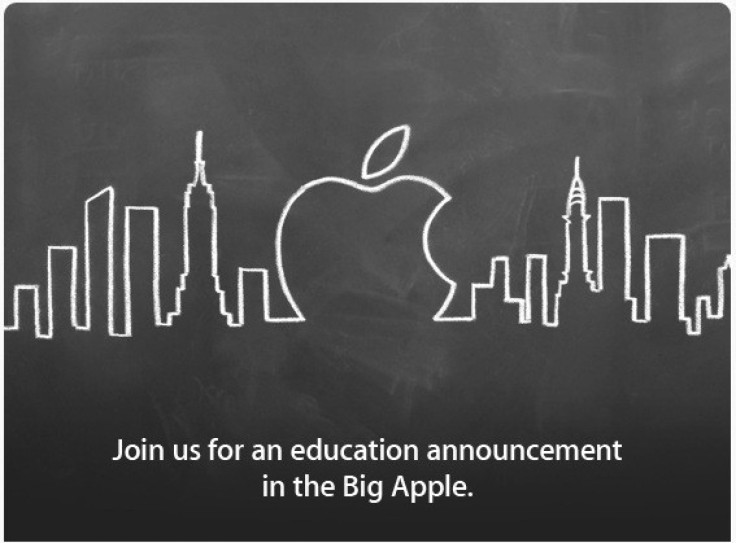 The tech giant Apple will hold an invitation-only event at the Guggenheim Museum in New York on Jan. 19. However, reportedly Apple will not launch any gadget this time. Instead, it might be an education announcement.
If Apple fans are expecting to see the highly anticipated iPad 3 or iPhone 5 on Thursday, they might be disappointed. According to several reports, there won't be any new gadgets release this time.
Instead, Apple will announce a new way to create textbooks, which can be viewed on an iPhone or iPad, according to Ars Technica.
Some anonymous sources, who are close to the matter, told Ars Technica that Apple will announce tools to help create interactive e-books [...] and expand its current platform to distribute them to iPhone and iPad users.
The new software, which reportedly is similar to the GarageBand music software, might digitally destroy the textbook market.
Moreover, the tool would create an ebook, which would be much simpler than it is at present. The digital text would allow the users, especially students, to interact with the information in many visual ways, including 3D models, graphs, and videos, along with social networking elements.
Apple co-founder Steve Jobs had been working to revolutionize the textbook for many years. According to Walter Isaacson, the author of Jobs' biography, Jobs had told the author that he wanted to transform the textbook market by hiring prominent textbook writers to create electronic versions of them for the iPad.
His idea was to hire great textbook writers to create digital versions, and make them a feature of the iPad, Isaacson wrote.
It is said that the education event was originally scheduled for October 2011 or the same time as the iPhone 4S' launch date. However, it was postponed until this week for undisclosed reasons.
© Copyright IBTimes 2023. All rights reserved.