What's Life Like For Syrian Refugees In Germany?
Tens of thousands are pouring into Europe from war-torn areas in the Middle East and North Africa. For Syrian refugees, Germany is a favored destination. But as IBT learned, they are not being welcomed with open arms.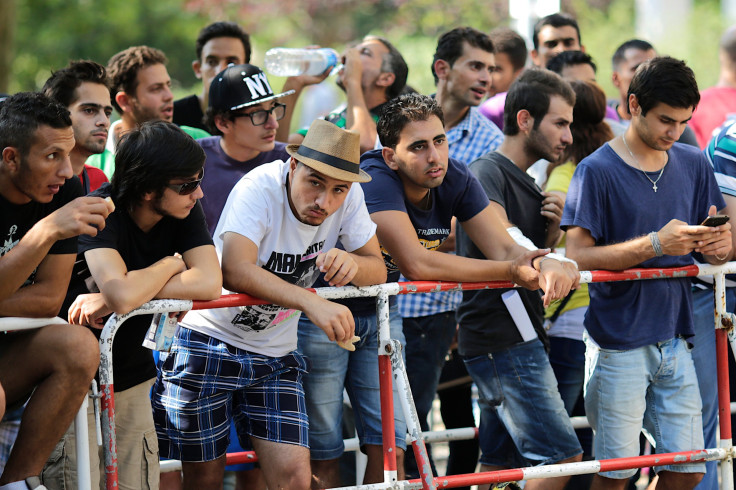 Monther recalls the moment he decided to leave Syria with perfect clarity. The Syrian shop owner, who declined to provide his full name, citing threats to his security, was driving home with his sisters from the eastern city of Deir ez-Zor -- a stronghold of the Islamic State group, commonly called ISIS -- when members of the militant group stopped his car. The militants accused his sisters of flouting the group's strict dress code for women. Monther spoke out. "This is not how women should be treated in Islam," he told the men. He paid for his outburst with a public beating, receiving a sentence of 50 lashes.
Monther had already seen the Syrian war claim his livelihood when a bomb dropped by Syrian regime forces blasted his mobile telephone shop to rubble last fall. Six months on, his life -- and the lives of his family -- were threatened too. This has become the stark reality for many Syrians, who live in fear of the regime's aerial attacks even as they face the onslaught of ISIS. With such odds, 4 million Syrians have fled the country since the uprisings began four years ago.
Their flight from Syria is a damning indictment of the failures of the U.S., Europe and Syria's Arab neighbors to deliver a diplomatic and humanitarian solution to the bitter civil war that has engulfed the region. Disagreements over policy and focus -- whether to bring down Syria's embattled president Bashar Assad or to eradicate ISIS -- have left Syria stagnating in a growing pool of its people's blood.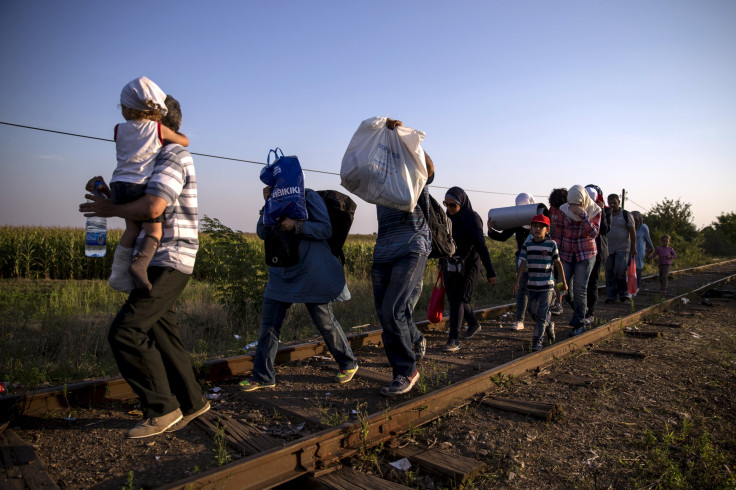 Since Lebanon closed its borders to all but the most extreme humanitarian cases last October, Syrians have been streaming from the country of their birth to the new target of collective aspiration: Germany.
The Western European nation is the preferred destination for Syrian refugees, who consider it a wealthy, welcoming land that will provide them with housing, schooling for their children, and an abundance of jobs. Germany is likely to receive 800,000 asylum-seekers this year, four times the number it took in 2014 and more than all the other EU states took combined last year. In July, Germany received more than 37,000 asylum applications, a 93 percent increase over the same month last year.
When Monther's beating was over, he had already decided to join their number. But his journey was not made so easily. He traveled overland, from ISIS-controlled village to rebel-held town, passing the bombed-out shells of once-prosperous cities. After making it safely across the Turkish border, he paid smugglers to board a boat that would take him to Greece, before crossing the Balkans and taking a train through middle Europe to Germany, where his brother, a doctor, lives.
For those who successfully navigate the pitfalls -- the dangers of the road, the closure of Hungary's borders -- and make it to Germany, new challenges await them, as there are more people than the infrastructure can quickly absorb.
Once refugees have arrived in Germany's capital, Berlin, they must wait in line at the State Office of Health and Social Affairs (LaGeSo), the official asylum registration center for processing by the German authorities. The line is long and chaotic — children run in-between open legs, tired men sleep on their feet -- and most refugees have no idea where to start.
Newcomers are given a piece of paper with a number on it and have to wait, sometimes for more than a week, until they are allowed to register. It is only when they have registered that the official asylum process can begin.
Charities fill in the gaps in care, with volunteers running shelters, organizing food collections and providing rudimentary schooling. Christiane Beckmann, a spokesperson for the refugee organization Moabit Hilft! thinks more should be done by the government. "This is an utter failure from the state. We are practically doing the job of the state – with our own money and in our own free time," she told International Business Times.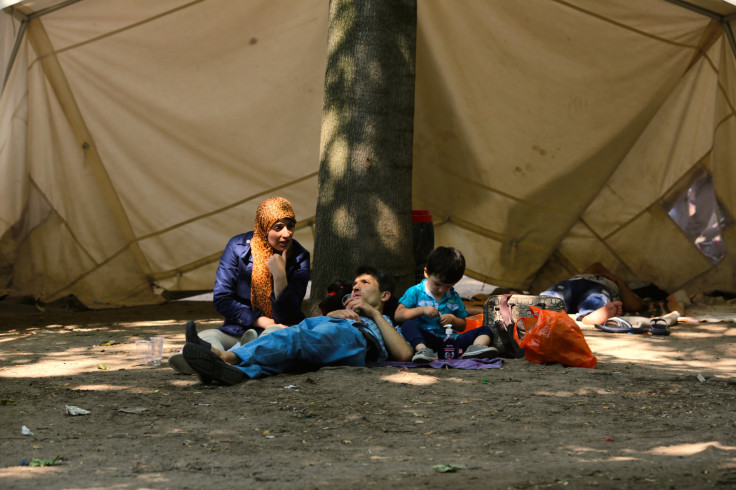 Beckmann says many volunteers are close to a breakdown after weeks of supporting refugees. They care for parentless children, witness pregnant women collapsing in the heat and listen to refugees' horrifying stories of war and devastation. Because the emergency shelters are overcrowded, some refugees sleep in a nearby park or wander aimlessly through the streets at night. Monther spent one cold, rainy night in the open when there wasn't any space at the shelter.
Around a third of the city's refugees will be granted asylum in Germany. Syrians are afforded special refugee status, allowing them to claim asylum in Germany even if they arrived at another EU country first. Migrants coming from "safe countries of origin," like Serbia, Macedonia and Bosnia-Herzegovina, are deported within a year.
For those who are accepted, they're permitted to stay in Germany for three years. After that, they can apply for an unrestricted residence permit if the situation in their home country hasn't changed.
After registering, refugees are housed among Germany's 16 federal states according to a formula that takes tax revenues and population size into account. Living quarters are simple -- shared rooms, bunk beds and washing facilities — but most refugees are grateful to have survived the journey and made it to Germany.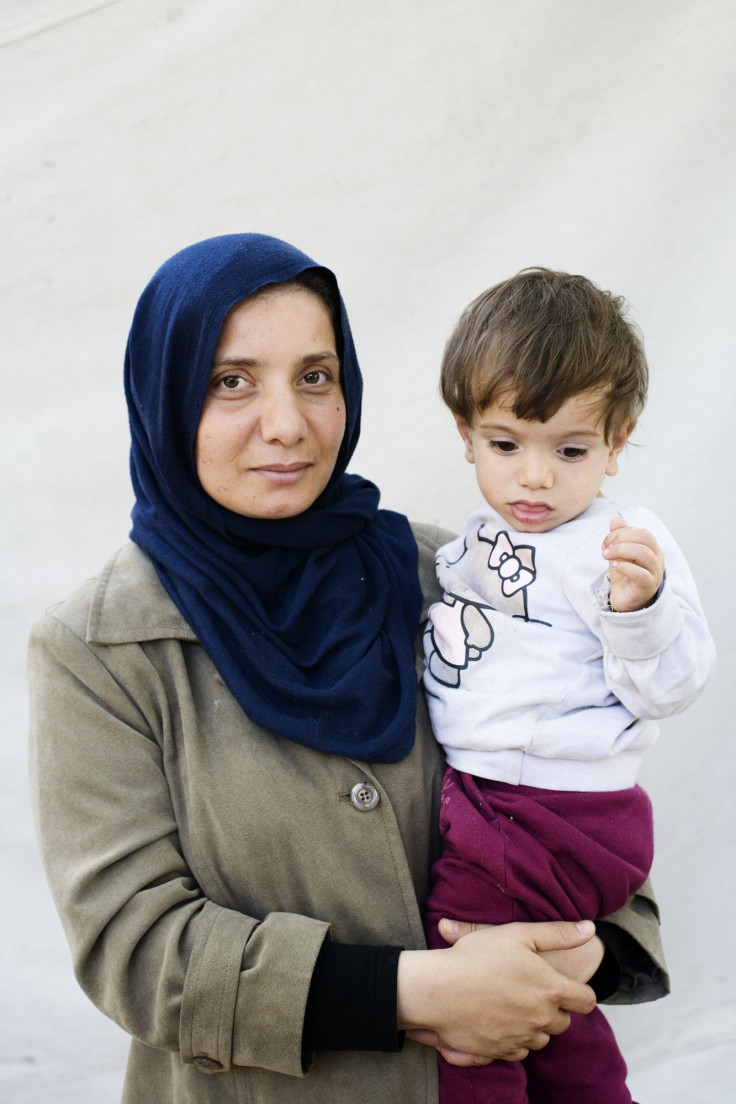 Nahla left Syria with her husband and 2-year-old daughter, Fajer, in May. It took seven attempts and three months for the 35-year-old Aleppo native to reach Berlin. In Bulgaria, the border police unleashed their dogs and stole most of her money, Nahla says. In Serbia, Nahla was imprisoned for a day and had to pay a "ransom" of 100 euro to be set free.
Waiting in line to receive a registration number is a small price to pay for freedom. "I am so happy to finally be in Germany. I do not care how long the registration takes, as the safety counts. And I hope that in the near future I can start working here in the city until the war in Syria is over," she told IBT.
When Nahla has successfully claimed asylum, she can expect to receive 359 euro (around $400) a month — lower than the welfare payment for German citizens. She will not be allowed to work for three months, but even after that employment is by no means guaranteed. Many employers do not want to employ refugees with an uncertain future, and asylum-seekers are only allowed to take up a job if German or EU citizens are not available for the position.
Refugees not only confront discrimination in the job market but also must contend with racist violence, ranging from arson attacks to street riots, as resentment toward the newcomers grows among certain groups in German society.
Many Germans have an inflated idea of the kind of money asylum-seekers receive after their arrival. The notion that refugees are "taking away jobs" or placing an unnecessary burden on the economy is not supported by the facts.
Recent statistics show that foreigners —including refugees -- in Germany bring in a surplus of 22 billion euros for the state – even after social welfare payments are taken into account. With each year this amount is increasing with the influx of highly educated refugees.
When Monther receives asylum status, he will be able to join his brother in Alpen, a quiet town 370 miles west of Berlin. He won't have to worry about evening airstrikes or kidnapping by the Islamic State group -- but he won't go to sleep without thinking of those left behind: his sisters who could not face the journey through ISIS-held areas; his wife, heavily pregnant with their third child, who thought the trip too risky.
Germany is a haven for Monther, but it will never be home.
© Copyright IBTimes 2022. All rights reserved.
FOLLOW MORE IBT NEWS ON THE BELOW CHANNELS