What's Next For Greece? As PM Alexis Tsipras Faces Looming Default, Greek Citizens May Decide The Country's Ultimate Fate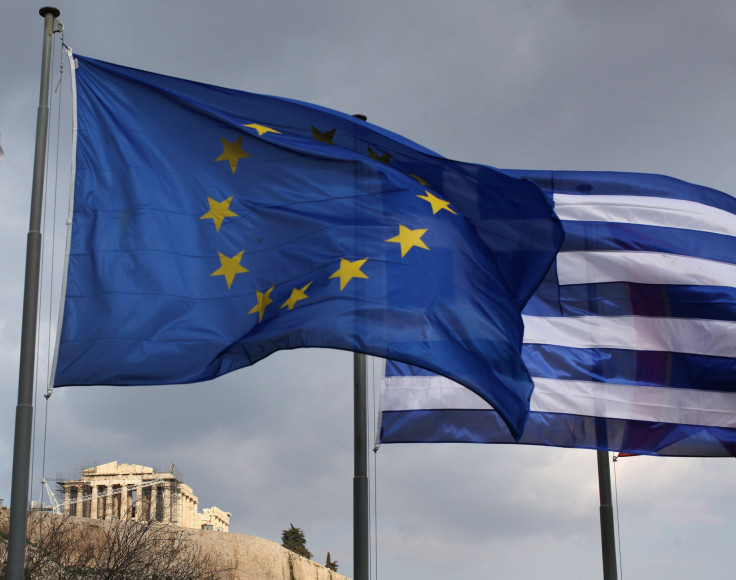 Barring a last-minute miracle, Greece will enter into default when it misses the Tuesday deadline for a crucial debt payment to the International Monetary Fund (IMF). The country's failure to meet its payment obligation sets the stage for yet another showdown with its creditors at the IMF and European Central Bank (ECB).
As it stands, Greece is set to hold a national referendum on Sunday, in which citizens of the world's oldest democracy will vote on whether the country should remain part of the 19-member block of countries that uses the euro as its official currency.
Two days into government-enforced "capital controls", the situation for average Greeks is quite dire, especially for operators of small businesses, said Simos Anastasopoulos, president of the American-Hellenic Chamber of Commerce. In an effort to prevent a massive outflow of euros from banks, the Greek government closed the financial institutions and implemented daily limits for individuals on cash withdrawals and restrictions on monetary transfers and overseas credit card payments.
"Even if I have the checks in my cash register, I cannot do anything because the bank is closed and I can't pay salaries," Anastasopoulos told International Business Times. "It creates huge pressure for the government to come up with a solution."
European Union authorities made a last-ditch offer to Athens Tuesday to save the country from going bankrupt, in what Greek citizens hoped would be an 11th-hour deal with creditors. However, Greek Prime Minister Alexis Tsipras has refused up to this point to accept the tough austerity measures creditors are demanding—tax hikes and pension cuts—in exchange for bailout funds.
After negotiations collapsed Saturday, the Greek government announced that a bailout referendum would be held on July 5 for Greek citizens to vote on whether to accept creditors' proposals.
Economists predict three scenarios could unfold:
1. Tsipras Cuts a Last Minute Deal
If Tsipras anticipates he's likely to lose the referendum, he could cut an interim deal with creditors later this week. However, Sunday's referendum is part of an agreement with creditors that expires Tuesday. The proposal from creditors may no longer be valid this weekend.
"[Tuesday] is the last day the proposal is valid, so if a deal doesn't get done, we'll go to the polls on Sunday to vote on a proposal that no longer exits," Anastasopoulos said.
Tsipras could be willing to accept terms and conditions with minor tweaks, but that would likely mean his party would force him to step down, as the left wing of his party would consider the compromises a failure.
Clem Miller, Portfolio Manager at Wilmington Trust, sees this scenario as largely positive for Greece. "At least it would be enough so the Europeans would give an extension to Greece," he said.
Tsipras is going forward with the referendum, said Hari Tsoukas, Professor of Organization Studies at Warwick Business School, partly because he doesn't have the courage to take a painful decision that will split his party. He prefers to pass the ball to the people because he intends to use the referendum as a negotiating ploy," Tsoukas said.
"It is rather irresponsible of Tsipras to call for a referendum," Tsoukas said in a note Tuesday. First, the referendum is unconstitutional as the Greek constitution explicitly prohibits a referendum on fiscal matters, Tsoukas explained. "It is technically extremely difficult for a referendum to be organized in five days and for people to be properly informed," Tsoukas said.
2. Greece Votes "Yes" To Eurozone Membership
Greek citizens could vote "yes" to the referendum to abide by the creditors terms, which economists say is the most likely outcome. A "yes" vote would translate into Greece remaining in the eurozone.
A "yes" vote would also mean the public has lost confidence in Tsipras and his left wing Syriza-led government, said Miller. Alexis Tsipras' departure as prime minister would usher in a new provisional Greek government.
"Greece would bring in someone… who would be respected by the Europeans as well as the different political parties to finalize the negotiations," Miller said.
3. A "No" Vote
A vote of "no" could leave Greece in a better negotiating position. The third scenario is the referendum could go forward with a "no" vote where Syriza would remain in power, but creditors could cut off emergency funding to Tsipras. The problem is the government hasn't made clear what it intends to do if this happens, Anastasopoulos said.
"Greece will not leave the eurozone because the people will not allow Greece to leave. That is quite clear," Anastasopoulos said. "Even if there's a 'no' vote and the banks remain closed, it will just expedite political elections."
Tsipras thinks that a "no" vote will enable him to come back stronger to the negotiating table, said Tsoukas. The problem: Creditors have clearly ruled out any revisions to their original demands. However, Tsoukas warns that Tsipras has been pushed to this point by the creditors' intransigent demands that "perpetuate the excruciating austerity that has been imposed on Greece."
"The moment of truth for Greece and for the eurozone approaches," Tsoukas said. "The looming calamity will have been brought by both parties refusing to see the big picture and seek a compromise."
© Copyright IBTimes 2023. All rights reserved.
FOLLOW MORE IBT NEWS ON THE BELOW CHANNELS