What's Next For John Cena? Feuds With Roman Reigns, Jinder Mahal, Baron Corbin Possible For WWE Star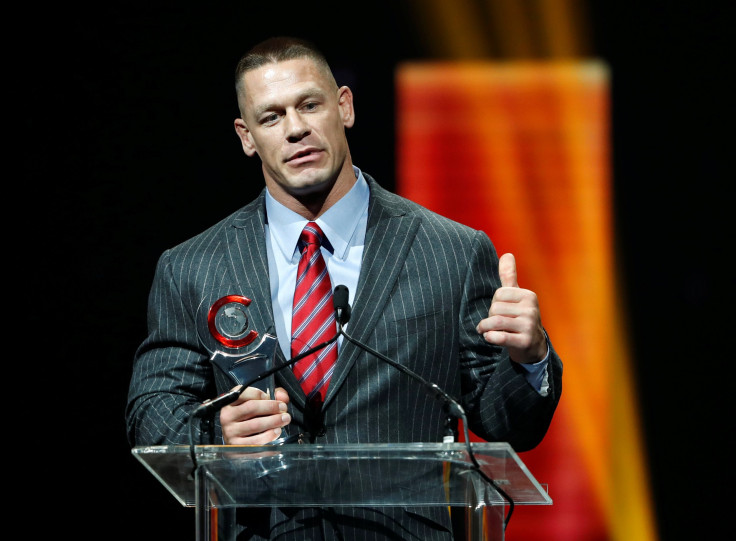 It's been a long time since John Cena has been on WWE TV, but the face of the company for almost a decade should have a lot to do once he makes his return. Cena is set to come back July 4 on "SmackDown Live," setting up some major feuds for the rest of 2017 and heading into WrestleMania 34.
There's a lot to look at when examining what's next for Cena. First of all, he's being billed as a "free agent," and he could make regular appearances on both "Monday Night Raw" and "SmackDown Live" going forward. Then there are his potential pay-per-view opponents, which include the likes of Roman Reigns, Baron Corbin and Jinder Mahal.
READ: Is John Cena Going To "Monday Night Raw?"
Considering Cena was WWE's most popular full-time superstar for more than 10 years and Reigns has fought in the main event of WrestleMania for three straight years, the two wrestlers are bound to have a PPV match sooner or later. Why not do it at SummerSlam 2017 or WrestleMania 34?
Ever since WrestleMania 33 when Brock Lesnar beat Goldberg for the WWE Universal Championship and Reigns ended The Undertaker's career, it's been assumed that Reigns and Lesnar would face off in the final match of WrestleMania 34. If that's going to be the case, and WWE is looking to make SummerSlam an even bigger event than usual, he could have a match against Cena at Barclays Center.
Lesnar will take on Samoa Joe at the Great Balls of Fire PPV on July 9, where he's expected to successfully retain his WWE Universal Championship. Braun Strowman and Reigns will fight at the same PPV, and it would only make sense for the winner to get a title shot the following month. Strowman had been on track to face Lesnar before he was forced to undergo surgery, and there's a good chance he'll find a way to get past Reigns and challenge Lesnar at SummerSlam.
Now, however, there is speculation that WWE could move up the Reigns-Lesnar feud. There's a possibility that Reigns will get the victory at Great Balls of Fire, and he'll go on to beat Lesnar for the top title on "Monday Night Raw" nearly eight months earlier than what was originally planned. Doing that would open up the door for Cena and Reigns to face off at WrestleMania 34, and that's certainly a match worthy of main-eventing the year's biggest show.
If WWE doesn't see Reigns as an option for Cena's SummerSlam match, then a feud with Jinder Mahal might make the most sense. The WWE Champion is likely to retain his belt beyond WWE Battleground on July 23, and Cena could challenge him as he tries to start his record-setting 17th world championship reign.
If Cena joins the WWE Championship picture, then a feud with Baron Corbin probably won't be very far away. Corbin won a contract for a WWE Championship Match at Money in the Bank. Maybe Cena will beat Jinder for the title at SummerSlam, only to have Corbin cash in his briefcase and steal the belt just moments later.
READ: Who Will Win The Women's MITB Rematch?
Cena has been more than willing to work with up-and-coming heels in recent years. He had feuds with Rusev, Kevin Owens and Bray Wyatt when they were just establishing themselves.
WWE is clearly high on both Jinder and Corbin, so don't be surprised if both wrestlers have big matches with Cena before the year is out.
© Copyright IBTimes 2023. All rights reserved.