The White House Won't Say How Few Hispanics Are Signing Up For Obamacare. Why Not?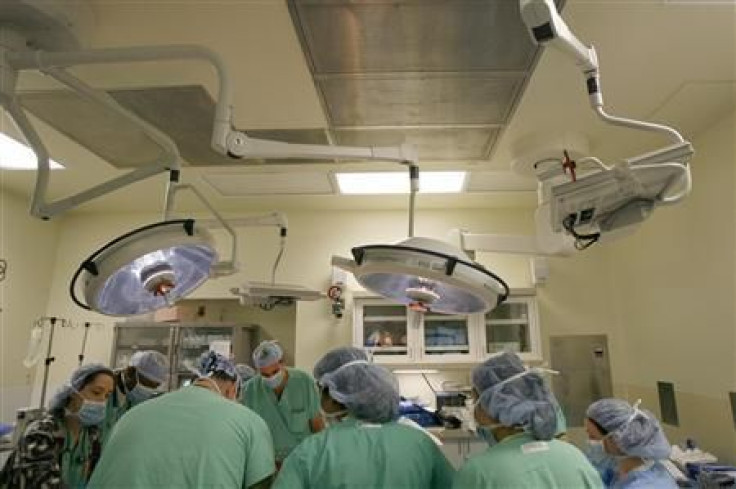 EDITOR'S NOTE: The White House media office expressed concern on Wednesday that some of the information a spokeperson provided to IBTimes, which was used in a previous version of this story, was intended for background only and not for the record. The information came in a response to an IBTimes question about whether the administration has data about Hispanic enrollment, and if so, why it has not been released. This story has since been updated with a new White House statement.
Natalie Malis was something of a test case: a Latino willing to set aside her misgivings about U.S. government-sponsored health care and dive right in, though ultimately it was more like slogging in after she called in and got put on hold for "a ridiculously long time."
Most Latinos are too wary to even apply, Malis observed, in part because they don't trust the government. And, in fact, the Obama administration's response to questions about Latino involvement does little to inspire anyone's trust. "The White House is not telling the truth," Marisa Salcines, co-founder of HealthyHispanicLiving.com, bluntly said of the administration's claim that it doesn't know how many Latinos have signed up for Obamacare.
Salcines said deep-seated cultural reasons led to the low Hispanic response, but that the administration should take that into account and revise its approach rather than downplay the issue.
Malis, 38, a first generation Cuban-American who lives in Waynesville, N.C., with her husband and two small children, recently signed up for Obamacare and said she is happy with the insurance plan she found for her family. But none of her extended family members or Hispanic friends have signed up.
"I found a plan whose premiums are half what we currently pay, but I had to jump through hoops," Malis said. "You have to create an account, they put you on hold for a ridiculously long time, and they make you answer a lot of invasive questions. It's like filing your taxes. Most of the Latino people I know are reluctant to do this."
Latinos signups are considered crucial to the success of the Affordable Care Act, and approximately 10.2 million who are uninsured have an opportunity to sign up for coverage, according to the Obama administration, which is counting on them to enroll in big numbers. Will they? So far, it doesn't look too promising. But the White House is not willing to share the early data -- and claims it doesn't exist.
When reached on Friday, a member of the White House media staff said on background that the numbers for Hispanic enrollment had not yet been released and referred IBTimes to the Centers for Medicare and Medicaid Services, generally known as CMS, which is a division of the Department of Health and Human Services (HHS) that administers Obamacare.
But numerous sources say the early numbers are in fact available. Salcines, whose new health care educational platform, HealthyHispanicLiving.com, aims to fill the gap in providing culturally relevant health care information to U.S. Hispanics, said the administration does have access to this information and should be sharing it.
"On the federal enrollment form, they specifically ask if you are of Latino/Hispanic origin," she said. "The White House is not telling the truth. They do have access to ethnicity data. It is voluntary, but it is on the form, and I'm sure this information is being captured in some data table somewhere. If they're going to market to Hispanics to enroll, and leverage Hispanic language media, how can they not track metrics to gauge campaign effectiveness at the very least?"
On Wednesday, Katherine Vargas, the White House director of Hispanic media, told IBTimes, "While applicants may voluntarily report their race or ethnicity, neither applicants nor State-based marketplaces are required to report race and ethnicity at this time. As such, HHS does not yet have reliable and complete data available to report on race and ethnicity at this time. HHS has said they will provide additional metrics when they are available and we expect to be able to provide additional data in the future."
HHS released some demographic data on early enrollment on Monday that includes age breakdown, but it did not include a racial breakdown. Sherice Perry Dillard, a spokesperson for Health and Human Services, told IBTimes, "When we (HHS) have data we will make it available. It's not fair to say that we are not releasing information. We can do rough estimates, but people still have three months to sign up. A lot of Latinos are still asking questions, which we expected. We estimate that about 70 percent of Latinos will enroll in English, not on the Spanish language site. The [online] system doesn't distinguish whether someone enrolls on the Spanish language site or the English site."
Salcines said she isn't buying that argument, and that while she supports Obamacare, she's frustrated by the way in which the rollout has been handled, especially for Latinos. She said it would at least be reasonable and easy for the White House to release early enrollment data compiled from people who signed up on CuidadoDeSalud.gov, the Spanish language version of the Obamacare site.
Salcines and several other sources suggest that the White House is mum about the early numbers because its Obamacare team has failed in its outreach to the more than 50 million Hispanics living in the United States.
"I'm sure there's great concern that if the real enrollment numbers were released it would be another deterrent to signing up," Salcines said. "But not being transparent about this is only going to backfire. Instead, they should increase their outreach. If the administration approached the Hispanic community with the same effort they showed in the last two elections, they would have much better results in getting Hispanics to enroll. This is what makes many Latinos cynical. Bottom line: don't invite them on a date and then never return their phone calls."
Vargas said the administration has stepped up its efforts in recent weeks to reach out to Hispanics, especially in states such as California, Texas and Florida where large numbers of uninsured Latinos live, and educate them about the various ways they can sign up for the Affordable Care Act.
The White House has dispatched its own officials and Cabinet members to these states, and has contacted community health centers, churches, libraries and other places nationwide where the Latino community congregates, Vargas said. The administration has saturated the Spanish-speaking national media (Univision, Telemundo, etc) with Obamacare information.
It's not that Latinos, who have the highest uninsured rate among racial and ethnic groups, with nearly one in three lacking coverage, aren't showing any interest. Vargas pointed out that the White House received 330,000 calls on the Obamacare Spanish language telephone call center between Oct. 1 and Jan. 7.
Jane Delgado, president and CEO of the National Alliance for Hispanic Health, the nation's oldest and largest nonprofit, nonpartisan network of Hispanic health and human service providers, said there is actually great interest in Obamacare among Latinos.
"We had to hire eight new people to handle the onslaught of phone calls we received after Obamacare was introduced," she said. "Our help line received more than 10,000 calls from October to November. People are asking about the Affordable Care Act."
While they are calling and asking questions, Delgado said not many are purchasing insurance, at least not yet (the deadline is March 31). Some news accounts suggest this reluctance has to do with language barriers and with the Hispanic community's fear of immigration and general distrust of the government. But Delgado and others say another significant factor is the less-known but deep-seated cultural disconnect with U.S. health care among Hispanics.
Glenn Llopis, a Hispanic author and founder of the Center for Hispanic Leadership, told IBTimes that the Obama administration doesn't have a firm grasp of this disconnect.
"This aspect of Obamacare has not been reported in the media, but Hispanics instinctively do not trust the American medical community. Not only do they not trust the government, they don't trust doctors who have misguided them in the past," Llopis said. "The Obama administration just doesn't understand that professional health care is not something Hispanics are necessarily raised with or see the value in. Only 5 percent of America's doctors are Hispanics, who represent 17 percent of the population, and non-Hispanic doctors are generally not trusted. This is rooted in their cultural heritage. And that, in addition to concerns about giving up too much personal information and being told what to do by the government, is a primary reason why they don't trust Obamacare."
Delgado said Latinos' skepticism about the new law stems largely from the fact that they "still don't feel welcome in the American healthcare culture."
This unwelcome feeling certainly isn't helped by the fact that the Spanish language version of the Obamacare website - Cuidadodesalud.gov - has had serious problems and continues to struggle to get up to speed. Parts of it are still not translated to Spanish.
"The biggest problem with the website, still, is that it does not allow consumers to shop for their insurance plan," Delgado said. "This is the kind of thing that upsets the Hispanic community. They are not given the same options of shopping that the main website offers."
Delgado said there are countless examples that illustrate how American health care is not adequately serving the growing Hispanic market.
"Take hospitals, for example," she said, "There are still hospitals that do not allow more than one or two visitors to a room. Well, when a Latino is ill, their entire family will visit the hospital, it is a part of our culture. The newer hospitals are beginning to accommodate this and even have more private rooms. But change comes very slow."
Salcines said this is all about getting to know the consumer better. "The Obama administration has simply not done that," she said. "Corporations do multicultural diversity training. The Obama administration needs some of this training to unlock this community. They have done a poor job of getting to know who we are as people."
Llopis said there are several things the administration could do differently to unlock this community and attract more Hispanics to Obamacare.
"For one thing, understanding the culture, attitude, and mindset is key before launching any product, service, or program aimed at Hispanics," he said. "Everything from the tone and words used in collateral materials, videos, and websites needs to be tailored through the Hispanic cultural lens if true trust and buy-in is to be won."
Llopis said that despite the fact that Obama's victory in 2012 was "the result of the Hispanic vote," since then he has not continued to value this population as a critical ally "whose trust you must earn on a daily basis."
It's important that the administration build relationships with key local groups and meet with them regularly to better understand the Hispanic perspective, concerns, and needs, Llopis said. "This familial-style gathering will help cultivate – in a more culturally relevant way -- the initial trust that the administration must build with the Hispanic community," he said.
According to Delgado, the government's reluctance to release Hispanic data on health care has been going on for decades. For example, she said, the federal government's health care narrative for so long has been that all minorities have poor health.
"But that is not true," Delgado said. "We finally have data showing that while Hispanics have higher obesity rates and diabetes is a problem, we live longer than non-Hispanic whites and non-Hispanic Blacks, and have less heart disease. CDC (Centers for Disease Control) came out with this three years ago, but it took a very long time."
It's apparently not just the White House that is allegedly fudging the facts on Obamacare enrollment. There are new allegations that even members of Congress manipulating the early numbers so things don't look as bad.
Politico reported Friday that Republicans in Colorado have accused Sen. Mark Udall (D-Colo.) of having staff members pressure Colorado state officials to change its figures on the number of Obamacare cancelations in the state.
Delgado said it isn't necessary to manipulate these numbers, at least not with Hispanics. She said that while this national community is apparently not yet enrolling in droves, "I do believe they will ultimately sign up in large numbers across the country by the end of March. Why? Because ultimately this is about helping not just them, but their families."
Salcines emphasized that the relationship or lack thereof between the administration and US Hispanics is a two-way street.
"As Hispanics, we haven't done a good job, either, of being our own healthcare advocates and speaking up," she said. "This is why Hispanics need to realize that they have in their communities natural-born leaders, and that they need to invest in themselves more to become what this country needs most: 21st century leaders. Until then, we will continue to devalue our worth in the eyes of the country."
© Copyright IBTimes 2023. All rights reserved.