Who Is Aaron Joel Mitchell? Burning Man Participant Dies After Fire Jumping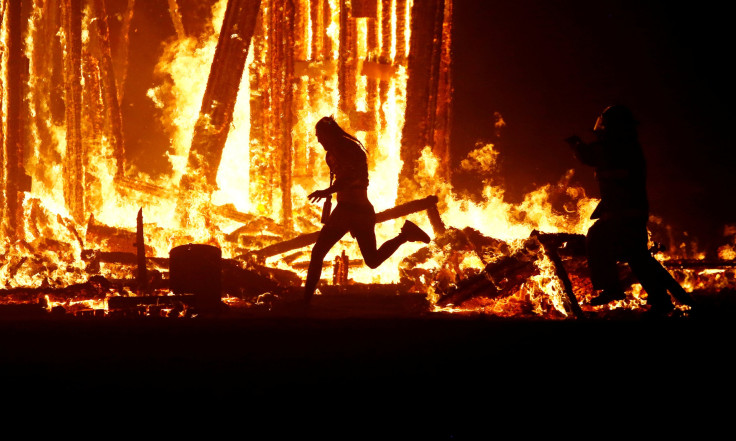 A Burning Man participant who ran into the flames of a burning effigy Saturday night after running past the security ring was pronounced dead Sunday morning.
He was identified as 41-year-old Aaron Joel Mitchell — a US citizen who lived in Switzerland with his wife.
According to Pershing County Sheriff's Office in Nevada, fire personnel attempted to pull him out but falling burning debris prevented them from doing so. They had to wait till the structure had burnt and fallen before they could retrieve Mitchell.
He was airlifted to the nearest burn center in Sacramento, California, but was pronounced dead Sunday. His family was notified, the office said.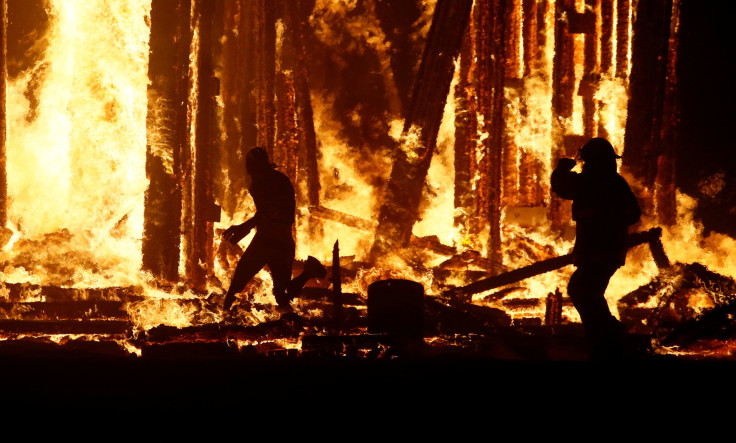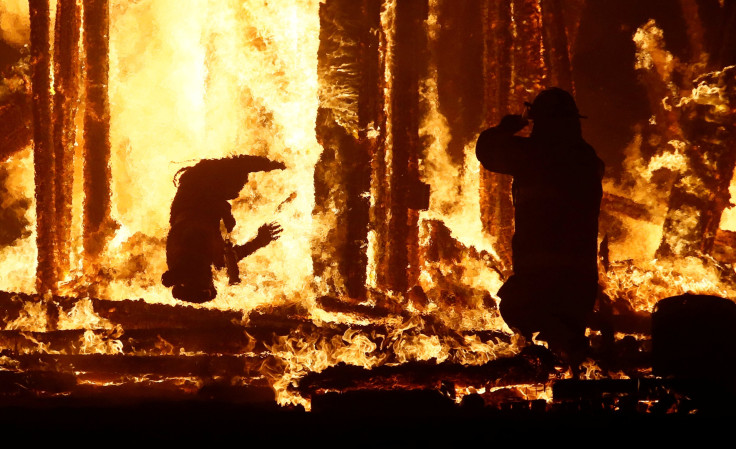 Sheriff Jerry Allen said a crowd of about 50,000 people had gathered to watch the burning of the 'Man' at the annual gathering in Nevada's Black Rock Desert. The weeklong Burning Man event culminates in massive burns of an effigy known as the "Man" on Saturday and the "Temple" on Sunday.
The reason behind Mitchell's drastic step was not known, the sheriff said. Citing the doctors who treated him, he said Mitchell was not under the influence of alcohol, but a toxicology report was awaited. Allen also said it was not certain whether the act was carried out under the influence of drugs, CBS News reported.
Burning Man officials are working with local and federal law enforcement agencies to find out the real cause of Mitchell's act. Following the incident, the festival cancelled scheduled activities, including burning of effigies, till Sunday noon. However, the scheduled Temple burn Sunday night went on as scheduled, according to Burning Man website.
Allen said injuries were reported in the past when attendees had tried to run into the flames while the 40-foot "Man" sculpture was being burnt.
In 2014, a man died in Utah after plunging into a huge ceremonial bonfire at the Element 11 Arts Festival, a local version of the Burning Man festival. The victim was identified as a Salt Lake City resident in his thirties, who broke through the established safety perimeter and entered the flames, Burning Man website said.
The sheriff said that such mishaps were a problem for the organizers, and they had tried to contain them by having their own rangers form a human-chain to prevent people from getting too close to the burning effigy. The sheriff said Mitchell's was a rare case and the only fatality he was aware of in his 15 years with the county, CBS News reported.
Meanwhile, Mitchell's mother, Johnnye Mitchell told Reno Gazette-Journal that it was her son's first Burning Man festival.
She and her husband, Donald Mitchell, had last seen Mitchell on Aug. 1. "He was in great spirits when we saw him," Johnnye said.
The couple also said that although Mitchell was 41, he would still remain their baby; Mitchell was called Joel by his family members. Johnnye added that Mitchell, who grew up in McAlester, Oklahoma, was a "loving" and "nice person" who loved outdoor activities such as hiking and running.
Donald termed Mitchell, who worked in construction industry, a "good son" and said he wished what happened to his son should never happen again.
The mother said Mitchell was married but did not have any children, Reno Gazette-Journal reported.
© Copyright IBTimes 2023. All rights reserved.