Who Is Donald Trump Jr.? Family Business Heir Feuded With Father, Partied, Traveled Before Rise To Power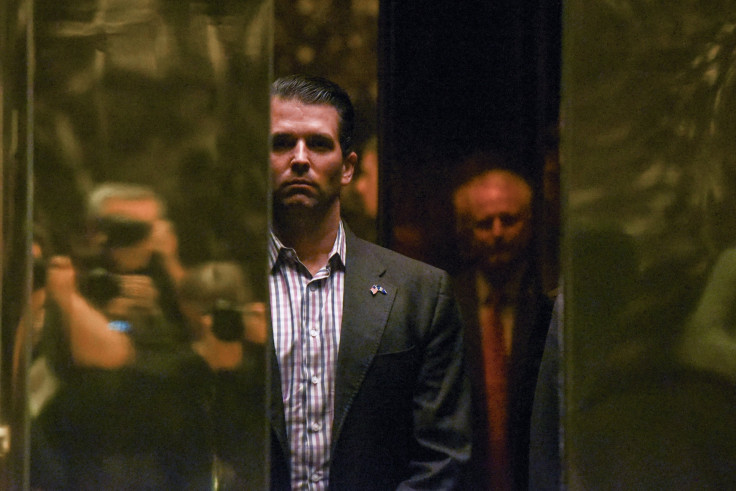 President-elect Donald Trump will be joined at his inauguration Friday by his family, including his two eldest sons, Donald Trump Jr. and Eric Trump, who are set to take over the family business for the duration of their father's administration. The eldest of the group, who was given his father's name, has since set out to build his own legacy.
Whereas the 45th president has been characterized by his bombastic personality, his children have often been contrasted to his persona. The two sons and daughter, Ivanka, with Donald Trump's first wife, Ivana, spent much of their earliest summers with their maternal grandparents in the countryside of the former state of Czechoslovakia. The quiet, rural setting, far from the metropolitan hustle and bustle of their father's emerging empire in New York City, helped inspire a love for the outdoors in Donald Trump, Jr., and to this day, he speaks fluent Czech.
His parent's fame affected his childhood, however. A messy divorce in 1990 was made more difficult by the media frenzy surrounding his father's affair with Marla Maples. Donald Trump Jr. took his anger out on his father for abandoning the family.
"How can you say you love us?" a 12-year-old Donald Trump Jr. asked his father, according to a 1990 article by Vanity Fair. "You don't love us! You don't even love yourself. You just love your money."
Donald Trump Jr. attended boarding school with his brother, Eric, in Pottsdale, Pennsylvania, and later moved on to the University of Pennsylvania where peers say he differed from his sibling by adopting a party-going lifestyle. He expressed contempt for his father while at the same time flaunting his family name. He then continued to reject his parent's wishes when, instead of joining the business, he moved to Aspen, Colorado, and spent 18 months living out of the back of a truck and embracing the wilderness. He moved back to New York City around the time of the Sept. 11, 2001, terror attacks.
After failing to moderate his nightlife misadventures, Donald Trump Jr. gave up drinking altogether. He has since become a building supervisor at the Trump Organization, overlooking major construction projects, and has appeared as a judge and guest adviser on his father's reality television game show "The Apprentice." He married model and designer Vanessa Haydon and has five children.
Donald Trump Jr. currently lists his position at the Trump Organization as executive vice president of development and acquisitions. His father, however, has said he will pass full control of the business to his sons.
© Copyright IBTimes 2023. All rights reserved.
FOLLOW MORE IBT NEWS ON THE BELOW CHANNELS